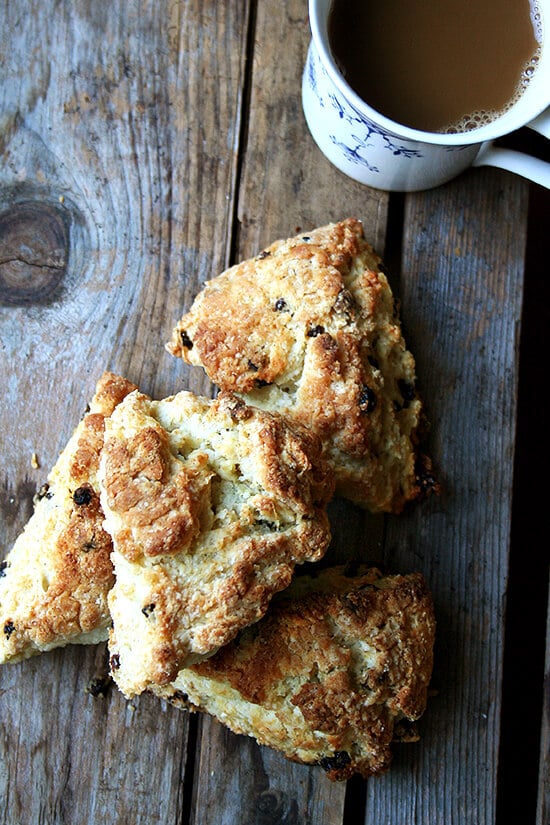 Hi Everyone. Just a quick post here. This morning for breakfast I made the Tartine scone recipe with currants, which is what the original recipe calls for. So delicious! I've only ever made it with blueberries before, which I love, but on this chilly November morning, the currants were lovely. I have a feeling I'll be making these all fall. Have a great week!
Tartine's Buttermilk Scones
Adapted from Tartine
Yield=8
Notes:
• Tartine's recipe calls for Zante currants, which should be plumped in warm water for 10 minutes, then drained.
• I made a half recipe, but if you feel like making a whole recipe, follow this recipe. I have frozen the raw scone dough, too, and baked the scones after thawing the dough overnight in the fridge. Worked beautifully.
2 3/8 cup all-purpose flour (3/8 cup = 6 tablespoons)
1 1/2 teaspoons baking powder
3/8 tsp. baking soda (a scant 1/2 teaspoon)
1/4 cup sugar
1/2 tsp. salt (a heaping half teaspoon)
1/2 tsp. lemon zest, grated
1/2 cup + 1 1/2 teaspoons unsalted butter, very cold
3/4 cup buttermilk
3/8 cup zante currants
Topping
1.5 T. butter, melted
sugar for sprinkling such as demerara or turbinado (regular granulated is fine, too — this is optional, I omitted with the currant scones)
1. Preheat the oven to 400ºF. Line a baking sheet with parchment paper.
2. Whisk together flour, baking powder and baking soda. Add sugar, salt and lemon zest and stir to combine. Cut the butter into 1/2-inch cubes and scatter the cubes over the dry ingredients. Use a pastry blender or the back of a fork to cut the butter into the dry ingredients. When you are finished, the butter should be dispersed throughout the flour in pea-sized lumps (or bigger… mine always are).
3. Add the buttermilk all at once along with the currants and mix gently with a wooden spoon until the dough holds together. If the mixture seems dry, add a little bit more buttermilk.
4. Dust your work surface with flour and turn the dough out onto it. If you've made the whole recipe, divide the dough into two even portions. Using your hands, pat each portion into a circular disk about 1 1/2 inches thick. (Or, if you've made the whole recipe and want to follow Tartine's instructions, pat the dough into a rectangle about 18 inches long, 5 inches wide, and 1 1/2 inches thick). Brush the top with melted butter. Sprinkle with sugar (I was being lazy and omitted the sugar sprinkling). Cut each disk into 8 wedges (or 12 if you've made the rectangle).
5. Transfer the triangles to baking sheet. Bake until the tops of the scones are lightly browned, about 25 to 35 minutes. Remove from the oven and serve immediately. (Mine were done at 25 minutes.)