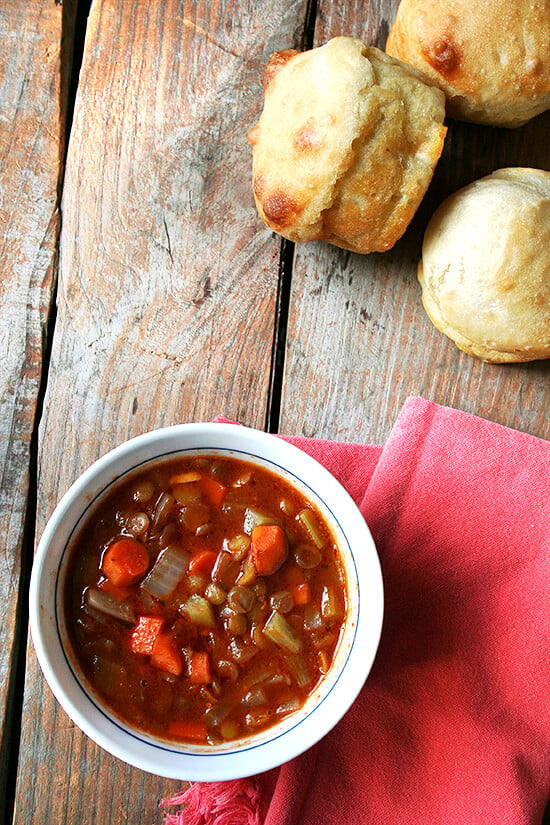 I've blogged about this soup once before, but when I did, it was summer, and I doubt I inspired any of you to run off and buy lentils. But this is a soup I really want you all to make, and I'm hoping with the holidays in the past, a winter chill finally in the air, and the spirit of detox ever present, you'll feel more inspired.
It's a good one. I promise. For me, it's the bite of the sherry vinegar that makes this soup, but the virtues of it are truly countless: It is completely vegetarian, vegan in fact. It cooks in one hour and takes only as long to prepare as it does to chop up some carrots, celery and onions. No vegetables are sautéed; no stock is simmered. It costs next to nothing to make and couldn't be more healthy — lentils are high in fiber, protein, vitamins and minerals, and one cup of cooked lentils contains just 230 calories. This soup is complete goodness.
Have I sold you? I hope so. Lentil soup, homemade bread, I can't think of a better way to kick off the New Year.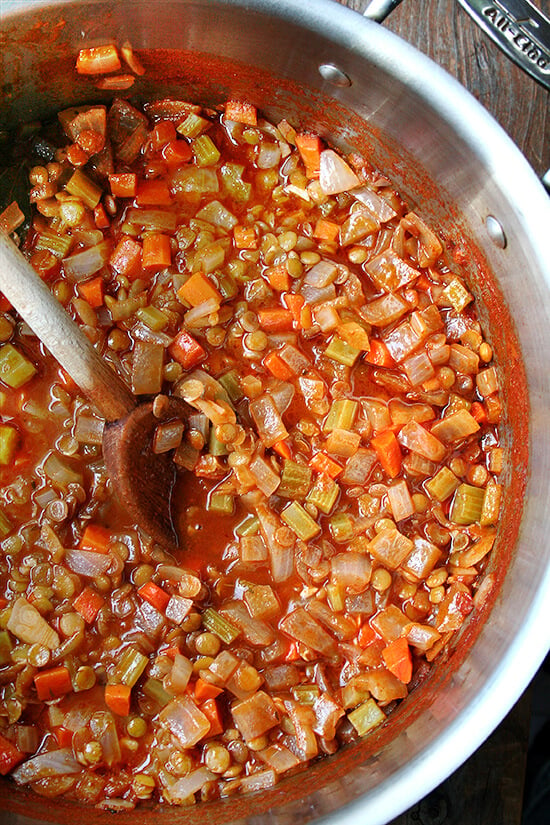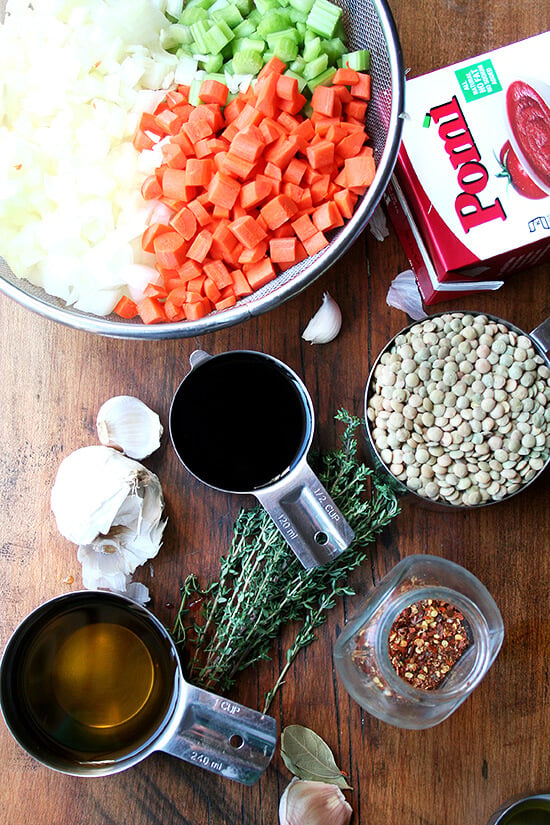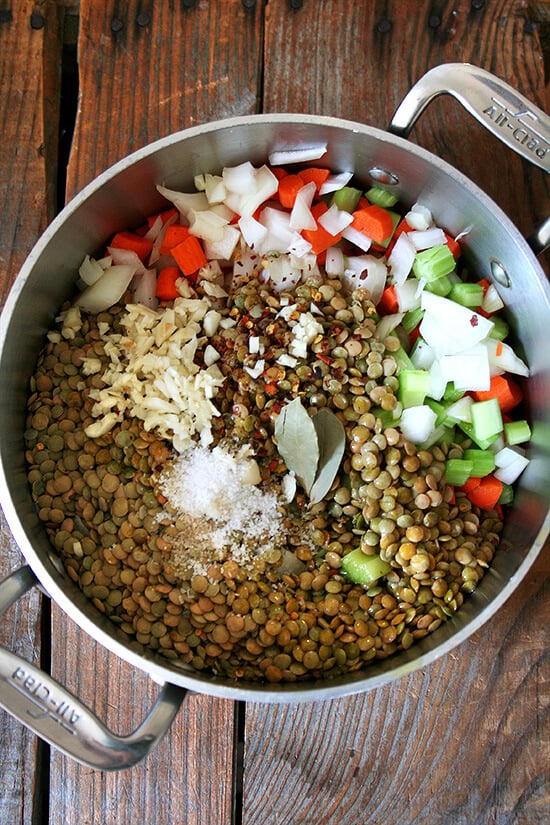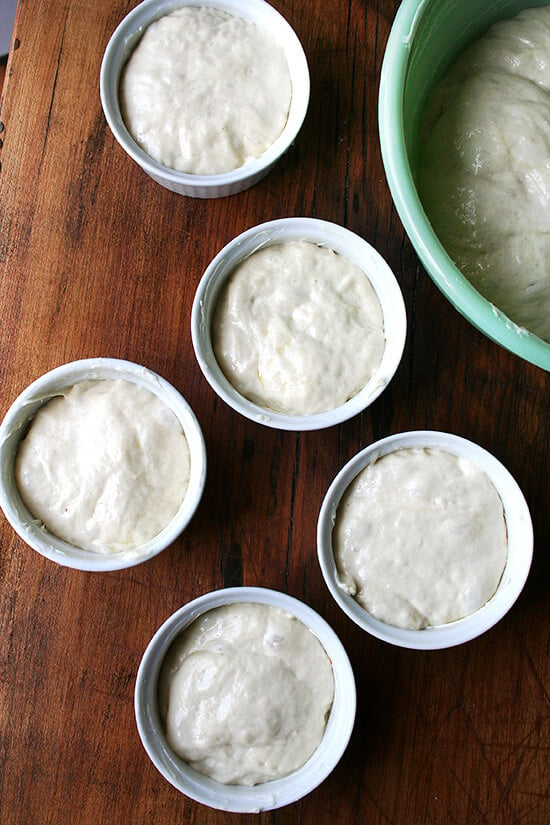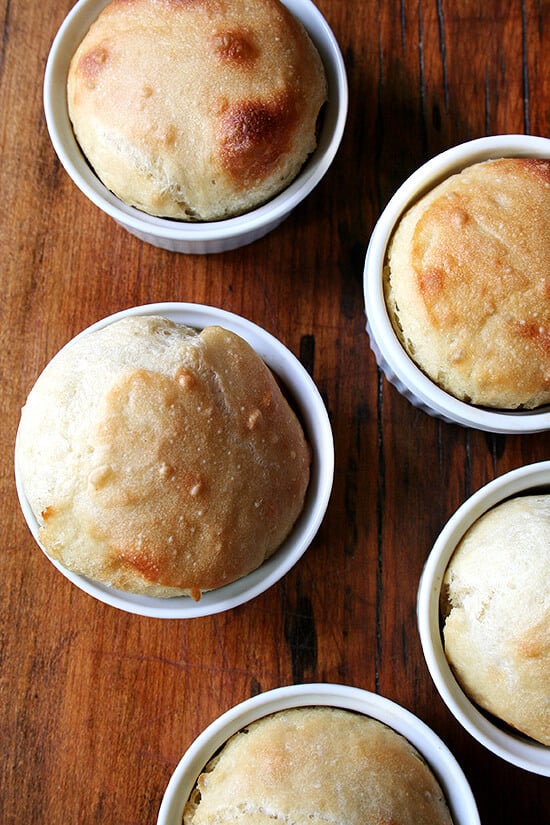 Lentil Soup
Yield 3 quarts or 8 generous servings
Ingredients
1 1/4 cups French green lentils (If you can't find French — I couldn't — regular lentils work just as well)
1 8oz. can + 1/2 can of tomato sauce (12 oz total, about a scant 1 1/2 cups)*
2 large onions, chopped
2 cloves garlic, minced
1 bay leaf
½ cup red wine vinegar, balsamic vinegar or sherry vinegar**
½ cup extra-virgin olive oil
1 teaspoon kosher salt
½ teaspoon fresh thyme leaves, chopped
3 carrots, peeled and diced (about a heaping cup)
3 celery stalks, diced (about a cup)
crushed red pepper flakes to taste
*I like Pomi brand for tomato sauce, but if you can't find Pomi, Hunt's is also good. Don't buy a tomato sauce that has any sort of flavorings — not even a basil leaf.
** Don't use a fancy bottle of vinegar here — for one, it's unnecessary, and two, it might create a vinegar taste that is overpowering. Also, you might want to start with 1/4 cup on vinegar or 1/4 cup + 2 tablespoons of vinegar, and then add more to taste. Some people have found the 1/2 cup of vinegar to be too overpowering.
Instructions
Throw all ingredients together in a pot. Add 1½ qts. plus one cup of water (seven cups total) and bring to a boil. Skim off any scum that rises to the surface. Simmer for one hour uncovered. Stir and serve with crusty bread.
Notes
On day two, much of the liquid will have been absorbed buy the lentils and veggies. Just add a little more water to the pot as you reheat and adjust the seasoning as necessary — a pinch more salt usually does the trick.
Mini Loaves
I'm afraid I'm going to have to report back on this bread recipe. These mini loaves were delectable and sort of a happy accident, a combination of recipes that yielded a very wet dough, one that needed the support of ramekins during the baking process. I don't have a precise recipe at the moment, but just know that any simple bread recipe — this one contained just water, yeast, flour, sugar and salt — will likely bake off nicely in ramekins.