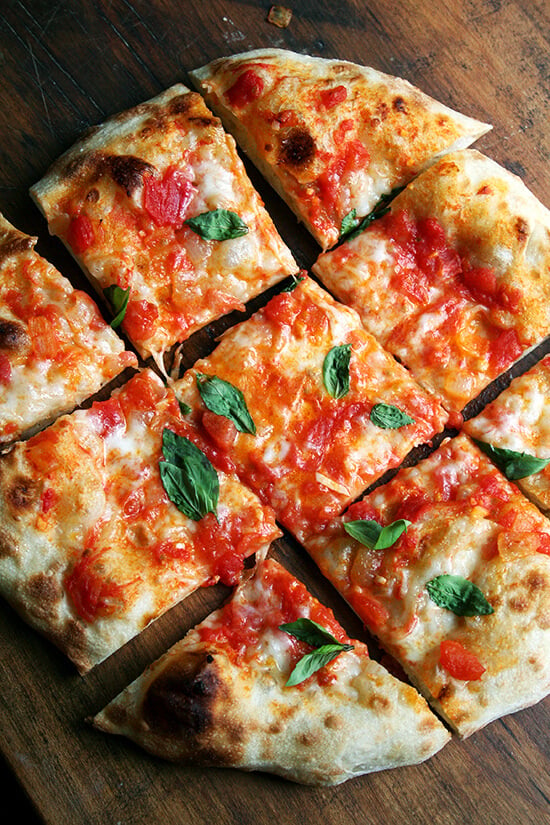 In September 2008 I returned from Slow Food Nation convinced I would, by the end of the week, build a mud oven in the alleyway next to my apartment and, as a result, have wood-fired pizzas at my disposal from then on out.
I had watched volunteers at SFN stomp in the mud and cobble together an oven in two days, and I couldn't stop dreaming about the pizzas, thin and crisp with a blistered bubbly edge, that emerged from that wood-fired oven.
After doing a little research, I made a list of supplies and stuck it to my fridge. I even bought a book: How to Build Your Own Hearth Oven. It was going to happen. I would get my wood-fired oven.
But a few weeks passed, and I never got around to building it. And before I knew it, a few years passed. And then a few children appeared. And then a few dreams disappeared.
Friends, guess what? It's never going to happen. I am nev-er going to build that mud oven nor am I going to drop ten grand on a more professional wood-fired oven.
But guess what? It's OK, because there is a product that will make all desires for acquiring these high-speed tools disappear. I had read about the Baking Steel in the Wall Street Journal and then in Food and Wine, but it was this post on Serious Eats that convinced me I had to buy one immediately.
The story of the Baking Steel begins with Andris Lagsdin, a passionate cook, who, after reading about the conductive properties of steel in Nathan Myhyrvold's Modernist Cuisine, began baking pizzas at home on steel plates made at his family-run steel company, Stoughton Steel. Pleased to discover that what he had read proved true — that because "steel is a more conductive cooking surface than stone," pizza "cooks faster and more evenly at a lower temperature, resulting in a beautiful, thin, crispy crust" — Lagsdin initiated a Kickstarter campaign. And so was born the Baking Steel. Serious Eats' Kenji Lopez-Alt, describes the tool as "the most impressive home pizza product [he's] ever tested."
About a year ago I discovered tipo 00 flour, which, when used in the Lahey pizza dough recipe, produced the best pizzas I had ever made. Learning to shape the rounds with a delicate hand, moreover, created great bubbles throughout the pie as well as that ballooned and blistered outer edge characteristic of Neopolitan pizzas. The Baking Steel takes these bubbles to another level. Kenji offers this explanation:
"How does the baking surface affect hole structure? Well those crust holes develop when air and water vapor trapped inside the dough matrix suddenly expand upon heating in a phenomenon known as oven spring. The faster you can transfer energy to the dough, the bigger those glorious bubbles will be, and the airier and more delicate the crust."
For the past month, I have been making some sort of pizza or flatbread nearly every day, and they have never tasted so good. A few pictures below capture the "oven spring" as well as the crispy, speckled "undercarriage," the two traits that separate Baking Steel pizzas from the sheetpan pizzas I have been making for years.
There are other virtues to the steel as well — it's lighter and more durable than stone; it doesn't require a supply of wood — and again, you can read a thorough and more scientific analysis of the steel on Serious Eats. Below are recipes for two of my favorite pizzas: margherita made with a barely cooked tomato sauce; and caramelized onion and burrata.
So, am I telling you that the next $79 you spend should be on a Baking Steel? Yes, I am. But this is the way I see it: with the Baking Steel now a permanent fixture in my oven, I have no use for any backyard wood-fired apparatus, which means I basically just earned $10,000, which will pay for what, a week (maybe two?) of one child's college tuition? I know, I know, you can thank me later. Go on, order that steel and while you're at it, crack open a few bottles of champagne. There's never been more reason to celebrate.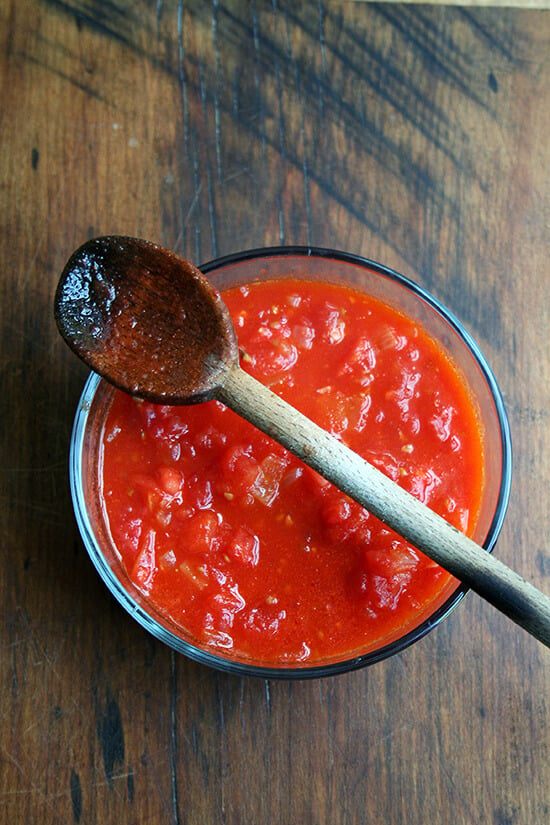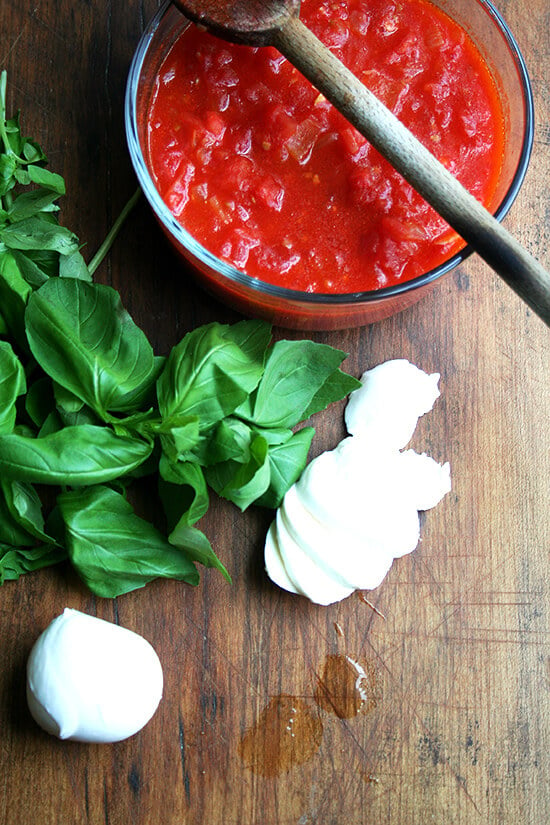 I noted last week in the za'atar flatbread recipe that using parchment paper on a pizza peel is kind of wimpy. A nicely floured or cornmeal-sprinkled peel should allow a pizza to slide gracefully onto that heated surface, right? Well, in my experience, this doesn't always happen. And pies that stick to peels can make a mess both on the steel or stone and on the floor of your oven. Moreover, flour or cornmeal that is left on a steel or a stone burns, which might fill your kitchen with smoke and cause your fire alarm to sound. And think about it: at the best pizza restaurants with those magnificent wood-fired ovens, the pizza maker is equipped with both a peel and a broom, which he/she uses to sweep away any flour, toppings, etc. left in the main cooking area. Home cooks can't really do this. Parchment paper has solved this issue for me. The pizza-topped parchment paper slides effortlessly onto the heated stone. The presence of the paper does not affect how the pizza is cooked, and the paper can be removed (if desired) after a minute or two.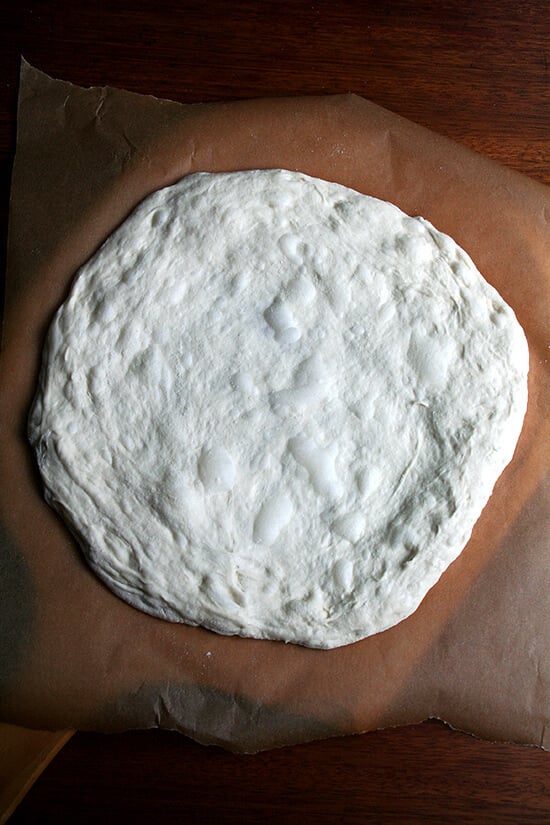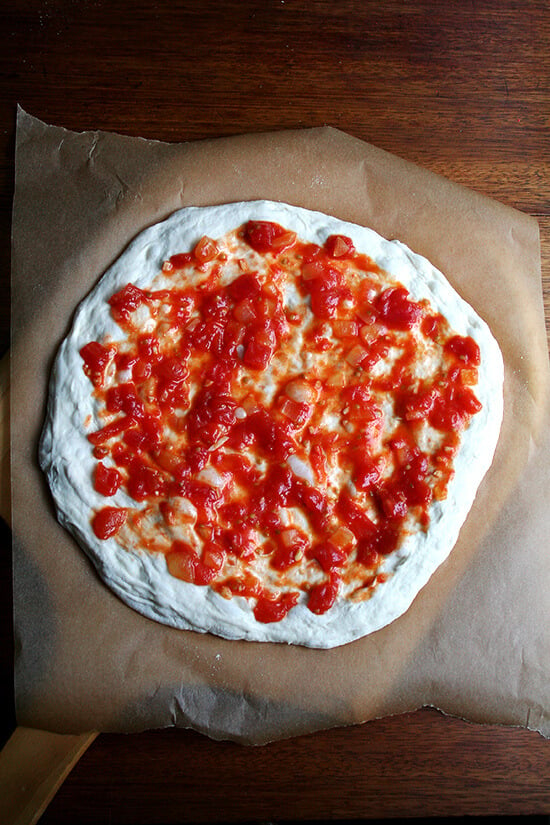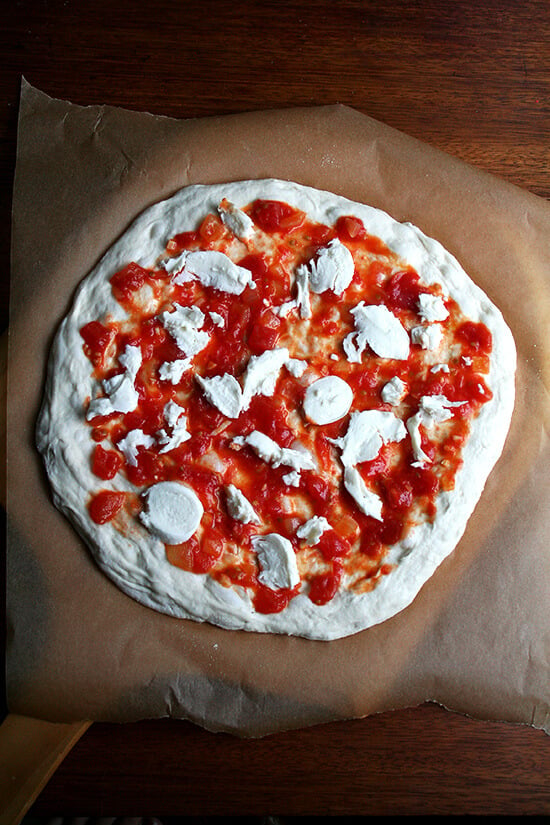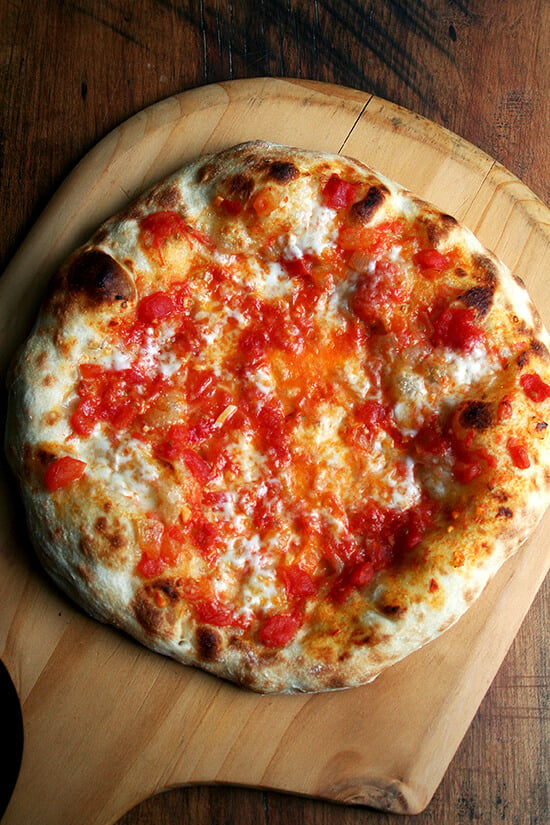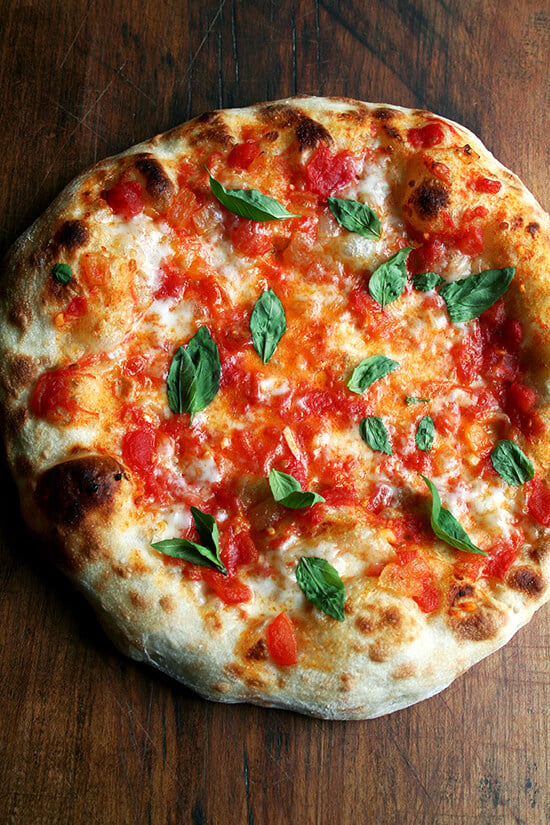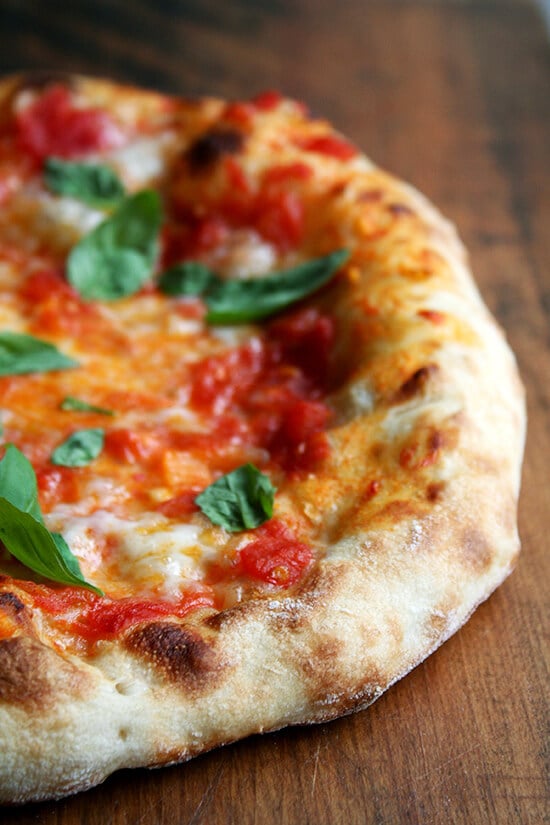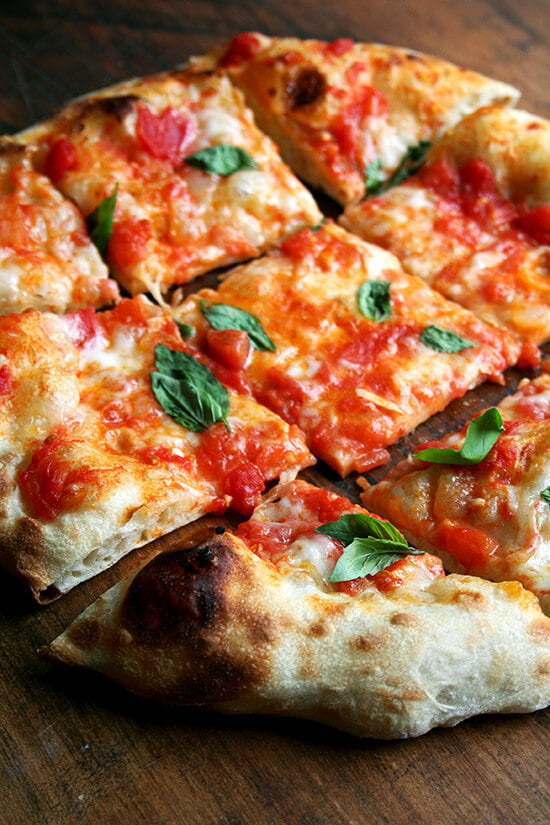 Caramelized onion & burrata pizza: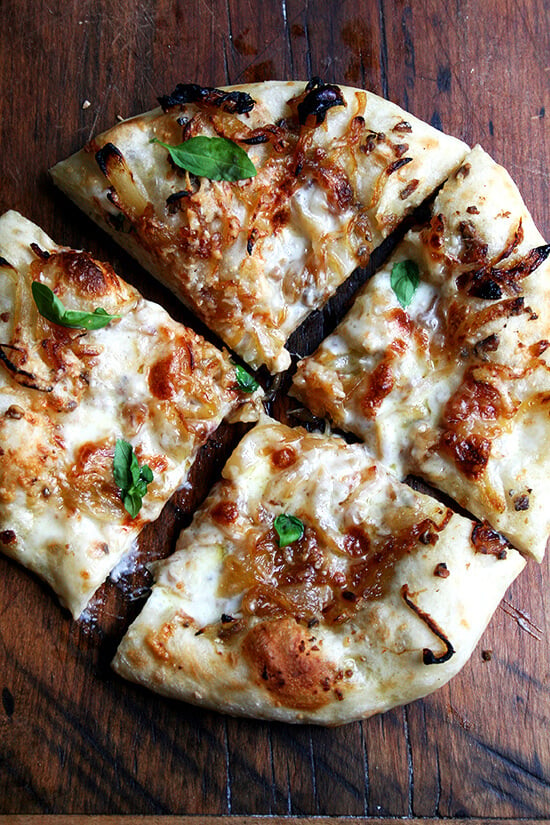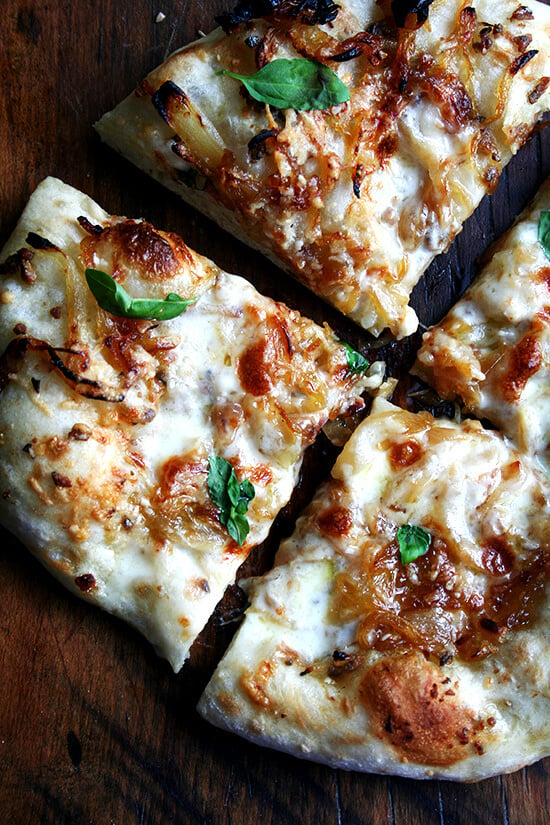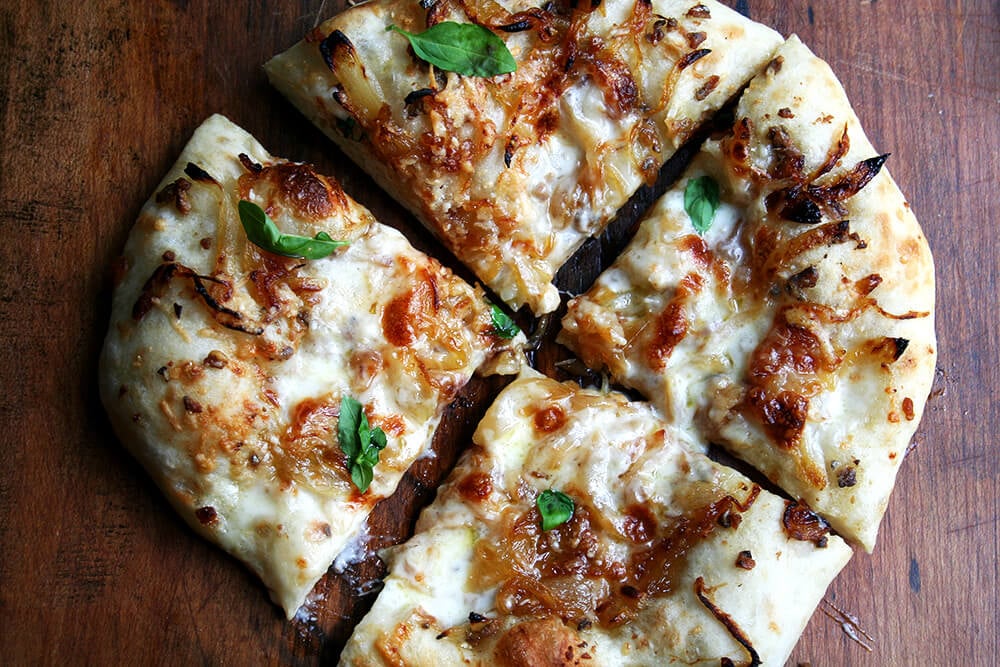 Print
Barely Cooked Tomato Sauce
Yield 2 cups
This is just a modified version of the widely adored Marcella Hazan tomato sauce. The differences here are that the onion is sautéed until soft, there is the addition of garlic, and the sauce just takes less time to throw together — once the tomatoes hit the pan, they simmer for five to 10 minutes and the sauce is done. I have been making this sauce to serve with pasta. Just add a handful of freshly grated Parmigiano Reggiano, lots of chopped fresh basil and freshly ground black pepper. So fresh and delicious.
Ingredients
3 to 4 beef steak tomatoes
2 tablespoons olive oil
1/2 to 1 onion (depending on the size), diced to yield about 1/2 cup
Kosher salt to taste
2 cloves garlic, minced
Instructions
Cut a small "x" in the back of each tomato. Bring a large pot of water to a boil. Drop tomatoes into water and cook for about a minute. Remove tomatoes and plunge them into a bowl of cold water. When they are cool enough to handle, peel the skin and discard it. Chop the flesh into fine dice.
Meanwhile, heat the oil over medium heat. Add the onion and season it with a pinch of kosher salt. Sauté (or sweat — you don't need the onion to brown or caramelize) the onion until it is soft and translucent, about five minutes. Add the minced garlic and the diced tomatoes. Season with more kosher salt. Simmer for another 5 to 10 minutes until the sauce is just slightly reduced.