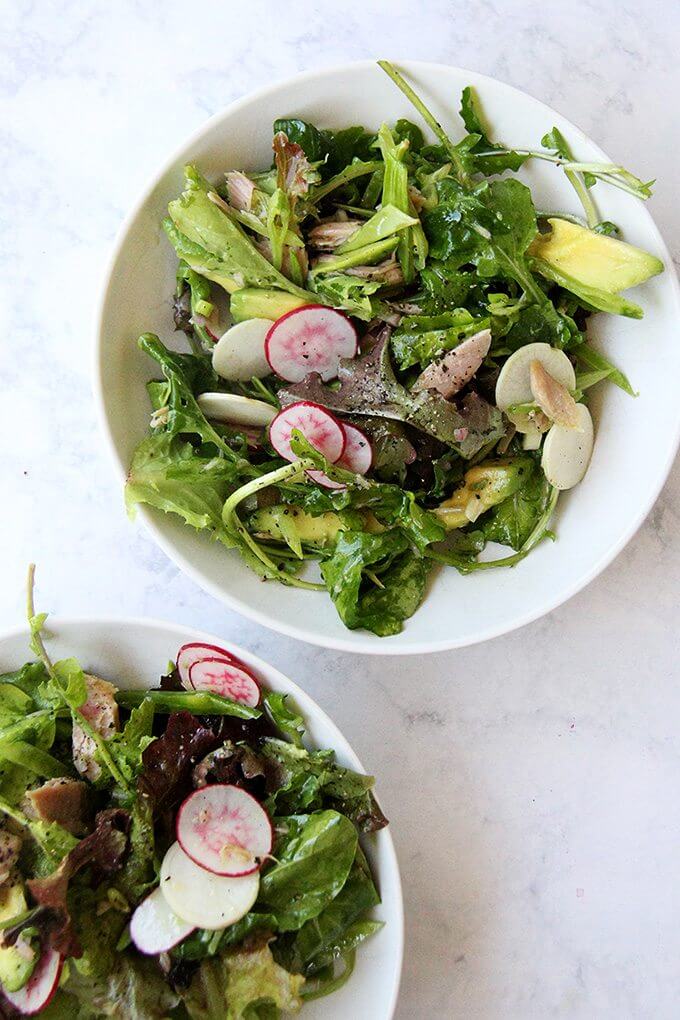 Remember back in 2007 when The Times' ran Mark Bittman's Summer Express: 101 Simple Meals Ready in 10 Minutes or Less? That was such a fun one. About this time of year every year, I think about that article, and though the truth is that I never don't want to cook and never don't want to turn on the oven, I do love a meal that comes together quickly.
This is the no-cook meal I've been making often the past few weeks: CSA greens* + anything else from the farm share I can slice thinly and eat raw (radishes, turnips, scallions, herbs) + tuna (Toninno Tuna is particularly good—pricey, but good) + shallot vinaigrette + avocado (super not local, but so good). This salad comes together in no time—as the shallots macerate in the vinegar for the dressing, you can prep everything else: slice the radishes, turnips, scallions, etc. With a hunk of bread on the side, the meal is complete.
I hope you all are enjoying a nice weekend. It's been a strange few months here in upstate New York — as though we skipped spring and plunged right into summer — but I couldn't be happier the sun has finally arrived.
*It's not too late to get a share or half share from Roxbury Farm, which delivers to many locations including New York City. Details here: Roxbury Farm CSA Shares.
PS: 10 Especially Helpful CSA Recipes.
PPS: ALL the CSA recipes.
PPS: This Friday I'll be cooking a seasonal, summer dinner at the Vischer Ferry General Store, one of my favorite local spots. Contact Louise McManus for details: 518-579-0195.
PPPS: I'm teaching two more classes this summer at Hillsdale General Store Home Chef: Provencal Summer and Simple Summer Grilling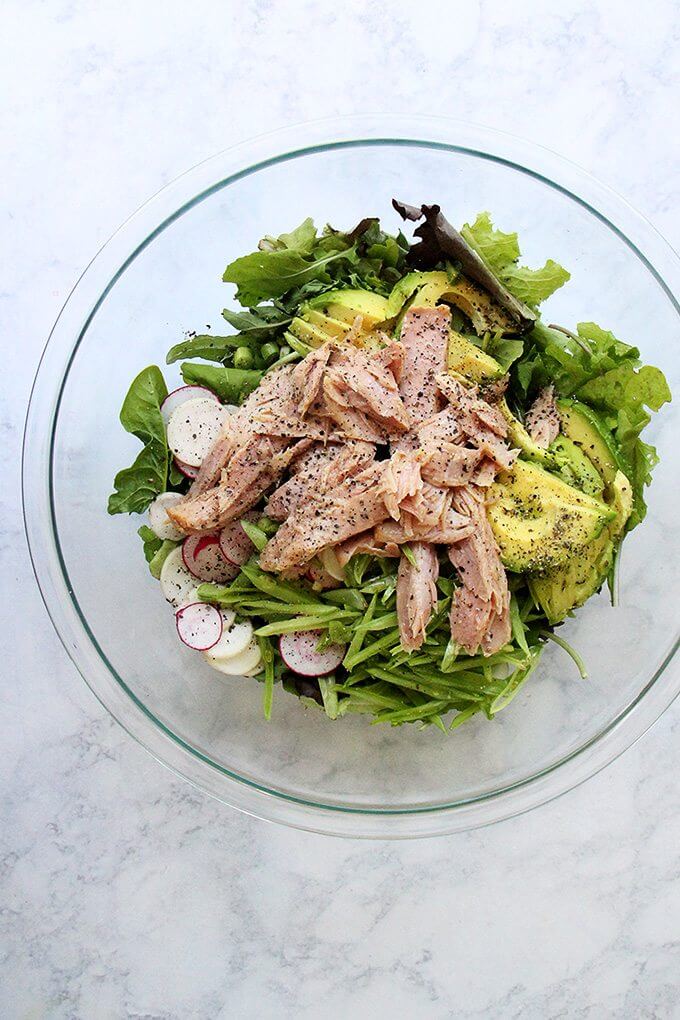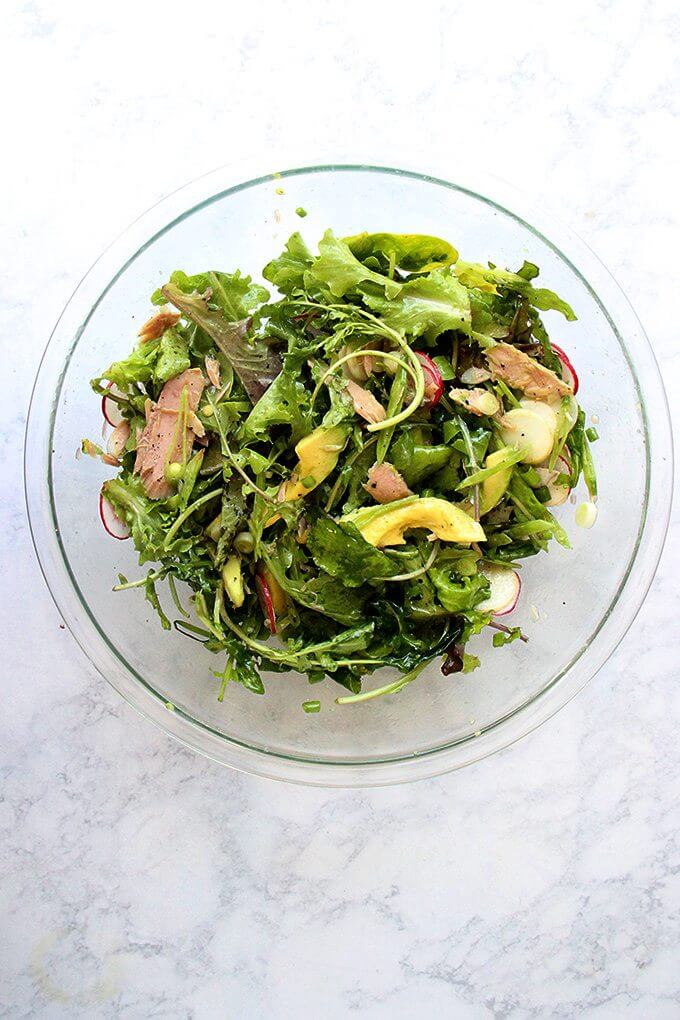 Summer Vegetable Salad with Tuna & Shallot Vinaigrette
Yield 2
Use this recipe as a guide. I find the shallot vinaigrette (recipe above) to be the dressing I turn to over and over again, but use any dressing you like. My CSA has been abounding with greens, scallions, radishes, turnips, and herbs, and I've been chopping them all up and throwing them in a bowl with the shallot vinaigrette and a jar of tuna. As I noted above, I really like the Toninno tuna, which is pricey, but very tasty. 
Ingredients
greens
radishes, thinly sliced
turnips, thinly sliced
snow peas, snap peas, or celery, membrane removed (see video), thinly sliced
scallions, thinly sliced
1 jar of tuna (6.7 oz), see notes above, drained
shallot vinaigrette, recipe above
fresh cracked pepper
Instructions
Place the greens, radishes, turnips, snow peas, scallions, and tuna in a large bowl. Pour over vinaigrette to taste. Crack pepper to taste over top. Toss gently and serve.