Homemade Quince Paste (Quince Membrillo)
This post may contain affiliate links. Please read my disclosure policy.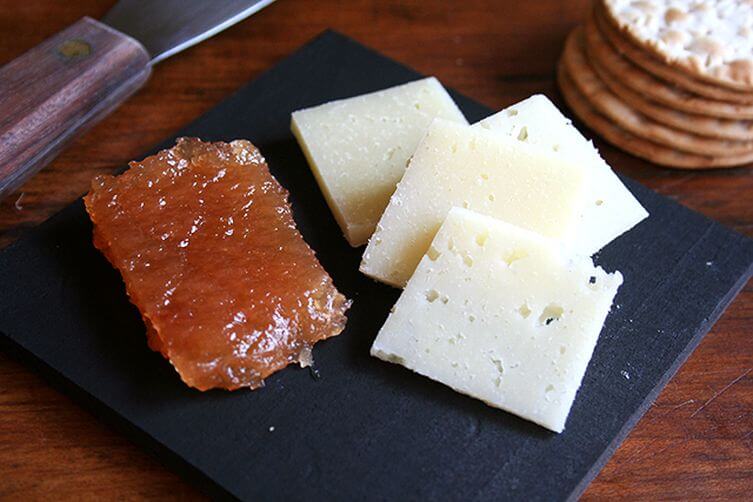 About a year ago, my mother came to visit my husband and me in Philadelphia and brought us, as always, a delectable basket of goodies. Included amongst the spoils was a plastic container of quince membrillo, something I had seen in specialty shops but had never tasted it. My mother suggested pairing a sliver of the quince paste with a slice of Zamorano cheese (a raw sheep's milk cheese produced in northwestern Spain), which she also had included in our package.
The combination was delicious. Since her visit I've been noticing quince paste everywhere: in more specialty shops, on menus as an accoutrement to cheese plates, and in cookbooks as a candy. Well, last week I was inspired to learn how to make it. I walked down to the Italian Market and visited my favorite produce shop, Anastasio's. I ordered a case of quince, which are currently in season, picked it up the next day, and got to work. (You don't have to buy a case–a case contains about 36 quince–but I wanted to make homemade quince jam with the remainder.)
I was more than pleased with the results for a few reasons. Most importantly, the homemade paste evoked a much stronger quince flavor than the packaged version. Secondly, the brilliant red color of the homemade paste is beautiful and much more appealing than the deep, dark maroon hue of the store-bought. And thirdly, I made enough quince paste to use as gifts for three different friends with more than enough remaining for my husband and me to enjoy at home. A gift of a nicely packaged piece of quince paste paired with a nicely wrapped piece of Zamorano or similar hard Spanish cheese such as Manchego or Roncal makes for a lovely and unique house-warming gift.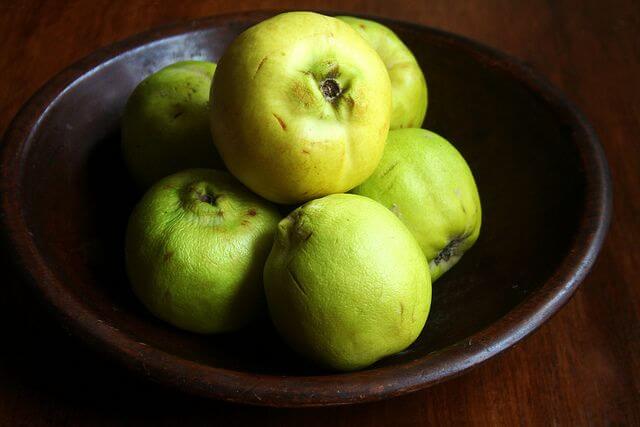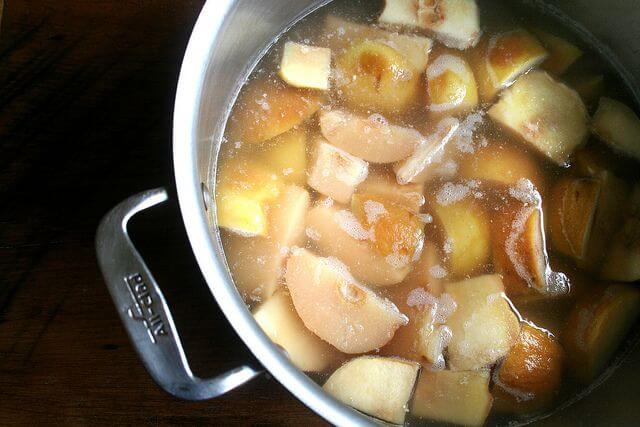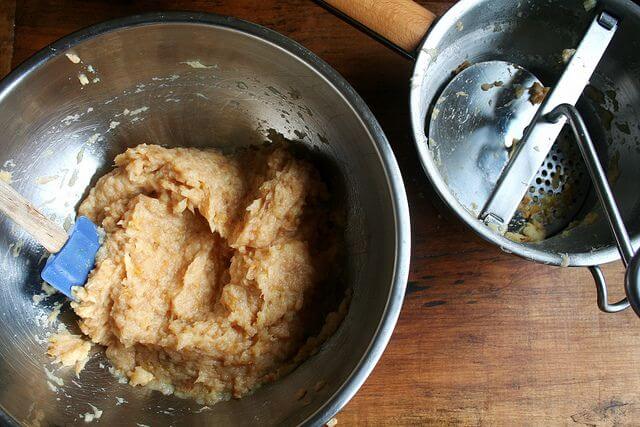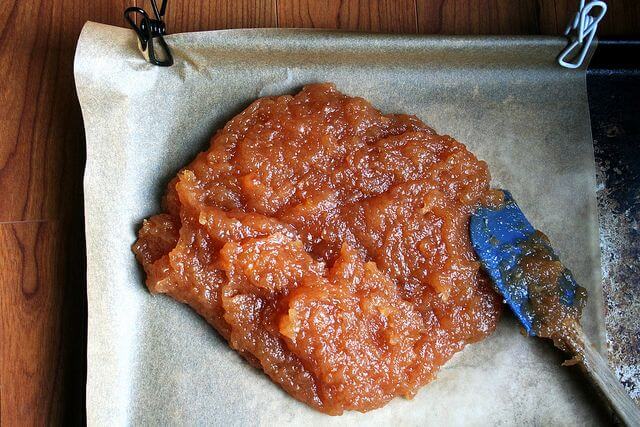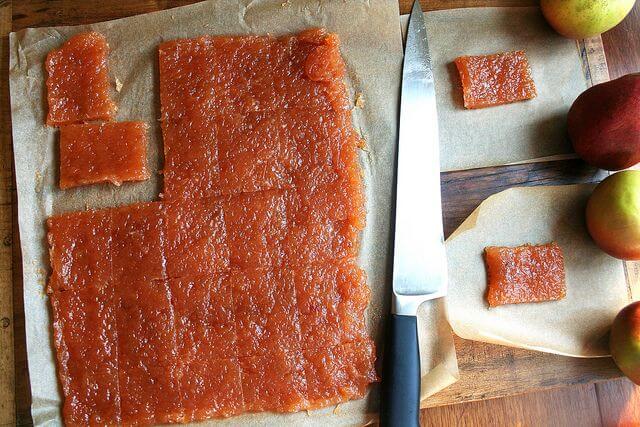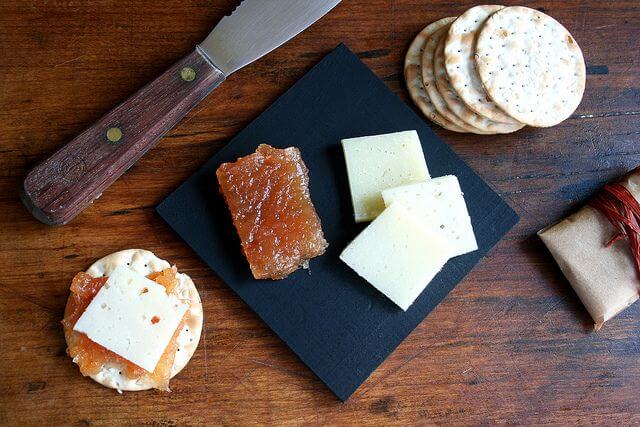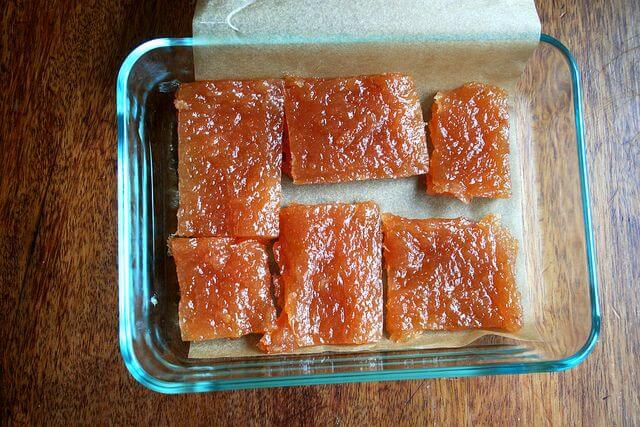 Print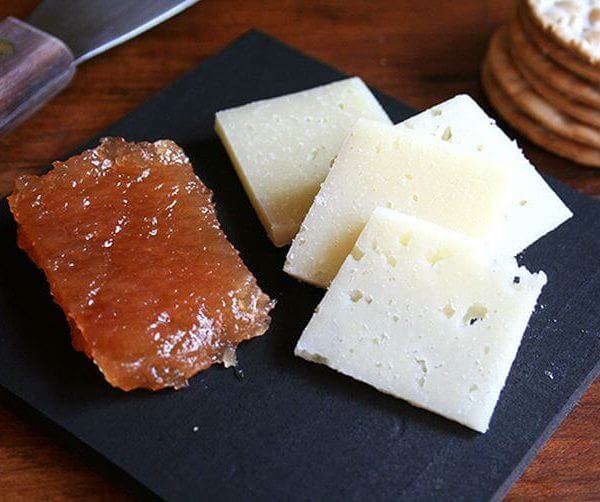 Homemade Quince Membrillo
---
Total Time:

3 hours 20 minutes
---
6

medium quinces (about

2

lbs)

6 cups

water

2

T. freshly squeezed lemon juice

3 cups

sugar
---
Instructions
Wash quinces and remove any stickers, fuzz or leaves. Cut straight down around the core to remove the flesh, then cut into big chunks and discard the core. Place quince pieces in a medium-large saucepan and cover with the water and lemon juice. Gently simmer until the pieces are very tender, about 1½ hours.
Drain the quince pieces. Pass through a food mill. Transfer purée to a large non-stick sauté pan. Add the 3 cups of sugar and cook over low heat, stirring frequently for about an hour. The mixture will have reduced slightly in size, will be thick and shiny and will be rosy in color.
Line a sheet pan with parchment paper. Spread the quince paste so that it is approximately ½ inch thick. Smooth with a spatula and try to form into an even rectangle—it most likely will not cover the whole surface area of the pan. Set aside to cool completely.
When cool, turn out onto a large cutting board. Fill a large vase or cup with hot water and have a clean towel by your side. Cut parchment into squares approximately 2" x 6". Cut quince paste into same size. Layer quince paste in between parchment paper and store in a Tupperware in the refrigerator.
Slice into triangles or small squares when ready to serve. Will keep indefinitely in the refrigerator.
Prep Time:

20 minutes

Cook Time:

2 hours 30 minutes
This post may contain affiliate links. Please read my disclosure policy.