Persimmon Panini
This post may contain affiliate links. Please read my disclosure policy.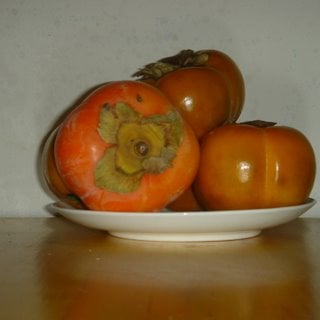 If you've never tasted a persimmon, now is the time. You'll find them in the markets from October to February, but they are most readily available and affordable in November and December. Look for the Fuyu persimmons or the Sharon fruit which have sweet tasting flesh even when they feel slightly firm and underripe. If you can only find Hachiya persimmons, wait until the flesh is very soft and ripe before eating, or it will taste extremely bitter. In fact, it most likely will be inedible.
Today for lunch I made a delicious sandwich: a persimmon panini. I was inspired by my Bon Appetit magazine's December issue which gives a recipe for a beautiful and delicious salad with Fuyu persimmons, prosciutto, pomegranate seeds, baby arugula and toasted pistachios. I made a variation of the salad not too long ago replacing the pistachios with candied pecans, omitting the pomegranate seeds and adding some nice shavings of Parmigiano Reggiano. I made a simple balsamic vinaigrette with honey, shallots and a tiny bit of garlic. The combination was delectable and it made for a nice accompaniment to an otherwise boring dinner. Now, on to the panini.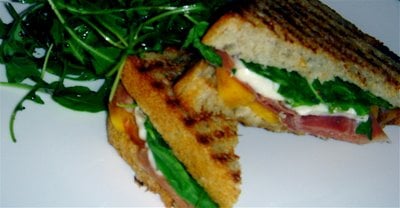 Print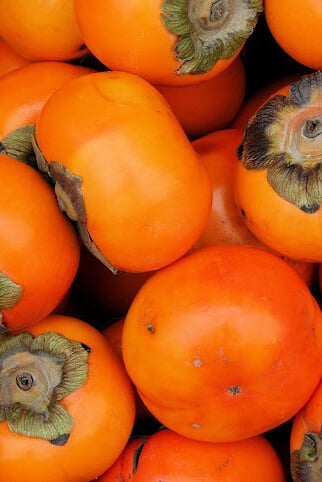 Persimmon Panini
---
Total Time:

10 minutes

Yield:

1 sandwich
2

slices sandwich bread

2

heaping tsp. mascarpone cheese

1

Fuyu persimmon

3/4 oz

Prosciutto di Parma

1 1/2 oz

sliced fresh mozzarella
a small handful of baby arugula

1/2 tsp

. olive oil
---
Instructions
Preheat a panini machine.
Spread one slice of bread with mascarpone cheese. Peel and slice persimmon into 1/4-inch thick pieces. Discard core. Top with half the slices of persimmon. (One persimmon will give you enough fruit for two sandwiches, so you can enjoy the remaining slices while you finish preparing your panini). Top with prosciutto. Top with sliced mozzarella. Top with baby arugula and remaining slice of bread.
When machine is ready, brush olive oil on both the top and bottom sides of the cooking surface. Place sandwich on griddle, close top and let press until you see the mozzarella ooze out. Enjoy!
Prep Time:

5 minutes

Cook Time:

5 minutes
This post may contain affiliate links. Please read my disclosure policy.