Jim Lahey's Overnight, No-Knead Bread
This post may contain affiliate links. Please read my disclosure policy.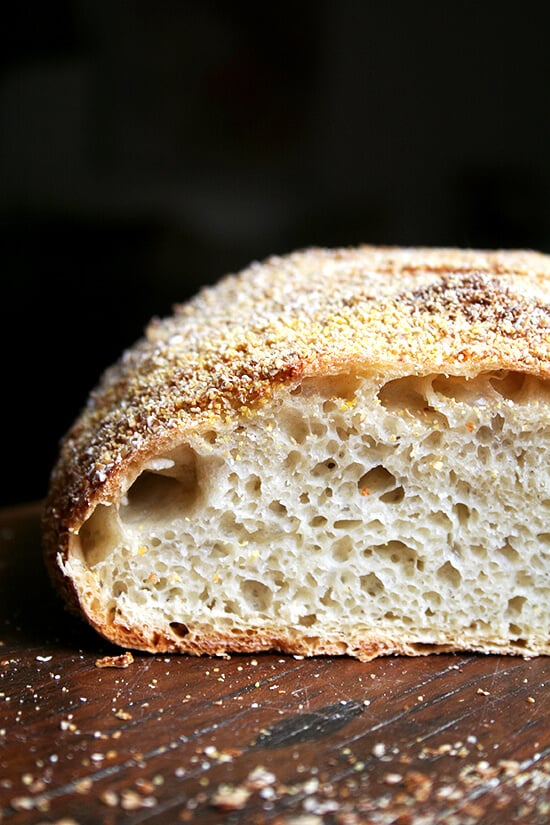 On Wednesday November 8, in his New York Times column, "The Minimalist," Mark Bittman enthusiastically describes a slow-rise, no-knead bread making process.
Since reading the article, I've made the bread twice, and both times have been very pleased with the results. A rustic boule emerges from the oven truly appearing as though it had been produced in a professional bakery. The crust is thin and crisp and the interior moist and airy.
The no-knead loaf looks beautiful and comfortably feeds ten people for dinner. The next day, it makes delicious toast and sandwich bread, and moreover freezes beautifully.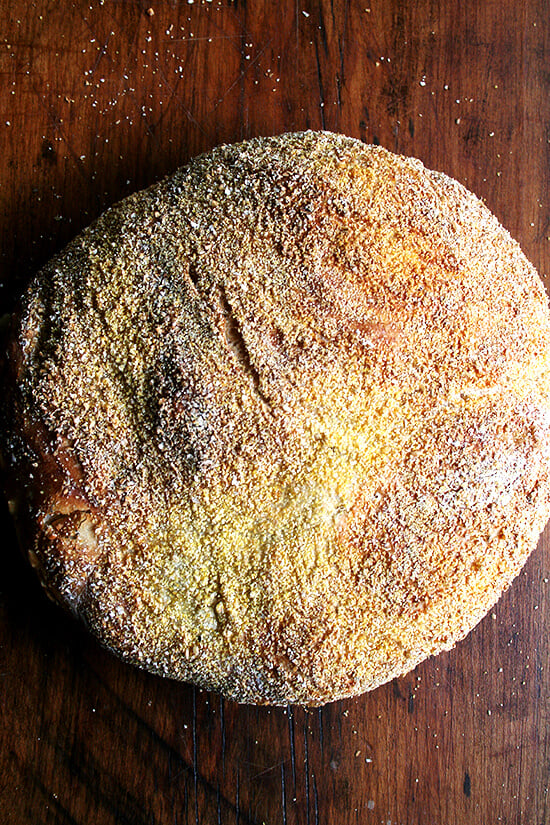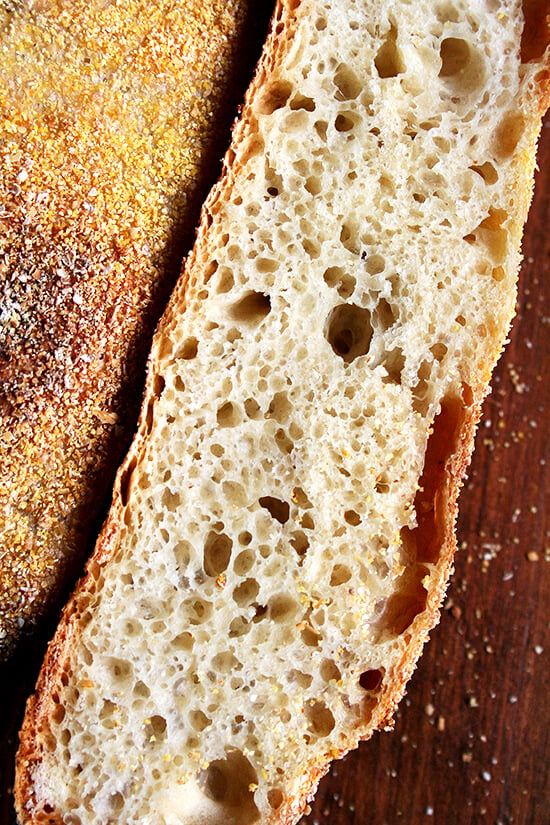 5 Secrets to Foolproof Bread Baking
See how easy bread baking can be in my free ecourse!
Print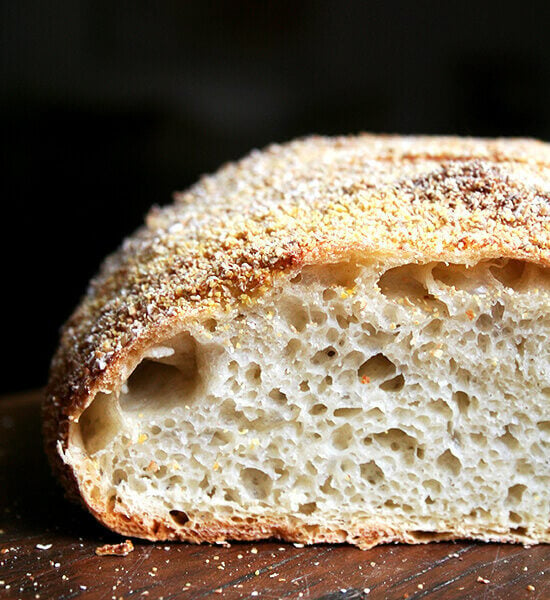 Jim Lahey's Overnight No-Knead Bread
---
Description
Adapted from "The Minimalist," The New York Times: Dining In November 8, 2006
Note: I've adjusted the recipe by adding a touch more salt than suggested in the article, and adding a half a teaspoon of sugar, which I think has improved the bread's flavor. Be sure to read the recipe through entirely before endeavoring to make this bread: you need 12-18 hours initially in rising time and 2 more hours subsequently for a second rise.
---
3 cups

bread flour, plus more for dusting

¼ tsp

. instant yeast

1¾ tsp

. table salt

½ tsp

. sugar
Cornmeal, wheat bran or oat bran as needed
---
Instructions
In a large bowl, combine flour, yeast, salt and sugar. Add 1 and 5/8 cups water, and stir until blended. Dough will be sticky. Cover bowl with plastic wrap and let rest 12-18 hours at room temperature.
After the 12 hours, or when the surface of the dough is dotted with bubbles, lightly flour a work surface and place dough on it. Sprinkle a little more flour on the dough and fold it over on itself once or twice. Cover loosely with plastic wrap and let rest about 15 minutes.
Meanwhile, lay a clean kitchen towel (not terry cloth) on a counter or tabletop in a draft-free area. Generously coat it with cornmeal, wheat bran, oat bran or any combination of the three. After the 15 minutes, using as much flour as necessary to keep dough from sticking to your fingers and the work surface, quickly shape the dough into a ball and place seam side down in the center of the prepared towel. Dust with more cornmeal, wheat bran or oat bran. If the towel is large enough, fold the sides up over the bread so that it is completely covered. If the towel is too small, cover with another towel. Let rise for another 2 hours.
Forty-five minutes before the dough is ready, preheat the oven to 450°F. Place a 6- to 8-quart heavy covered pot (cast iron, enamel, Pyrex or ceramic: I've used a ceramic Emile Henry Dutch oven and a circular Pyrex baking dish) on a rimmed sheet pan and place in the oven while it heats. When dough is ready, carefully remove pan and pot from oven. Slide your hand under towel and turn dough over into pot, seam side up. This is tricky. The first time I made this I clumsily flopped the dough into the pot and it lay seam side down. If this happens, just leave it: there is no way to fix it without burning yourself, and it ultimately does not matter. So, try your best to let the dough fall seam side up, and don't worry and if it lands seam side down. Cover with lid and bake 30 minutes. Remove lid and bake another 15-30 minutes or until it sounds hollow when tapped. Remove from oven, and turn out onto a cooling rack. This makes a mess. Placing the cooling rack inside another rimmed sheet pan helps catch the crumbs that fall out of the baking vessel.
Prep Time:

5 minutes

Cook Time:

45 minutes

Category:

Bread

Method:

Dutch Oven

Cuisine:

American
Keywords: bread, jim lahey, artisan, overnight, dutch oven
This post may contain affiliate links. Please read my disclosure policy.