Barely Wilted Spinach Salad
This post may contain affiliate links. Please read my disclosure policy.

Although my kitchen shelves are filled edge to edge with various cookbooks, I always find myself referring back to a select few. One happens to be Alice Waters' Chez Panisse Vegetables. The other day I was looking for a sautéed Brussels sprouts recipe, became unintentionally engrossed and found myself in the spinach section. In this section Alice Waters describes a simple method for making a warm spinach salad. It basically involves placing fresh spinach in a stainless steel bowl, tossing the leaves with a little bit of dressing and heating the bowl over a pan of simmering water until the leaves are just barely wilted.
The method works beautifully and is much healthier than using the traditional warm vinaigrette created by reducing rendered bacon fat with vinegar. Moreover, it is healthier than many salads in general because wilted greens require a smaller proportion of dressing than do unwilted greens.
It is also delicious. Here, I've prepared the spinach in the classic Roman style with raisins, pine nuts and sautéed apples, but the recipe could be adjusted in any number of ways. For a nice winter side dish turn your favorite spinach salad into a warm wilted salad employing this method.
Print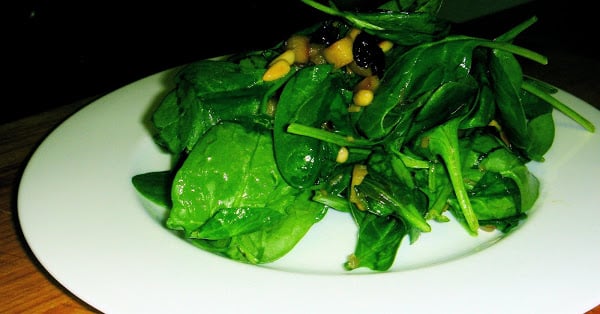 Warm Spinach Salad
---
Total Time:

40 minutes

Yield:

2 servings
6 oz

baby spinach

1/4 cup

raisins

1 tablespoon

of olive oil

1

apple, peeled and small diced (I used a Honey Crisp)

1

medium shallot, small diced (about

1 tablespoon

)

1/4 cup

toasted pine nuts

2 Tablespoons

balsamic vinaigrette (see recipe below)
Balsamic Vinaigrette:
2 tsp

. honey
kosher salt and freshly ground pepper to taste

1

clove garlic, minced

1/4 cup

balsamic vinaigrette

6 tablespoons

grapeseed oil
---
Instructions
To make the vinaigrette, whisk together the honey, salt, pepper, garlic and balsamic vinegar in a small bowl. Slowly drizzle in the oil, whisking constantly. Taste, adjust with more salt, pepper or oil if necessary. Store until ready to use.
To make the salad, place the spinach in a large stainless steel bowl and set aside. Fill a straight-sided sauté pan with one inch of water and heat until just barely simmering. If the raisins are very dry and shriveled, place them in a bowl and cover with some boiling water. Let stand 10 minutes until nicely plumped, drain and set aside.
In a medium-sized sauté pan, heat 2 tsp. of the olive oil over medium-high heat. When oil is barely smoking, add apples and sauté until nicely golden brown, but still hold their shape, about 3-5 minutes. Transfer apples to bowl with spinach.
Heat remaining teaspoon of oil in pan, add shallots and sauté until soft and slightly caramelized, another 3-5 minutes. Add the pine nuts and the drained raisins and sauté for 15 seconds more, then transfer to the bowl with the spinach.
Toss the spinach mixture with the 2 tablespoons of dressing and place bowl over pan with simmering water. Increase the heat to high and with tongs, gently toss spinach in bowl until nicely wilted. Serve immediately. Enjoy!
Prep Time:

15 minutes

Cook Time:

15 minutes
This post may contain affiliate links. Please read my disclosure policy.