Steak Frites with Aioli
This post may contain affiliate links. Please read my disclosure policy.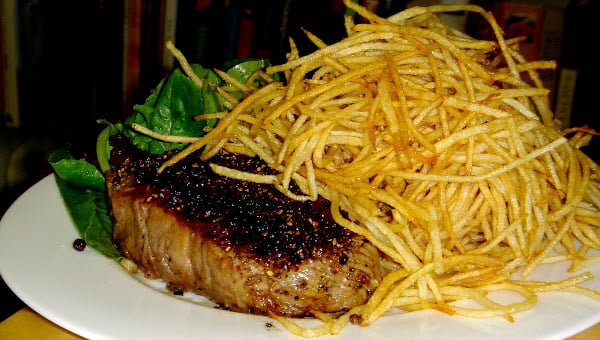 Last night my husband and I had the pleasure of dining at Monk's for the first time since the institution of the smoking ban. What a treat! Unspoiled by oppressive smoke, our Belgian ales and pommes frites with bourbon mayonnaise tasted exceptional. If you have a deep-fryer at home, recreating this classic bistro fare is quite simple; if you don't, the process of frying the potatoes will just be slightly more involved. As for the bourbon mayonnaise, we were only able to coax our waitress to reveal a few ingredients–bourbon, mayonnaise, garlic and jalapenos–the rest is the chef's secret. I've supplied a recipe for a spicy aioli, which is delicious with frites and a little less creamy tasting than Monk's famed condiment. The aioli recipe yields more than enough for two servings of frites and will keep for weeks in the refrigerator.
Print
Steak Frites with Aioli
---
Total Time:

55 minutes

Yield:

2 servings
2

egg yolks

2

T. Dijon mustard

2

cloves garlic

3

T. capers

2 tsp

. fresh lemon juice 

1 tsp

. Sriracha*

1 tsp

. red wine vinegar

½ tsp

. Worcestershire sauce

½ tsp

. kosher salt

½ cup

grapeseed oil

½ cup

olive oil (not extra-virgin)
* (available at Asian markets, or use ½ tsp. cayenne pepper)
1 tsp

. black peppercorns

1 tsp

. Szechwan peppercorns*

1/2 tsp

. white peppercorns

1/2 tsp

. red peppercorns
* If you can't find Szechwan peppercorns or red peppercorns, just use a mix of black and white
1 tsp

. olive oil
kosher salt

2

New York Strip Steaks, 1-inch thick

1 tsp

. canola oil
4 cups

peanut or canola oil for frying
1

Idaho potato

¼ cup

all-purpose flour
kosher salt to taste
---
Instructions
To prepare the aioli: combine yolks, mustard, garlic, capers, lemon juice, Sriracha, vinegar, Worcestershire and salt in a blender or food processor. With motor running, slowly drizzle in the grapeseed oil followed by the olive oil—drop by drop at first, and then more quickly once you see the mixture begin to emulsify. Taste, adjust seasoning with more salt if necessary, and chill until ready to use. Will keep for 2 weeks in the refrigerator.
To prepare the pepper rub, toast all of the peppercorns over medium-high heat in a small heavy skillet. After about 2-3 minutes, when the mixture is fragrant, transfer mixture to a spice grinder and coarsely grind. Pat the steaks dry, rub each side with the oil, then rub the peppercorn mixture all over each side. Sprinkle each side with kosher salt and set aside.
Preheat the oven to 450˚F only if you prefer your steak cooked more than rare. Heat a heavy oven-safe nonstick skillet or cast iron pan over high heat. Add the teaspoon of canola oil, swirl around, then add the steaks. Let cook 3-4 minutes on one side. Flip and cook for another 3 to 4 minutes for rare. If you prefer your steak more well-done, transfer skillet to oven and cook until desired temperature is reached. Transfer the steaks to a cutting board and let rest for 5 minutes. While the steak rests, cook the frites:
Heat oil in heavy, straight-sided pot till 375˚F or preheat your deep-fryer. Meanwhile, peel potato and julienne on mandoline. Place potato strips in a bowl and lightly coat and toss with half of the flour. If not all of the pieces are lightly coated, use the additional flour. When oil is ready, gently lower potatoes into oil with a spider or clean bowl—don't dump the potatoes in using the same bowl in which they were coated with flour. When potatoes are crisp and golden, remove from oil with spider or tongs, let drain slightly and sprinkle to taste with kosher salt.Serve immediately with aioli.
Prep Time:

30 minutes

Cook Time:

20 minutes
This post may contain affiliate links. Please read my disclosure policy.