Continental's Rad Na Thai with Shrimp
This post may contain affiliate links. Please read my disclosure policy.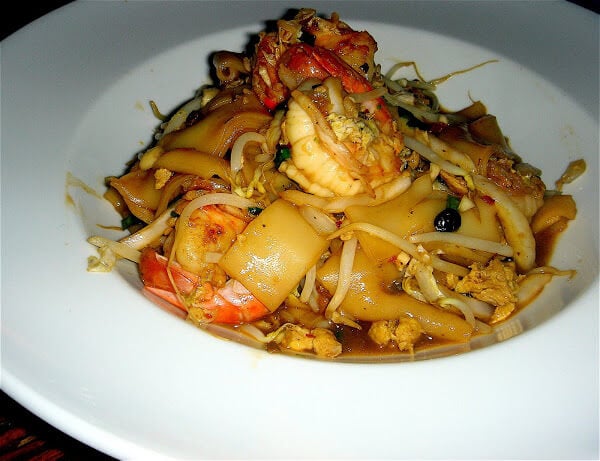 Every so often I find myself craving the rad na Thai chicken from Philadelphia's Continental. I was first introduced to this warm bowl of fresh rice noodles, bean sprouts, scallions, peanuts, chicken and slightly wilted romaine by a friend who described it as "a big bowl of goodness."
And that it is. You can imagine my excitement when I came across the recipe for ra na in Aliza Green's new cookbook, Starting with Ingredients. More exciting was discovering how easy the dish is to prepare: the sauce only has four ingredients, and once all of the ingredients are prepped, the dish takes fewer than ten minutes to complete.
Here I've prepared the dish with shrimp but any cut of meat that can be quickly sautéed — thinly sliced chicken, pork or beef — can be easily substituted for the shrimp. Some of the ingredients, such as the fresh rice noodles, will have to be purchased at an Asian grocery store. My favorite is Hung Vuong Market at 11th and Washington. Look for the uncut fresh rice noodles that are packaged in clear plastic with red writing in the non-refrigerated section of the market.
Print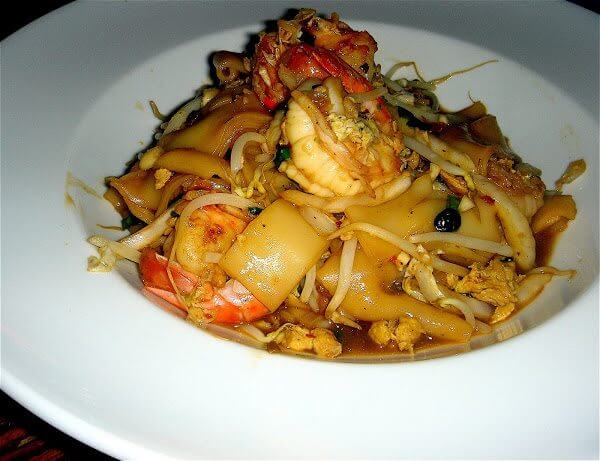 Continental's Rad Na Thai with Shrimp
---
6 tablespoons

Chinese oyster sauce

3 tablespoons

Asian fish sauce

3 tablespoons

sugar

3 tablespoons

rice wine vinegar

2 tablespoons

canola oil

1

pound shrimp 16/20 count, peeled and deveined, tails left intact

2

eggs, lightly beaten

1

pound fresh rice noodles, cut into

3/4

-inch wide strips

1/2 teaspoon

crushed red pepper flakes

1

bunch scallions, thinly sliced

1/2

pound fresh mung bean sprouts

1 cup

roasted salted peanuts

1

head romaine, outer leaves removed, cut into squares
---
Instructions
Make the Rad Na sauce: Combine the first 4 ingredients in a small pot and bring to the boil. Reduce heat and simmer 5 minutes. Set aside. (Keeps in the refrigerator for up to 1 week.)
Heat a skillet or wok until smoking hot. Add the canola oil and heat again until smoking. Add the shrimp and let cook on one side for about a minute and a half. Flip the shrimp, cook for another minute, and then transfer to a plate — the shrimp should still look slightly uncooked (they'll continue cooking as they sit and they'll finish cooking at the end when they are tossed with all of the hot ingredients).
Let the oil heat up again, another 20 seconds or so, then add the eggs. Stir vigorously to break up the egg as they cook.
Add the noodles, crushed pepper, and Rad Na Sauce. Stir to combine and coat noodles. When noodles are hot and coated with the sauce, add most of the scallions, most of the sprouts, and most of the peanuts. Return the shrimp to the pan, stir well to combine and coat all of the ingredients with the sauce and remove from heat.
Divide the lettuce between 4 bowls. Top with the hot noodle mixture and garnish with the remaining scallions, bean sprouts, and peanuts. Serve immediately.
Prep Time:

15 minutes

Cook Time:

10 minutes

Category:

Dinner

Method:

Stir-Fry

Cuisine:

Asian
Keywords: rad na Thai, chicken, shrimp, noodles
This post may contain affiliate links. Please read my disclosure policy.