Ciabatta
This post may contain affiliate links. Please read my disclosure policy.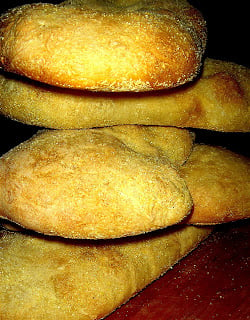 I normally cannot resist a sandwich pressed on soft, airy focaccia or wholesome, seeded multigrain bread, but every so often a fresh, crusty ciabatta roll is a nice change. In Italian, ciabatta means 'slipper,' which its elongated, flat, rectangular shape vaguely resembles. Ciabatta has a crisp crust, a soft porous interior and is light to the touch. The thin crusty exterior forms an ideal base to house heartier fillings such as roast beef, ham or grilled chicken breasts; and its soft interior absorbs spreads and sauces, without getting soggy—ciabatta holds up nicely under pulled pork, chicken parmesan and even hamburgers. This past Monday I made these slipper-shaped rolls for a honey-roasted ham, Gruyère cheese, Bosc pear and grainy mustard sandwich served at an office luncheon. It was a nice combination and because the bread was fresh, no toasting or pressing was necessary. Toasting, however, will fortify the exterior and ensure an especially solid base for a wetter filling such as pulled pork. Making ciabatta does require a starter, so a little planning is necessary. Slice and freeze any extra rolls—this recipe makes 6 4.5-oz sandwich rolls—and defrost and enjoy as needed.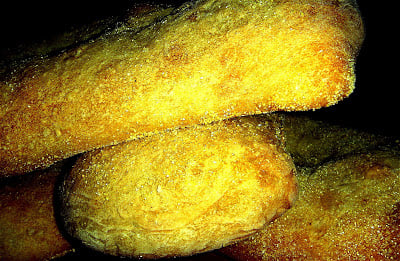 5 Secrets to Foolproof Bread Baking
See how easy bread baking can be in my free ecourse!
Print
Starter:
1/2 cup

(

4 oz

) water
a scant cup (4 oz) bread flour
8 oz

starter (see recipe below)

3/4 cup

+ 1 T. (

6.5 oz

) water
a scant

3 cups

(

13 oz

) bread flour

1 Tablespoon

honey

1/2 tsp

. instant yeast

1 teaspoon

table salt
cornmeal for dusting
---
Instructions
To make the starter, combine the water and flour in a small bowl. Let bubble slightly, stir and let sit at room temperature overnight.
To make the bread, combine the starter, water, bread flour, honey and yeast in the bowl of a stand mixer fitted with the dough hook. Mix at low speed for 1-2 minutes until combined. Add the salt and increase the speed to medium-low and mix for 6-7 minutes longer adding a little flour if necessary. (If the dough isn't wrapping around the hook or leaving the sides of the bowl at all, add flour. Be careful not to add too much additional flour, however, because the dough should be slightly sticky and moist.) Transfer dough to a slightly oiled bowl, roll around to coat, cover bowl with plastic wrap and let rise until doubled in bulk, about 1½ – 2 hours.
When dough has doubled, punch down and turn out onto a lightly floured work surface. Portion the dough into 4.5-oz balls, or divide the dough into approximately 6 equal portions. Gently knead and roll each portion into a ball, and let sit on the work surface covered with plastic wrap for 30 minutes. After the 30 minutes, grab each side of one ball with each hand and gently pull outward to stretch into a rectangle. Repeat with remaining balls. Let rest covered with plastic wrap for another 30 minutes.
Preheat the oven to 450° F. Line 2 sheet trays with parchment paper or Silpats. (I used one regular sized sheet pan and one slightly smaller pan. I still wasn't able to fit the pans side by side on one rack, so I baked them on separate racks and rotated them after 10 minutes of baking.) Lightly dust pans with cornmeal. After the 30 minutes, grab the sides of the rectangular shaped-dough forms, gently pull outward again and transfer to the prepared sheets. Let the dough rest again until the oven has preheated, about another 30 minutes.
When the rolls have slightly puffed again, bake until golden brown, about 10 minutes. Rotate the pans and bake for 3-5 minutes longer until nicely golden. Remove from the oven and transfer to a cooling rack immediately. Let cool completely before using.
Prep Time:

25 minutes

Cook Time:

15 minutes
This post may contain affiliate links. Please read my disclosure policy.