Red Velvet Cupcakes
This post may contain affiliate links. Please read my disclosure policy.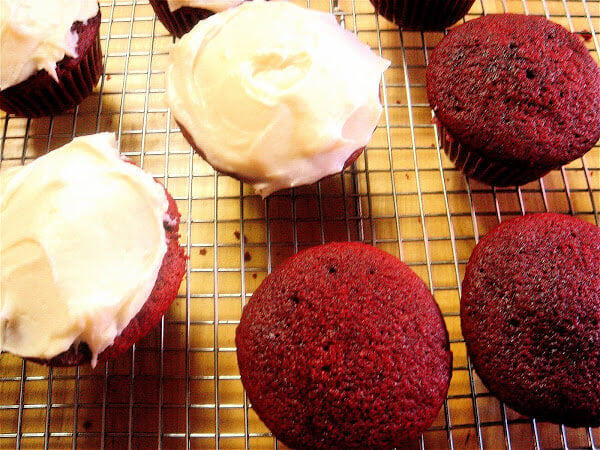 While I wish I could boast to my New York friends to having tasted a Philadelphia pastry shop's Red Velvet cupcake that rivals one from their beloved Magnolia Bakery, I cannot. In fact, the inspiration to make these little treats stems from the cupcake connoisseurs themselves.
When a group of my New York friends came to visit last weekend and described these as "the best cupcakes ever," I had to test a batch for myself. Indeed, the cake is moist and rich; the cocoa flavor, distinct; and the frosting, when soft and creamy, delicious. Impressive looking, festive, and easy to prepare, what's not to love. Perfect for Valentine's Day if you ask me.
Red Velvet Cupcakes
Yield=24
2¼ cups (9¾ oz) sifted flour (sifted, then measured)
2 tablespoons unsweetened cocoa powder
1 teaspoon baking powder
1 teaspoon baking soda
1 teaspoon kosher salt
1 cup buttermilk
2 tablespoon red food coloring (2 1-oz bottles)
1 teaspoon distilled white vinegar
1 teaspoon vanilla extract
1½ cups sugar
1½ sticks unsalted butter, room temperature
2 large eggs
8 oz cream cheese, softened
8 oz butter, softened
1 teapoon vanilla extract
2 cups confectioners' sugar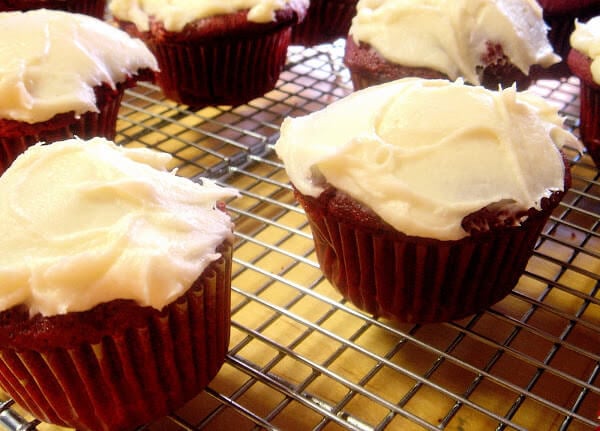 1. Preheat oven to 350°F. Place liners in 12-cup cupcake pan.
2. Sift sifted flour, cocoa powder, baking powder, baking soda, and salt into medium bowl. Whisk buttermilk, food coloring, vinegar, and vanilla in small bowl to blend.
3. Using electric mixer, beat sugar and butter in large bowl until well blended. Add eggs 1 at a time, beating until well blended after each addition. Beat in dry ingredients in 4 additions alternately with buttermilk mixture in 3 additions.
4. Spoon batter into cupcake liners only 2/3 or ¾ of the way full—don't be tempted to fill them higher: they'll bake into mushroom caps instead of nice rounded domes, and if they are filled too high, there will not be enough batter for the 24 cupcakes. Bake cakes until inserted toothpick comes out clean, about 23-26 minutes. Cool 10 minutes before removing from pan onto racks; bake remaining cupcakes; cool all completely before frosting.
Frosting: Beat butter, cream cheese and vanilla until smooth and combined. Add the confectioners' sugar and beat until smooth.
This post may contain affiliate links. Please read my disclosure policy.