Flourless Chocolate Cake
This post may contain affiliate links. Please read my disclosure policy.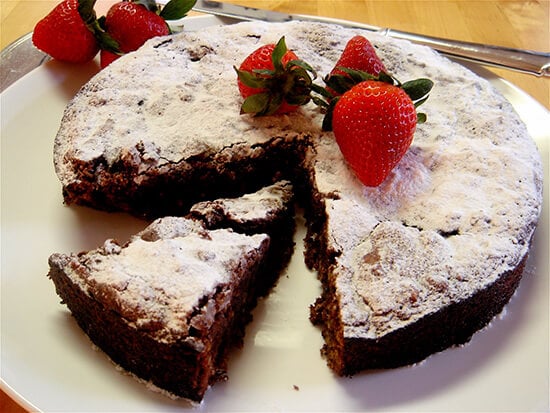 Of all the symbolic foods on the Passover Seder table, matzoh is the most important. Made without yeast and quickly baked, matzoh reminds Seder participants of the Jews fleeing Egypt who had no time to leaven their bread or bake it properly. Flour used to make matzoh is made from wheat that is "watched" from the moment of harvesting to ensure it never contacts any water, which might cause the flour to expand and rise.
As leavened flour is prohibited during Passover, flourless chocolate cakes are popular Passover desserts. This rich chocolate cake rises dramatically, cracks and then falls. When dusted with Passover "confectioners' sugar" and garnished with berries, the cake looks striking on the table.
Print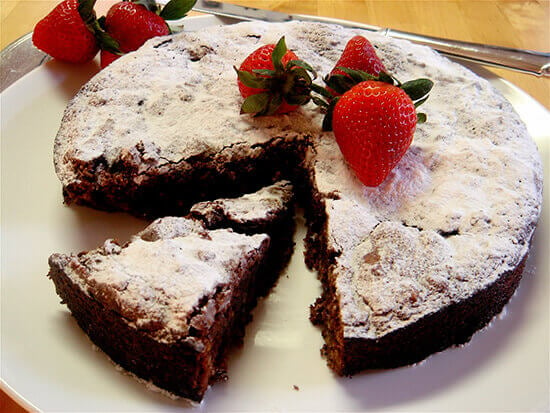 Flourless Chocolate Cake
---
8 oz

semisweet chocolate

8 tablespoons

margarine or butter

½ teaspoon

kosher salt

¼ teaspoon

almond extract

4

large eggs, separated

2

large eggs, whole

1/3 cup

plus ½ cup sugar

½ cup

almond flour
1/3 cup

granulated sugar

½ teaspoon

potato starch or confectioners' sugar (for non-observers)
---
Instructions
Preheat the oven to 350ºF. Place chocolate and margarine or butter in bowl and microwave on high for one minute, stirring once after 30 seconds.
Coat a 9-inch springform pan with nonstick spray. Line bottom with round of parchment paper, then spray the parchment as well.
Whisk chocolate mixture until smooth, then add salt and almond extract and stir until blended.
Whisk the four yolks and two whole eggs with the 1/3 cup of sugar just until blended. Add yolk mixture to chocolate mixture and whisk until smooth. Stir in almond flour.
In the bowl of an electric mixture, whip the four egg whites until soft peaks form. Gradually add the ½ cup sugar and beat until egg whites become shiny and hold their peaks, but are not too stiff.
Stir one third of the beaten egg whites into the batter to lighten. Then, in two additions, gently fold in the remaining egg whites. Pour batter into pan and place in oven. Bake for 35 – 40 minutes.
Cake will rise and have cracks running across it. It should feel only slightly wobbly when gently pressed.
Remove from oven and let cool in pan 10 minutes before removing sides and transferring to cooling rack. Meanwhile, pulse sugar and potato starch in a spice grinder to make a powder. Sift mixture over cake and serve.
Prep Time:

15 minutes

Cook Time:

40 minutes
This post may contain affiliate links. Please read my disclosure policy.