Two Kentucky Derby Day Desserts
This post may contain affiliate links. Please read my disclosure policy.
A panel of four judges from Jefferson Medical College, led by my sister Lindsey, polished off this mint julep cake in one sitting. A bourbon-butter sauce moistens the vanilla-buttermilk cake when it first emerges from the oven; and a crème de menthe icing coats the exterior once cooled. The boozy and minty flavors make this cake a truly festive Derby Day dessert.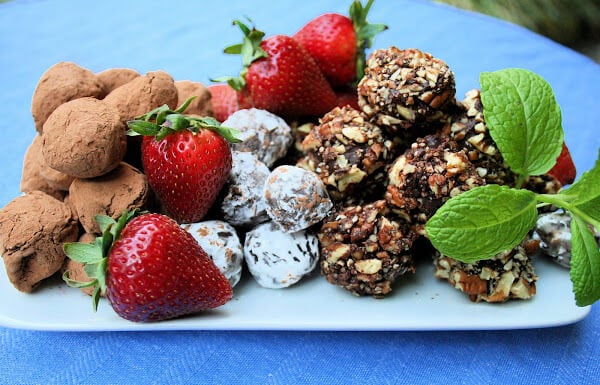 And these assorted bourbon-spiked truffles, particularly the pecan-coated variety, are always a treat. The base truffle recipe is excellent and can be adapted in a number of ways: any alcohol or liqueur, from Grand Marnier to Port to Baileys Irish Cream, can replace the bourbon; and any coating from white chocolate to pistachios to toasted coconut can replace the cocoa powder, confectioners' sugar and pecans. Although the truffles do take more time to prepare than the cake, the elegant presentation when combined with fresh strawberries makes the work worthwhile, for any special event. Enjoy!
Mint Julep Cake
Yield = 12-18 servings
2 cups white sugar
1 cup butter, room temperature
3 cups cake flour
1 teaspoon kosher salt
1 teaspoon baking powder
½ teaspoon baking soda
4 eggs
2 teaspoons vanilla extract
1 cup buttermilk
½ cup sugar
½ cup butter
¼ cup bourbon
1½ cups confectioners' sugar
1 tablespoon milk
1 tablespoon white crème de menthe liqueur
Preheat oven to 325ºF. Coat a 10-inch Bundt pan with cooking spray.
Beat sugar and butter until light and fluffy. Meanwhile, whisk together flour, salt, baking powder, and baking soda in a large bowl.
Add eggs one at a time to butter mixture, mixing well after each addition. Add vanilla.
Sprinkle half the flour mixture into the butter mixture and stir until just combined. Add half the buttermilk, stir. Repeat with remaining flour and buttermilk. Pour into prepared pan and smooth evenly around center.
Bake for 50 minutes or until toothpick inserted in the center comes out clean. Place on cooling rack. Meanwhile combine the ½ cup sugar, butter and bourbon in a small saucepan and heat until butter is melted. Stir until smooth and remove from heat.
Using a skewer, poke holes into cake. Pour sauce evenly over the cake. Let cake cool to room temperature in the pan before removing.
Meanwhile whisk confectioners' sugar, milk and crème de menthe until smooth. Add more milk or liqueur to reach desired consistency. Drizzle sauce over cooled cake. Garnish with fresh mint leaves.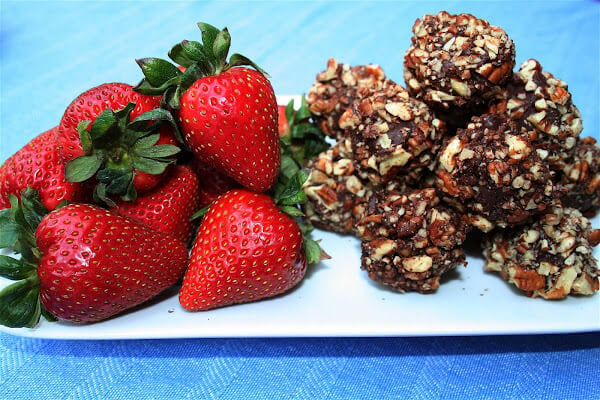 Chocolate-Bourbon Balls
Yield = 35
10 oz bittersweet chocolate, chopped
3 tablespoons unsalted butter
½ cup heavy cream
1 tablespoon light corn syrup
¼ teaspoon kosher salt
¼ cup bourbon
12 oz candy-making chocolate disks*
½ cup Dutch process cocoa powder
½ cup chopped pecans
½ cup confectioners' sugar
Place the chocolate and the butter in a microwave-safe bowl and heat for 1 minute, stirring after the first 30 seconds.
In a small sauté pan heat cream, corn syrup and salt until simmering. Pour over melted chocolate mixture and let stand 2 minutes. With a spatula gently stir mixture until evenly blended. Pour the alcohol, about a tablespoon at a time, into the chocolate mixture, stirring well after each addition. Pour mixture into an 8×8 inch baking dish, preferably glass or Pyrex. Let chill in the refrigerator for at least one hour or overnight.
Line a cookie sheet with parchment paper. Using a #100 scoop or a melon baller, gently drag the balled end across the surface of the chocolate. Release the ball of chocolate onto the cookie sheet and repeat until all of the chocolate has been scooped. Let chill in the refrigerator for at least an hour.
Place the coating chocolate in a large stainless-steel bowl. Fill a large wide-mouthed pot with one inch of water. Bring to a boil, then reduce to a simmer and place the bowl of chocolate over the pot — make sure that the bottom of the bowl is not touching the water. After a few minutes stir the chocolate with a spatula. Place the cocoa powder, pecans and confectioners' sugar in shallow vessels, preferably with sides. Have a clean Tupperware ready for the finished truffles.
When the chocolate is smooth and melted, remove the bowl from the heat. Remove the chocolate balls from the refrigerator. Working one at a time, place one ball into the melted chocolate. Quickly coat the ball using a spatula or spoon, then transfer to desired coating vessel. Gently shake the vessel back and forth until the truffle is coated, and let sit while you move to the next one. Repeat with two more before removing the first finished truffle. After 3 or 4 of the truffles have been coated, remove the first completed truffle to the clean vessel.
Once all of the truffles are coated, store in the refrigerator until ready to serve. If you prefer to eat them at room temperature, remove them from the refrigerator one hour prior to serving.
*Merckens brand from Fante's or the dark chocolate disks from Nuts to You work well.
This post may contain affiliate links. Please read my disclosure policy.