Lemon Tart
This post may contain affiliate links. Please read my disclosure policy.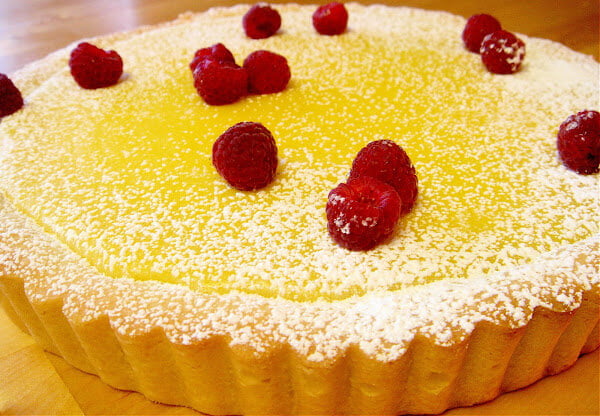 In lemon tarts, too often too much sugar compensates for the sourness of the lemon, making them cloyingly sweet. This tart finds a nice balance: at once sweet, tart and lemony. Light and springy, this pleasantly sweet tart is guaranteed to please.
Perfect Lemon Tart
Yield = 1 9-inch tart
1 egg yolk
1 tablespoon sour cream
1 tablespoon cold water
1 1/4 cups all-purpose flour
2/3 cup confectioners' sugar
1/4 teaspoon kosher salt
8 tablespoons unsalted butter, not too cold
7 egg yolks
2 eggs
1 cup + 2 tablespoons sugar
pinch kosher salt
2/3 cup freshly squeezed lemon juice
zest of two lemons
4 tablespoons butter, room temperature
3 tablespoons heavy cream
confectioners' sugar for sprinkling
fresh raspberries
Whisk together yolk, sour cream and water. In the bowl of a food processor, pulse together the flour, sugar and salt. Add butter and pulse for 10 seconds at 1-second intervals. Add yolk mixture and pulse until mixture gathers together and forms a mass around the blade. Add one more tablespoon of water if necessary.
On a lightly floured work surface, roll dough out approximately into a 10-inch circle, then transfer to 9-inch tart pan with removable bottom. With lightly floured hands, press dough into bottom and sides of pan. Line dough with foil or plastic wrap, fill with dried beans or pie weights and place in the freezer for 30 minutes.
Preheat the oven to 375ºF.
Place tart shell in the oven and bake with weights for 30 minutes or until edges are lightly golden brown. Remove weights and bake for five minutes longer. Remove tart from oven and place on cooling rack.
Reduce oven temperature to 350ºF. Bring a wide-mouthed pot filled1-inch high with water to a boil. In a large bowl, whisk together the yolks, eggs, sugar and salt until just blended. Add the lemon juice and whisk until blended. Place bowl over pot of simmering water and whisk constantly until mixture begins to thicken, about five minutes. When mixture is the texture of thin pudding, remove bowl from heat and whisk in butter one tablespoon at a time. Strain mixture into clean bowl and stir in the heavy cream. Pour mixture into tart shell and place in the oven for 15-20 minutes. Mixture should feel spongy when gently pressed and filling will jiggle when pan is gently shaken.
Remove from oven, and let cool for 10 minutes on rack before removing shell. Chill in refrigerator until ready to serve. Spinkle with confectioners' sugar and garnish with fresh reaspberries.
This post may contain affiliate links. Please read my disclosure policy.