Salad From My CSA Basket
This post may contain affiliate links. Please read my disclosure policy.
This past March I signed up for the Lancaster Farm Fresh Community Supported Agriculture (CSA). I had just read Michael Pollan's, The Omnivore's Dilemma, and felt inspired to start buying locally produced foods as often as possible. I visited Maysie's Farm Conservation Center in Glenmoore, PA and spent a few hours touring the green house, hoop house and barn with Sam Cantrell, the owner of the farm. Sam explained to me the concept and history of CSAs and when I left the farm I resolved to join one. While many CSAs exist outside of Philadelphia, two of the larger ones — Lancaster Farm Fresh and Red Earth Farm — deliver to locations all across the city.
Greens in Maysie's Farm Conservation Center's hoop house: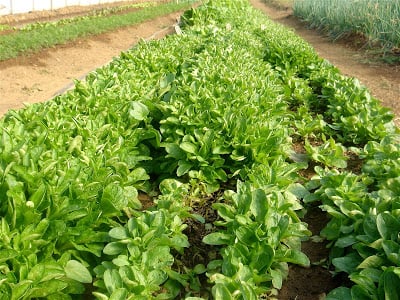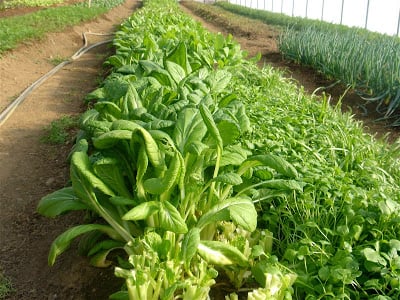 Last Thursday, members of the Lancaster Farm Fresh CSA received their first, long-awaited share of vegetables for the 2007 growing season. This box, packed on Wednesday night with vegetables harvested earlier that day, included 2 heads of bok choy (one green, one red), 2 big heads of Romaine, 1 bunch of asparagus, 1 bunch of French breakfast radishes, 1 bag of mesclun and 1 bag of mustard greens. On Thursday morning, a Lancaster Farm Fresh truck dropped off the boxes at 10 locations outside of Philadelphia and 10 locations in the city. I picked up my box at the Fair Food Farmstand in Reading Terminal Market. This salad of grilled tender asparagus, peppery sliced radishes, and herby mixed greens is just one of the delectable dishes I enjoyed this week from my basket of bounty.
Lancaster Farm Fresh CSA
Grilled Asparagus, Sliced Radish and Mesclun Salad
Serves 4
1 bunch asparagus
1 tablespoon olive oil
kosher salt and pepper to taste
8 breakfast radishes
8 oz. mesclun
1 cup yellow cherry tomatoes, halved
1 cup red cherry tomatoes, halved
Parmigiano Reggiano
Tarragon – Shallot Vinaigrette (recipe below)
Turn grill to high. Toss asparagus with olive oil and salt and pepper to taste. Place on grill, cover and cook 5 minutes, checking after 3. Test one asparagus with a knife, and remove from the grill if tender. Let cool, then chop into 2-inch lengths on the bias.
Cut the ends of the radishes and slice thinly using a mandoline or knife. Halve the tomatoes and set aside. With a vegetable peeler or knife, shave off large strips of cheese from the block of Parmigiano Reggiano. Set aside.
To assemble, place asparagus, radishes, tomatoes and mesclun in a large bowl. Toss lightly with dressing. Divide evenly among plates and top with the shavings of Parmigiano.

Tarragon-Shallot Vinaigrette
Yield = ½ cup
4 teaspoons sherry vinegar
1 tablespoon finely chopped shallots
½ teaspoon Dijon mustard
¼ teaspoon sugar
¼ teaspoon kosher salt
¼ cup extra-virgin olive oil
2-3 tablespoons tarragon, finely chopped
In a small bowl, whisk together the vinegar, shallots, mustard, sugar and salt. Let mixture macerate for 20 minutes. Slowly drizzle in olive oil, whisking constantly until emulsified. Stir in tarragon. Taste, add more salt and pepper if necessary. Set aside.
One of the border collies at the farm:
This post may contain affiliate links. Please read my disclosure policy.