Memorial Day Ice Cream Cookie Sandwiches
This post may contain affiliate links. Please read my disclosure policy.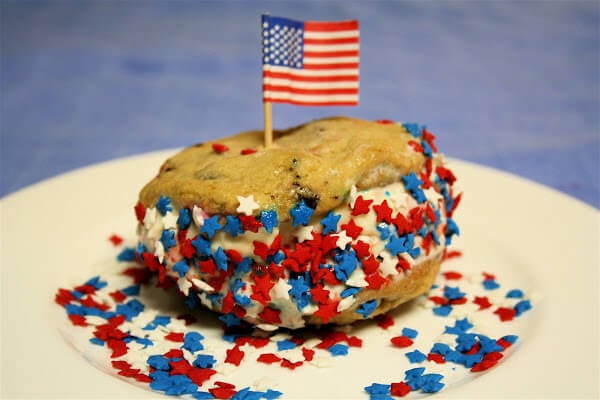 During a recent visit to upstate Vermont, I enjoyed several Chester Bars with two of my little cousins. Chester Bars, a Vermont specialty, are ice cream cookie sandwiches, similar to Chipwiches, but so much better. This red, white and blue star-dipped version, while not quite the same as the original, makes a festive dessert for Memorial Day weekend. The cookies, delicious on their own, are soft and chewy and make a perfect base for a rich vanilla-bean ice cream filling.
Memorial Day Ice Cream Cookie Sandwiches
Yield = 17 sandwiches
10¾ oz unsalted butter (1 1/3 cups)
10¼ oz light brown sugar (1½ cups packed)
7¾ oz granulated sugar (1 cup)
2 large eggs
1 T. pure vanilla extract
17 oz unbleached all-purpose flour (3¾ cups)
1¼ tsp table salt
1 tsp. baking soda
12 oz semisweet chocolate chips
½ gallon vanilla ice cream
red, white and blue sprinkles
Preheat oven to 375°. Cream butter and sugars together in the bowl of a stand mixer fitted with the paddle attachment, until light and fluffy. Scrape the bowl, beat again on high for one minute. Add the eggs and vanilla and beat until well blended, about another minute on medium-high speed. Whisk flour, salt and baking soda together in separate bowl. Add to butter mixture and combine with a spatula or wooden spoon until just blended. Add the chocolate chips and stir till combined. The dough will be stiff.
Place heaping tablespoons of the dough onto an ungreased jelly-roll pan. (If you have a digital scale, each ball should weigh 1¾ oz. If not, each ball should be approximately equal to two level tablespoons.) Bake only six cookies at a time.
Bake 10-11 minutes. Keep a close watch. The cookies will still look uncooked when you remove them from the oven. (You will think you are removing them too early, but the cookies will continue cooking as they sit on the tray out of the oven — this will guarantee a moist and chewy cookie.) Let sit for 10 minutes on tray before removing to a cooling rack. Let cool completely.
Line half of the cookies on a work surface face down. Scoop ice cream from tub and place on top of each cookie, about ¼ – ½ cup of ice cream. Top each with a cookie and gently press. Wrap each cookie in plastic wrap and place in the freezer. (If you have space for a cookie sheet in the freezer, line the sandwiches on a sheet pan, cover whole pan with plastic wrap and freeze until ready to serve.)
Place various sprinkles in separate bowls. Let kids, adults, guests dip their own sandwich in desired topping.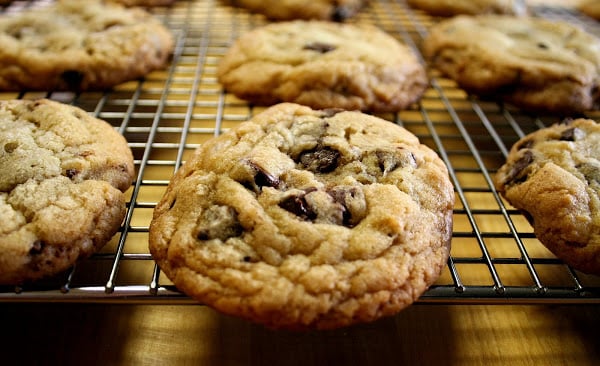 This post may contain affiliate links. Please read my disclosure policy.