Tomato, Watercress and Mozzarella Salad
This post may contain affiliate links. Please read my disclosure policy.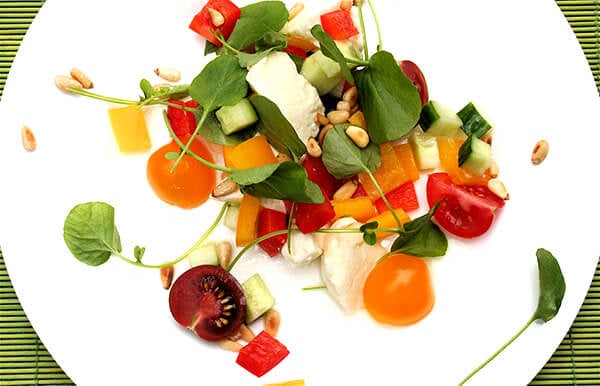 Last Sunday on our way to Fante's Kitchen Wares Shop in the Italian Market, my aunt and I stopped by Claudio's. While we had intended only to briefly visit the store, we ended up in line, waiting patiently with many others, to be fed cheese. Three in particular always deserve a taste — Claudio's mozzarella, Claudio's ricotta and an imported baked lemon-ricotta. My aunt walked out of the store with a wedge of all three.
The mozzarella, truly Claudio's specialty, tastes like imported buffalo mozzarella, with a slightly firmer texture — it holds up nicely in this watercress salad. Spread onto toast, the homemade ricotta with a thin slice of tomato makes a delectable snack. And a sliver of the sweet lemon-ricotta, when paired with fresh berries, makes a light summer dessert .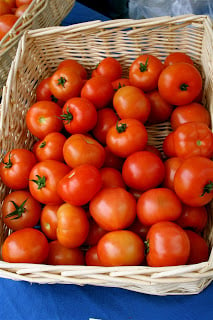 Tomato, Watercress and Mozzarella Salad
Serves 4
1 pint cherry tomatoes
1 red bell pepper
1 yellow bell pepper
1 English cucumber
1 ball mozzarella, Claudio's if possible
1 head watercress
¼ cup pine nuts, toasted
vinaigrette (see below)
Halve the cherry tomatoes and place in large bowl. Remove stem and seeds from peppers and chop into small dice. Dice the cucumbers finely as well and add to bowl with the tomatoes. Cut the ball of mozzarella into large pieces and add to the bowl. Add the watercress and pine nuts to the bowl and toss lightly with the Basil-shallot vinaigrette.
Basil-Shallot Vinaigrette
Yield = ½ cup
4 teaspoons sherry vinegar
1 tablespoon finely chopped shallots
½ teaspoon Dijon mustard
¼ teaspoon sugar
¼ teaspoon kosher salt
¼ cup extra-virgin olive oil
1 small bunch basil, finely chopped (1/4 cup)
In a small bowl, whisk together the vinegar, shallots, mustard, sugar and salt. Let mixture macerate for 20 minutes. Slowly drizzle in olive oil, whisking constantly until emulsified. Add the basil, whisk, taste, add more salt and pepper if necessary. Set aside.
This post may contain affiliate links. Please read my disclosure policy.