Grilled Basil-Garlic Shrimp with Chili-Lime Dipping Sauce
This post may contain affiliate links. Please read my disclosure policy.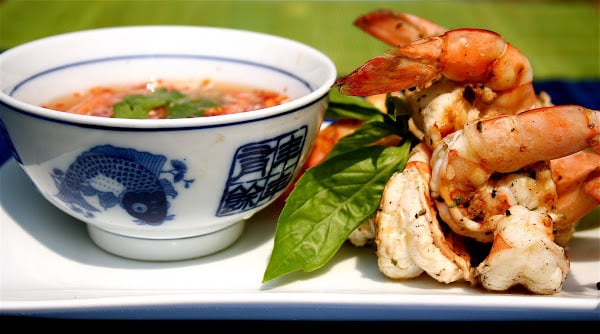 From tainted pet food to lead paint-coated toys, China is taking heat for a numer of its potentially dangerous products. Most recently, activists warn consumers to be wary of China's farm-raised fish and specifically its farm-raised shrimp. While America currently imports 90 percent of its shrimp from farm-raised fisheries in Asia, this reality may change as more people learn about the the foreign industry.
The environmentally irresponsible practices employed in many of these Asian facilities have been widely documented. An estimated 3.7 million acres of tropical mangrove forests have been cleared to create multi-acre shrimp farms, destroying important habitats for fish, birds and humans. Untreated wastewaters pass freely from the shrimp cages to the surrounding ocean, polluting the water and aquatic life. And the liberal use of antibiotics, needed to prevent and treat rampant diseases, creates strains of drug-resistant bacteria, potentially compromising our health. These farms, many now abandoned after years of land exploitation, litter the coastlines of China, Vietnam and other big fish-exporting countries.
For these reasons, Seafood Watch, an organization devoted to ocean conservation, ranks wild-caught shrimp from the Atlantic and the Gulf of Mexico as the best choice among warm-water or tropical shrimp and a "good alternative" to its best overall shrimp choice: wild-caught shrimp from Oregon. Seafood Watch recommends these pink, cold-water crustaceans for shrimp cocktail or salad, and praises Oregon shrimpers for achieving low levels of bycatch. This watchdog organization places imported farm-raised shrimp on the "avoid" list.
Catching shrimp in their natural habitat, however, is not a perfect alternative to farming. Seafood Watch estimates that shrimp trawling — the dragging of a trawl net along the seafloor — accidentally catches and kills more than 1.8 million tons of marine life (bycatch) each year, including many turtles and sharks, accounting for more than 25 percent of the world's wasted catch.
By creating turtle excluder devices (TEDs) and various bycatch reduction devices (BRDs), however, some fishermen have reduced the number of turtles trapped by 97 percent and reduced bycatch of some fish species by as much as 50 percent.
A recent advertsing campaign beginnig, "You've been bamboozled. Snooped. Hoodwinked," stars Southern shrimpers promoting their domestic wild-caught prawns. The shrimpers hope to rebuild an industry severely damaged not only by hurricanes Katrina and Rita, but also by the increasing infiltration of cheap imported shrimp in the market.
For more information about where to find wild American shrimp visit wildamericanshrimp.com. Whole Foods Market sells 16-20 count wild shrimp from the Gulf of Mexico. While it may be a little harder to find, wild shrimp does exist at the market. This summer, search for this environmentally responsible and tasty product — go wild for American shrimp!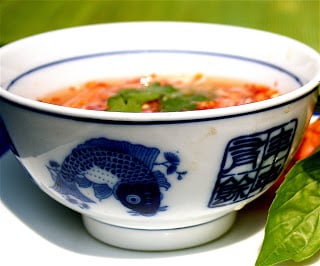 Print
Grilled Basil-Garlic Shrimp with Chili-Lime Dipping Sauce
---
Author:

Alexandra

Total Time:

30 minutes

Yield:

6 to 8
2

lbs. large, 16-20 count shrimp

½ cup

olive oil

¼ cup

freshly squeezed lime juice

½ cup

finely chopped basil

4

cloves garlic, minced
kosher salt
pepperfor the Chili-Lime Dipping Sauce:½ cup freshly squeezed lime juice

¼ cup

fish sauce

¼ cup

rice vinegar

½ cup

thinly sliced shallots

3 tablespoons

sugar

1 teaspoon

crushed red pepper flakes

2

cloves garlic, thinly sliced

1

carrot, peeled

1

chili, such as Thai bird, Serrano or jalapeno
---
Instructions
Peel shrimp, leaving the tails on. Run a pairing knife down the backside of each shrimp, removing the vein, while butterflying the shrimp. Place in a bowl with the oil, lime juice basil and garlic. Let marinate in the refrigerator for 20 minutes.
Preheat the grill to high. Remove shrimp from bowl, discarding excess marinade and place on a large plate. Season evenly with kosher salt and pepper. When grill is hot, place shrimp onto grates and let cook for 2 minutes, leaving the cover open. Flip shrimp and cook for another 2 minutes. Remove from grill, pile on platter, and serve immediately with dipping sauce.
To make the sauce: Combine lime juice, fish sauce, vinegar, shallots, sugar, pepper flakes and garlic in a small bowl. Using a mandoline, vegetable peeler or a knife, cut the carrot into 8 to 10 thin slices. Then with a knife, cut into very fine strips. Add to the bowl. Cut the chili into thin cross sections, leaving the seeds intact, and add to the bowl. If time permits, refrigerate for at least 1 hour before serving.
Prep Time:

25 minutes

Cook Time:

5 minutes
This post may contain affiliate links. Please read my disclosure policy.