Pluot And Frangipane Galette
This post may contain affiliate links. Please read my disclosure policy.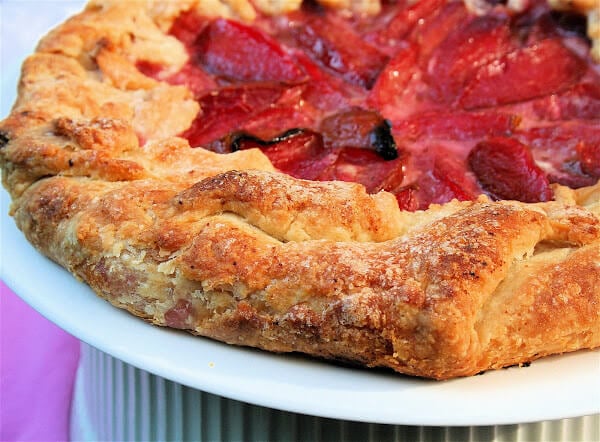 Little could 16th century Italian nobleman, the Marquis Muzio Frangipani, have guessed a perfume he invented to scent the gloves of Louis XIII would inspire pastry chefs for centuries to follow. Soon after Frangipani, living in France, released his fragrance made from bitter almonds to the public, the local patisseries created a cream made with milk, sugar, flour, eggs, butter and ground almonds. They named it frangipane.
While frangipane can be applied to myriad desserts, it nicely complements fruit, particularly summer stone fruit. A layer of frangipane beneath warm sweet peaches, plums, apricots or nectarines, encased in a free-form pastry shell transforms a simple tart into an elegant finale.
For a change from tradition, try making this galette with pluots, a three-quarter plum, one-quarter apricot hybrid. Introduced to the markets in 1989 by Floyd Zaiger, pluots exist today in over 20 varieties. With an intense plum perfume and taste, and a higher sugar content than either apricots or plums, pluots make a nice addition to morning cereals, afternoon salads and evening summer tarts.
Pluot-Frangipane Galette
Yield = One 9-inch tart
Note: The galette dough yields enough for two tarts. Halve the recipe if desired, or freeze the remaining dough round for a later use.
Galette Dough
yield = Two 9-inch tarts
2½ cups all-purpose flour
2 T. sugar
½ tsp. table salt
16 T. unsalted butter
½ C. + 2 T. ice water
Whisk flour, sugar and salt together. Cut butter into flour and using the back of a fork or a pastry cutter, incorporate butter into flour mixture until butter is in small pieces. Add ice water and continue to stir with fork until mixture comes together to form a mass. Add more ice water if necessary, one tablespoon at a time. Gently form mass into a ball and divide into two equal pieces. Shape each piece into a ball, wrap in plastic wrap and chill until ready to use.
Frangipane
½ C. almond paste
¼ C. sugar
4 T. butter at room temperature
1 T. rum
1 egg
In the bowl of a stand mixer or food processor, combine almond paste, sugar and butter. Beat until combined, then add rum and egg and beat until smooth, or until only small lumps remain. Set aside.
Finishing the tart:
1½ lbs. stone fruit such as pluots, peaches, nectarine, apricots or plums
1 T. butter, melted
1 T. sugar
parchment paper
Frangipane (see recipe above)
Galette dough (1 9-inch disk, recipe above)
vanilla ice cream
1. On a lightly floured work surface, roll one disk out approximately into an 11-inch circle, using flour as needed to prevent sticking. Line a rimless cookie sheet (or upside-down jelly roll pan) with parchment paper. Transfer dough to parchment paper and chill for 10 minutes in the refrigerator.
2. Spoon the frangipane in center of tart and spread toward the edges, leaving a 2-inch border all the way around. Cut the fruit into ½-inch thick slices. Arrange the fruit in concentric circles over the frangipane.
3. Preheat the oven to 400ºF. Finish the tart by folding the exposed border over the tart on itself, crimping to make a folded-over border. Chill tart again in the refrigerator for 10 minutes. Brush dough with butter and sprinkle sugar over entire tart. Place in the oven for 35-45 minutes or until crust is golden. Let cool for five minutes on tray then slide parchment paper and tart onto a cooling rack. Let cool another 20 minutes before slicing.
Serve with vanilla ice cream.
This post may contain affiliate links. Please read my disclosure policy.