Three Summer Salads
This post may contain affiliate links. Please read my disclosure policy.
Before I received my first CSA produce box this spring, I resolved to document each delivery. Alas, now in week nine, I've only recorded the contents of three boxes, and have not posted nearly as many recipes as I had hope. I have, however, been truly enjoying my vegetables each week, the variety and quantity forcing me, at times, to be creative: I fix cucumber and kohlrabi sandwiches for lunch; eat zucchini, raw, thinly shaved with lemon vinaigrette and Pecorino Romano; and when in the company of my sister, enjoy corn — only corn — for dinner: just yesterday we polished off a dozen ears together. Below are recipes for three summer salads, each requiring the dressing of a simple lemon vinaigrette.
CSA Week 9
3 green zucchini
3 yellow squash
2 stalks fennel
2 bunches Detroit red beets
1 dozen ears of sweet corn
2 candy onions
3 tomatoes
2 heads lettuce
1 bag green beans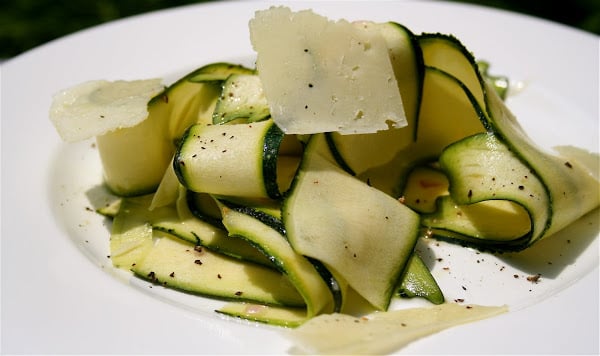 Zucchini Ribbon Salad
Serves 4
2 medium zucchini
Lemon Vinaigrette (recipe below)
Pecorino Romano
Freshly ground pepper to taste
With a y-shaped peeler, skim long, wide strands from one side of the zucchini. Flip the zucchini over and repeat the same motion until the zucchini no longer can hold its shape. (Discard remaining, or save for another use, such as zucchini bread.) Place zucchini ribbons in a large bowl and drizzle with lemon vinaigrette to coat. Shave, using the same y-shaped peeler, pieces of Pecorino and set aside. Season zucchini with freshly ground pepper and toss in the Pecorino shavings. Serve immediately.
Grilled Panzanella Salad
Serves 4
1 loaf bakery-style bread such as French or Italian
extra-virgin olive oil
2 beefsteak tomatoes
1 cucumber
½ red onion
½ cup ciligene mozzarella (small balls)
Lemon Vinaigrette
1 bunch basil
Preheat the grill to high. Cut four ¾-inch thick slices of bread and brush each side with olive oil. Grill for 1-2 minutes a side, until each side has nice grill marks. Transfer to a cooling rack.
Cut the tomatoes into big, irregular-shaped chunks. Peel cucumber, if desired, and cut into similar shapes. Finely dice the red onion and place in a large bowl with the tomatoes, cucumber and mozzarella. Drizzle in the lemon vinaigrette until everything is nicely coated. Tear basil leaves from their stems (leaving the leaf intact) directly into bowl.
Cut the grilled bread into cubes and add to the bowl. Toss to combine and serve.
Cucumber-Feta Salad
Serves 4
2 medium cucumbers
1 bunch mint
4 oz. feta cheese*
Lemon vinaigrette
Cut cucumber into small cubes and place in a large bowl. Chiffonade (very finely mince) the mint and add to bowl. Crumble feta atop cucumber-mint mix and toss salad with the lemon vinaigrette.
* Earlier this week at Whole Foods I discovered a tub of marinated feta, beautifully packaged and stamped with an enticing slogan: "Eat shamelessly straight from the tub," — I couldn't resist. Produced by Meredith Dairy in Australia, this sheep's- and goat's-milk cheese, has a creamy texture and wonderful flavor — the hints of thyme, peppercorns and garlic perfectly detectable. While this farmhouse feta truly is a treat, any will suffice in this simple summer salad.
CSA Week 8
1 lemon cucumber
2 dasher cucumbers
1 bunch dandelion greens
1 candy onion
1 head radicchio
1 head lettuce
1 bag green beans
1 dozen ears sweet corn
1 bag potatoes
1 bag yellow squash
Lemon Vinaigrette
Yield = 1 cup
¼ cup finely chopped shallots
¼ cup lemon juice
½ tsp. kosher salt
¼ tsp. sugar
freshly ground black pepper to taste
½ cup extra-virgin olive oil
Whisk shallots, lemon juice, salt, sugar and pepper. Slowly drizzle in the oil and whisk until emulsified. Transfer to a jar and refrigerate until ready to use.
This post may contain affiliate links. Please read my disclosure policy.