Grand Marnier Summer Berry Trifle
This post may contain affiliate links. Please read my disclosure policy.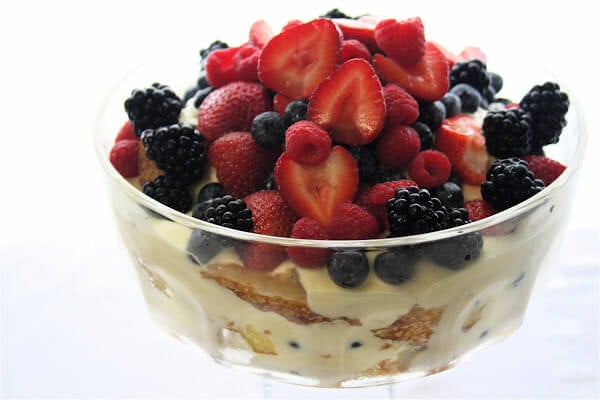 If you're looking for a summery dessert that feeds many mouths for an upcoming dinner party or potluck, consider this trifle. I only wish I had had such an event to attend before I made this massive concoction of Grand Marnier-soaked cake, creme anglaise, whipped cream and berries. With each day that passes, it seems to get better and better, and as it is slowly disappears from my refrigerator I really am afraid I may just polish off the whole thing myself.
Mixed Berry Trifle
Serves 8 – 10
for the cake:
½ C. all-purpose flour
1½ C. sugar
½ tsp. salt
8 large egg yolks
3 T. whole milk
1 tsp. vanilla extract
4 large egg whites
1. Put oven rack in middle position and preheat oven to 350°F. Butter a 10 x 15 x 2-inch or 9 x 12 x 2-inch baking dish. Line with parchment paper.
2. Whisk together the flour, 1 cup of the sugar and the salt. Add yolks, milk and extract and whisk again until smooth.
3. Beat egg whites with a pinch of salt using an electric mixer at medium-high speed until they hold soft peaks. Slowly sprinkle in remaining ½ cup sugar. Increase speed to high and beat until whites hold stiff, glossy peaks — don't over-beat. Stir one third of whites into batter to lighten, then fold in remaining whites. It's ok if white streaks remain.
4. Pour batter into pan, place in the oven and bake until cake is golden and springy to the touch, 20 to 25 minutes. Cool cake in pan for 20 minutes. Run a knife around the edges of the pan, invert cake onto a cooling rack, peel away parchment paper and let cake cool completely. Set aside.
Note: Cake will fall considerably once removed from the oven and will be very moist.
for the custard:
4 yolks
½ cup sugar
1 teaspoon cornstarch
1¾ cups scalded milk
1 teaspoon vanilla
1. Beat yolks and sugar on medium high speed for 3 minutes until thick and pale yellow. Reduce heat and add cornstarch. With mixture on low, slowly pour hot milk into eggs. Put back on stove, stir with a wooden spoon until thickened, strain, add vanilla and chill.
to assemble:
1 cup heavy cream
2 T. Grand Marnier plus more for sprinkling*
¼ cup confectioners' sugar
6 cups mixed berries such as strawberries (stemmed and halved), blueberries, blackberries and raspberries
*optional, if children will be eating the dessert, leave it out
1. Cut the cake into ¾-inch slices, then cut each slice in half. Set aside. Whip cream on high speed. Drizzle in the Grand Marnier. When cream begins to thicken, slowly sprinkle in the sugar. Beat until thick. Fold into custard and chill mixture until ready to assemble.
2. Line the bottom of a bowl (ideally a clear glass bowl with straight sides) with cake. Sprinkle with Grand Marnier. Top with 1/3 of the fruit mixture. Top with half of the custard. Layer more cake on top. Sprinkle with Grand Marnier, top with 1/3 of the berries and the rest of the custard. If more cake remains, layer it on top, sprinkle with Grand Marnier and top with the rest of the berries.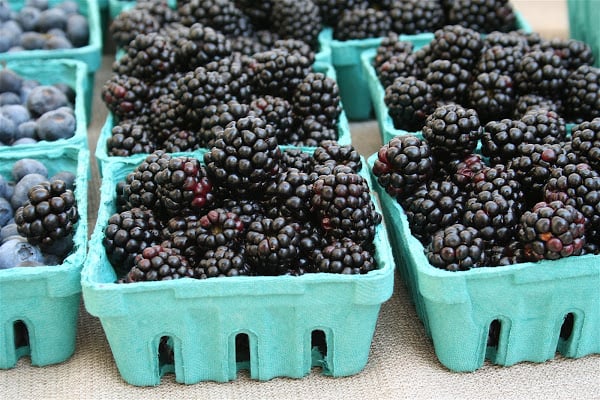 This post may contain affiliate links. Please read my disclosure policy.