Peach Bruschetta
This post may contain affiliate links. Please read my disclosure policy.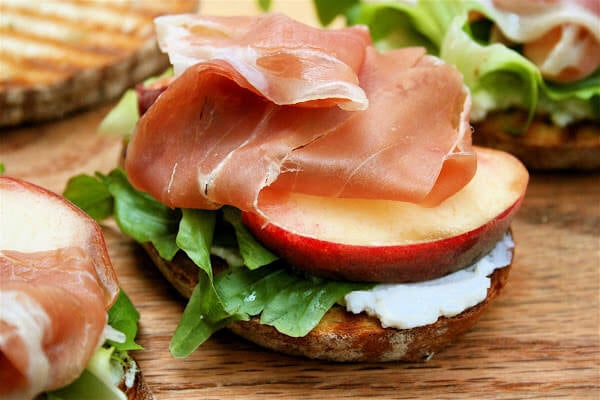 For the past year, I have been listening to two of my most reliable sources rave about an Italian restaurant in Northern Liberties. My friends, Meredith, a Jeff med student and native Philadelphian, and her fiancé Matt, a private chef on the Main Line, rank Sovalo as one of their favorite spots in the city.
Joseph and Karey Scarpone, a husband and wife team with children named Sophia and Valentino (hence Sovalo), left the Napa Valley to open this bistro in early 2005. With a great wine list and a menu filled with homemade pastas such as burrata-filled ravioli and seasonal items such as chilled melon soup and local heirloom tomato salad, Sovalo has earned a reputation as one of the city's best new restaurants.
A few weeks ago, I finally had the chance to experience this highly praised establishment with none other than the restaurant's two biggest fans. To celebrate Matt's new job and Meredith's start of her final year of med school, and in general, to continue celebrating their recent engagement, the three of us trekked across town to Sovalo.
As we approached the front door of this adored Northern Liberties bistro, however, Meredith expressed some anxiety. She worried that the peach bruschetta she and her family had enjoyed a week earlier might no longer be offered: Sovalo prints its menu daily, changing its dishes depending on ingredient availability. To everyone's relief, however, this peach, robiola, arugula and prosciutto topped grilled bread again starred on the menu. We all savored the delectable combination as a second course and ultimately pegged it the highlight of the evening.
Fortunately, this peach bruschetta, unlike Sovalo's homemade ravioli or ricotta fritter dessert, can easily be replicated at home. I have a weakness for Claudio's fresh ricotta and have used that in place of the robiola, but a number of cheeses — fresh mozzarella, mascarpone, goat or Brie — would work well in this tasty summer starter.
Peach and Prosciutto Bruschetta
Serves 6 as an appetizer
1 baguette
olive oil
2 peaches
6 oz. fresh ricotta*
2 oz. baby arugula or watercress
12 thin slices prosciutto di Parma
*I love the fresh ricotta from Claudio's. At Sovalo, the chef uses robiola, also very delicious. You could also make your own.
Preheat the oven to 400ºF (or preheat a grill to high). Slice the baguette into 12 ½-inch thick slices, place on a cookie sheet, drizzle lightly with olive oil and bake until golden, about 10 minutes. (Or grill for 1-2 minutes a side). Transfer to a cooling rack. Slice each peach into about 12 wedges.
Spread each slice of bread generously with ricotta. Top each with a small handful of arugula or watercress. Top each with 2 peach wedges followed by one slice of prosciutto. Serve.
This post may contain affiliate links. Please read my disclosure policy.