Stuffed-Squash Blossoms Tempura
This post may contain affiliate links. Please read my disclosure policy.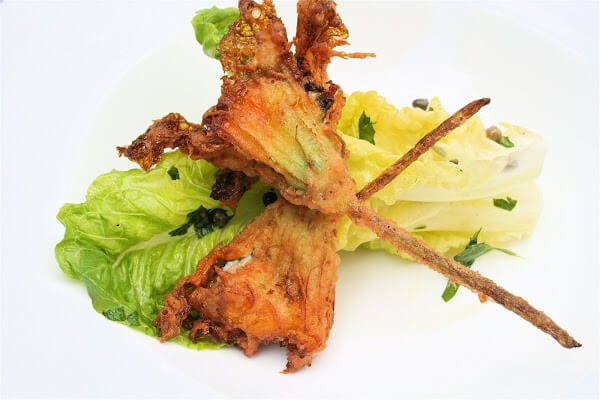 Every year I look forward to the arrival of squash blossoms at the farmers' markets. There seems to be only one way to prepare this seasonal delicacy: Stuff them; batter them; fry them. As the Barefoot Contessa says, "How bad can that be?"
I first tasted stuffed blossoms when I worked at Fork. There, during the summer, the fried and stuffed zucchini blossoms replace the onion rings on their signature romaine salad with sauce gribiche. Regulars at Fork adore sauce gribiche, a dressing made with olive oil, lemon juice, capers, chopped cornichons, shallots and tons of fresh herbs — tarragon, parsley, chervil, chives and thyme.
A staple on the menu year round, this salad becomes even more popular every summer with the addition of these delectable edible flowers. I like Fork's preparation: They stuff them minimally with an herbed goat cheese and coat them in a simple tempura batter. I prefer the light coating of tempura to the frequently used flour, egg, breadcrumb coating, which also is delicious.
This year, Weaver's Way Co-op at the Sunday Headhouse Farmers' Market has been carrying the blossoms consistently at three for a dollar or 40 cents each. For a perfect summer meal, make a simple romaine salad with a modified gribiche dressing (recipe below), top with some crispy blossoms and serve with fresh bread and cheese. To quote my favorite food network star again, "Who wouldn't like that?"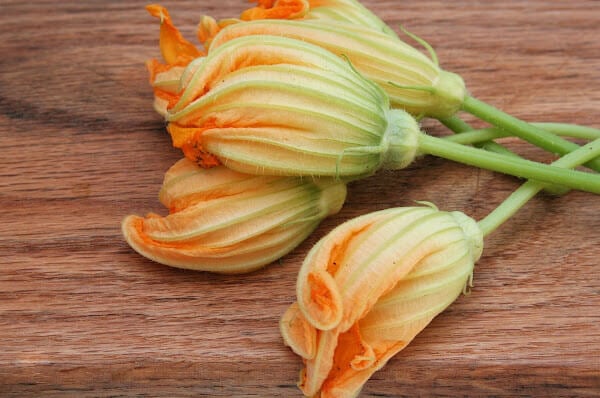 Stuffed-Squash Blossoms Tempura
Serves 4 as an appetizer
1 small shallot, minced
¼ C. basil, chopped finely
¼ C. goat cheese
¼ C. fresh ricotta
kosher salt and pepper
1 egg
½ C. ice water
¾ C. flour
8 squash blossoms
canola oil for frying
In a small bowl, mix the shallots, basil, goat cheese, ricotta and salt and pepper to taste. Refrigerate until ready to use.
In a separate bowl, whisk egg, water and flour. Don't overmix: batter should be lumpy. Set aside.
Place heaping teaspoons of the cheese mixture into the center of each squash blossom. Place blossoms on a plate, cover with a paper towel or plastic wrap and chill until ready to fry.
Line a plate with paper towels. Heat oil in a large, wide mouth. When a sprinkling of flour sizzles in the oil, the oil is ready for the blossoms. Dip the blossoms one by one into the tempura batter, then place carefully into the oil. Fry each for 30 seconds a side until crisp. Transfer to a prepared plate until all blossoms have been fried.
Serve immediately with a crisp romaine salad dressed in a simple vinaigrette: whisk 1 teaspoon Dijon mustard, 1½ teaspoon honey, ¼ teaspoon kosher salt, freshly ground pepper to taste, 3 tablespoons capers, ¼ cup chopped parsley, ¼ cup cider vinegar and ½ cup extra virgin olive oil until combined.
A patch of pattypan squash blossoms growing on Sam Consylman's farm in Lancaster: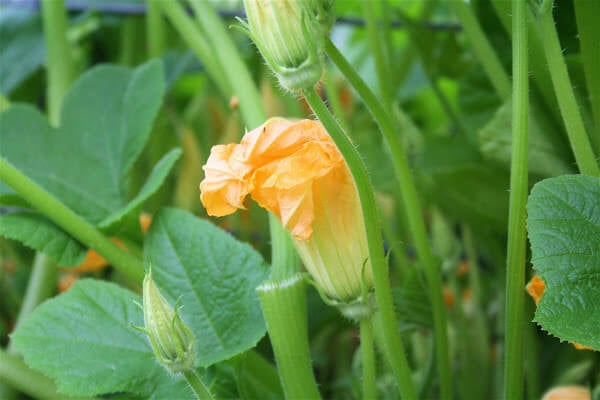 This post may contain affiliate links. Please read my disclosure policy.