Peach and Beet Salad
This post may contain affiliate links. Please read my disclosure policy.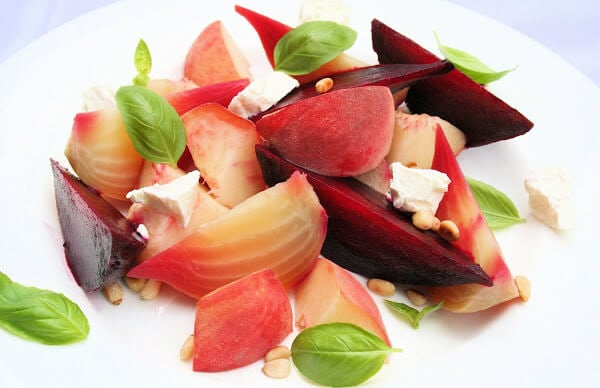 I can't promise this will be my last peach post, but I'm definitely reaching peak peach capacity. My literary mother sent me this poem, "From Blossoms," which is in Li-Young Lee'sfirst book of poems Rose (Boa editions, Ltd., 1986).  I thought it was so lovely, so I'm sharing it with you, too.
From blossoms comes

this brown paper bag of peaches

we bought from the boy

at the bend in the road where we turned toward

signs painted Peaches.

From laden boughs, from hands,

from sweet fellowship in the bins,

comes nectar at the roadside, succulent

peaches we devour, dusty skin and all,

comes the familiar dust of summer, dust we eat.

O, to take what we love inside,

to carry within us an orchard, to eat

not only the skin, but the shade,

not only the sugar, but the days, to hold

the fruit in our hands, adore it, then bite into

the round jubilance of peach.

There are days we live

as if death were nowhere

in the background; from joy

to joy to joy, from wing to wing,

from blossom to blossom to

impossible blossom, to sweet impossible blossom.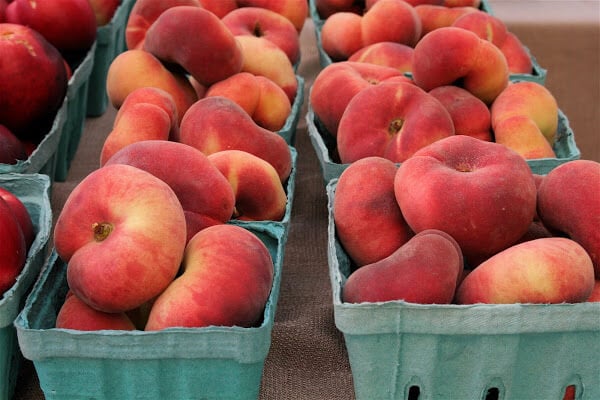 Beets at the Green Market, Union Square, New York City: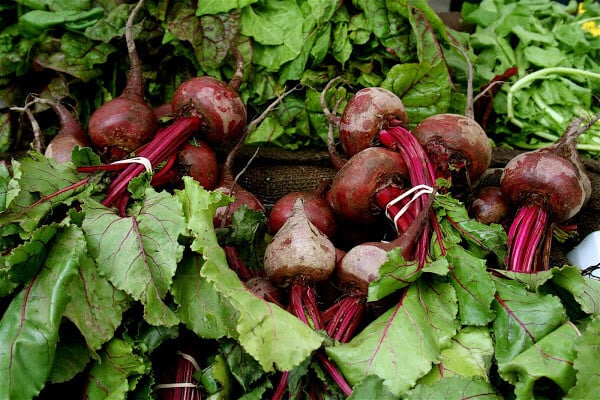 Print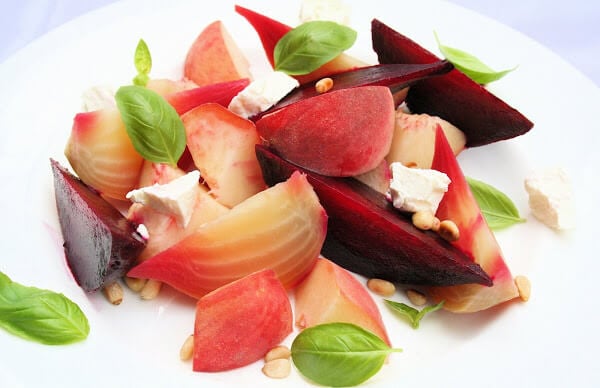 Peach and Beet Salad
---
Description
The chef I worked for at Fork in Philadelphia often paired beets and peaches together in the summer. This is not a tossed salad, but as you serve the salad, the ingredients mingle, and the dressing spreads. Be sure to pass more dressing on the side. 
---
for the dressing:
1 tsp

. Dijon mustard

1½ tsp

. honey

¼ tsp

. kosher salt
freshly ground pepper to taste

¼ cup

cider vinegar

½ cup

extra virgin olive oil
for the salad:
1

lbs. beets

2

T. pine nuts

2

peaches

4 oz

. goat cheese
small handful of basil
dressing to taste
---
Instructions
Preheat the oven to 450ºF.
Make the dressing: Whisk together the mustard, honey, salt, pepper and vinegar. Drizzle in the olive oil, whisking to mix, but do not emulsify. Set aside.
Roast the beets: Trim beets of their greens and save for another use. Place beets in a small shallow pan such as an 8 by 8 baking pan or 9-inch pie plate. Fill pan with water to reach an 1/8 of an inch high. Cover pan with foil and place in the oven for 45 minutes. Remove from oven and let cool completely.
Meanwhile, toast the pine nuts in a small skillet over medium-high heat until golden. Set aside.
Cut rough end (not long pointy end) off cooked and cooled beets, and discard. Rub the beets of their skin and discard. Slice beets in half through the long pointy end, then continue cutting into large wedges. Place on a large serving platter.
Slice the peaches in half, twist gently to release the pit. Cut peaches into wedges about the same size as the beets. Add to the platter. Crumble goat cheese over the peaches and beets and sprinkle with the pine nuts. Scatter small basil leaves over the top, tearing big leaves into smaller pieces if necessary. Sprinkle whole salad with salt and pepper to taste.
Give dressing a stir and with a large tablespoon, spoon dressing to taste over the top of the salad. Do not toss. Serve, passing more dressing if necessary.
This post may contain affiliate links. Please read my disclosure policy.