Watermelon Gazpacho & Watermelon Salad
This post may contain affiliate links. Please read my disclosure policy.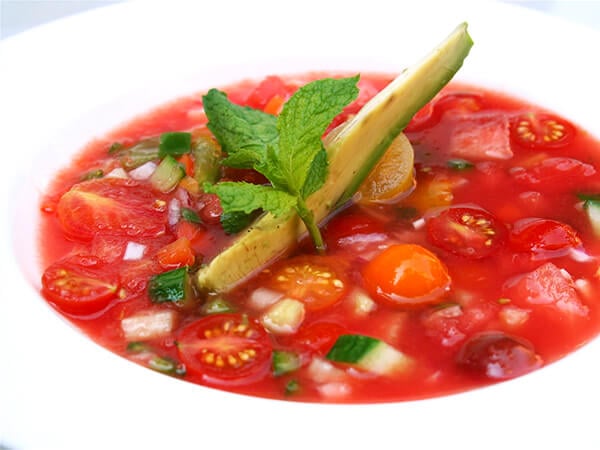 Last month for two weeks in a row, I received watermelons in my CSA. Though they were small, I hesitated from cracking into them, fearing I wouldn't finish them on my own. So I let them sit for a few days until I received a fortuitous email from the Fair Food Farmstand. Emily Teel, the manager, sends an email each week listing the products the stand has in stock along with some seasonal recipes. When I saw the recipe for watermelon gazpacho, I set to work in the kitchen. Before too long, I had found a wonderful use for my two sugar baby watermelons, and produced a most delectable soup that I enjoyed, with the help of my sister, for the next few days.
While my sister and I slurped this minty, refreshing soup straight from the Tupperware containers I had packed it in, this gazpacho really deserves a more honorable presentation: The combination of colorful vegetables of all shapes and textures floating in a magenta base is truly striking. Served with a wedge of avocado and a sprig of mint in delicate bowls, this simple chilled soup makes an elegant summer meal.
When I first saw feta paired with watermelon, I thought the combination seemed odd, and truthfully, not that appetizing. My mother and I have been trying to remember where we first saw the duo — possibly a Jean Georges or Todd English cookbook, but we're not quite sure. In any case, sweet and salty ingredients, hardly a novel concept, often work nicely together, watermelon and feta being one example. Only a few more weeks of watermelon season remain, so enjoy them while you can!
Watermelon Gazpacho
From Emily Teel, manager of the Fair Food Farmstand
3 pounds of watermelon flesh, diced (about 5 cups), divided
1 small cucumber, peeled, seeded, diced (about 1 cup)
1 red bell pepper, seeded, diced (about 1 cup)
1 pint yellow cherry or sungold tomatoes, quartered (about 1 cup)
1 small jalapeño chile, seeded, minced
3 pale green inner celery stalks, diced (about ½ cup)
½ small red onion, diced (about 1 cup)
3 tablespoons fresh lime juice
2 tablespoons red wine vinegar
¼ teaspoon salt
5-8 mint leaves, finely chopped
avocado for garnish
Puree 4 cups watermelon in blender until smooth. Transfer puree to large bowl. Add remaining 1 cup diced watermelon and next 10 ingredients; stir to combine. Cover gazpacho and refrigerate until cold, at least 1 hour and up to 4 hours.
Divide gazpacho among bowls. Top each with a slice of avocado.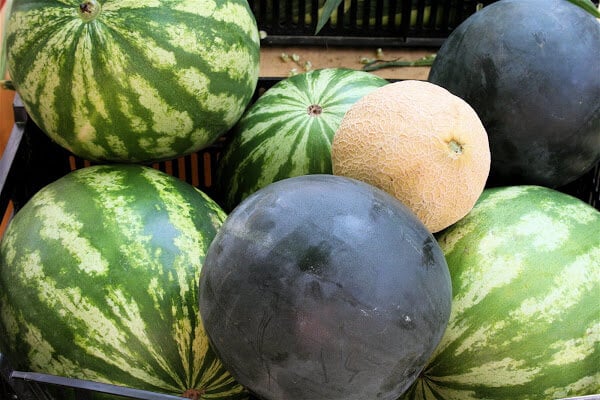 Watermelon and Feta Salad
Serves 1
4 slices watermelon
2 ounces feta cheese
2 slices Prosciutto di Parma
extra-virgin olive oil
aged balsamic vinegar or reduced balsamic (see recipe below)
kosher salt and pepper to taste
Place watermelon wedges on a plate. Crumble feta cheese over the watermelon. Lay the prosciutto aside the watermelon. Drizzle entire plate with olive oil, balsamic, salt and pepper to taste.
Reduced Balsamic
Yield = ¼ cup
½ cup Rainwater Madeira
1 cup commercial balsamic vinegar
1 tablespoon brown sugar
Place Madeira in a small saucepan and simmer over medium heat until reduced to about 1 tablespoon. Add the balsamic vinegar and boil until the vinegar has reduced to about ¼ cup and is very syrupy and big shiny bubbles are forming at the surface. Watch the mixture very closely at this point—it will burn easily. Remove from the heat and stir in the brown sugar until dissolved. Pour into a clean jar and cool before using.
This post may contain affiliate links. Please read my disclosure policy.