Oven-dried Tomatoes + Oven-Dried Tomato Toasts
This post may contain affiliate links. Please read my disclosure policy.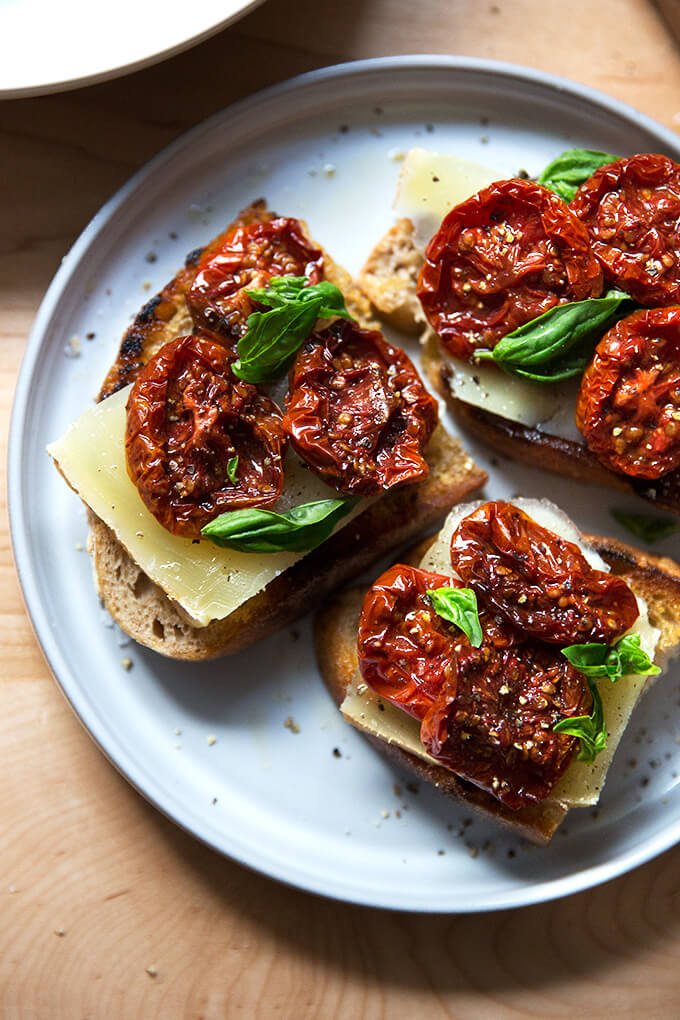 This week the Fair Food Farmstand came through again with another excellent recipe in their weekly email. A few weeks ago, after receiving eight Roma tomatoes (among many other treats) in my CSA, I opened my email to find Ann Karlen's "tried and true" recipe for oven-dried tomatoes, just the guidance I needed to preserve these seasonal gems.
The recipe required six to eight hours of cooking, so I set the oven to 200ºF, as instructed, placed the prepared tray of tomatoes inside, and went to bed. I could not believe my eyes when I opened the oven door the following morning: The plump, juicy tomatoes had shriveled into desiccated, flat disks. Seeing the dehydrated tomatoes reminded me of lifting the towel from the bowl holding the first batch of bread dough I had mixed and kneaded on my own: Doubled in bulk, seemingly alive, the dough — the transformation of the dough — inspired true amazement.
I had to try one right away. To my surprise, this withered red package tasted incredible! Unable to resist storing my homemade "sun-dried tomatoes" — my intention when I set out to make them — I assembled a little bruschetta. On a toasted baguette from Metropolitan Bakery, topped with a slice of mozzarella from Claudio's and a basil leaf from the farmstand, these tomatoes make a delectable appetizer — the most coveted tastes of summer concentrated in one bite.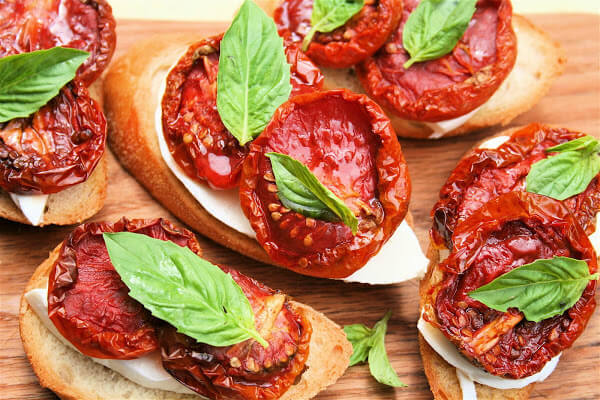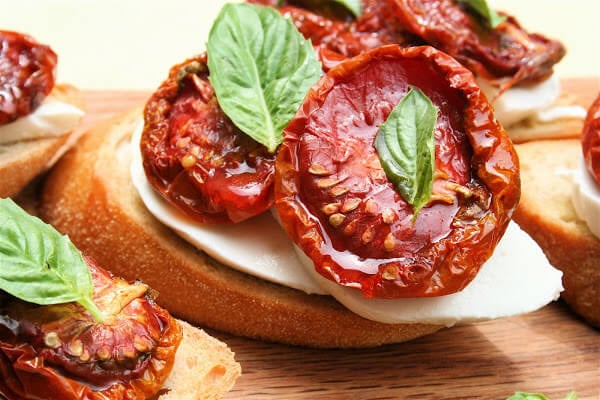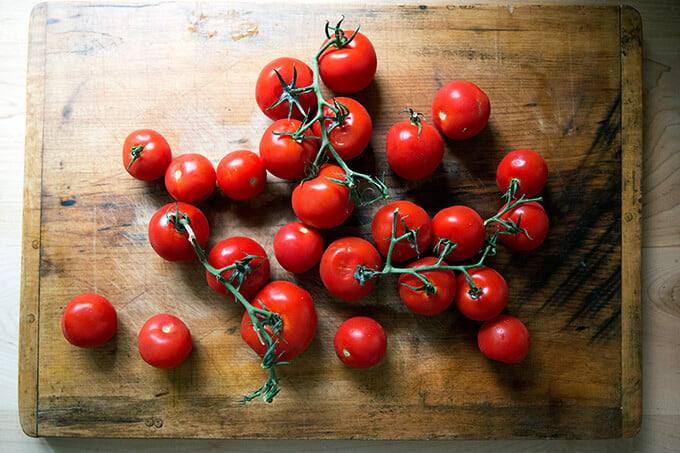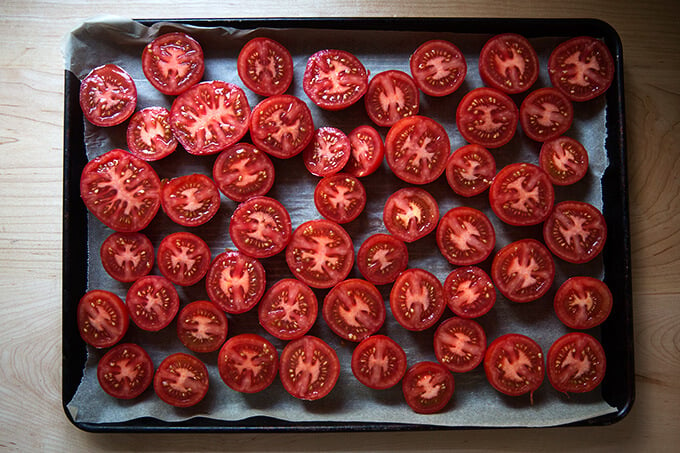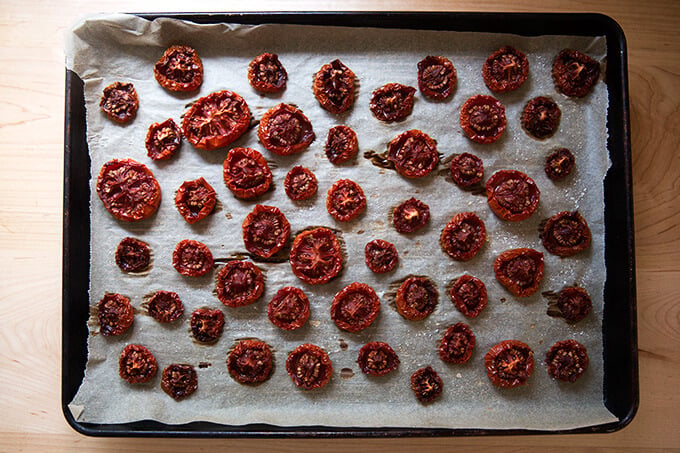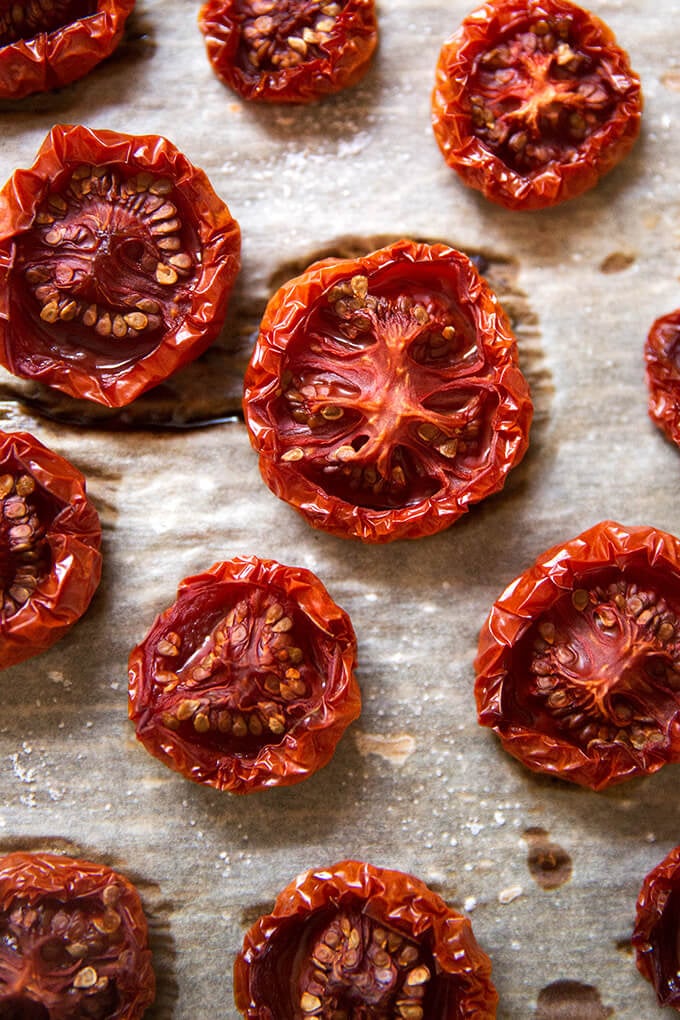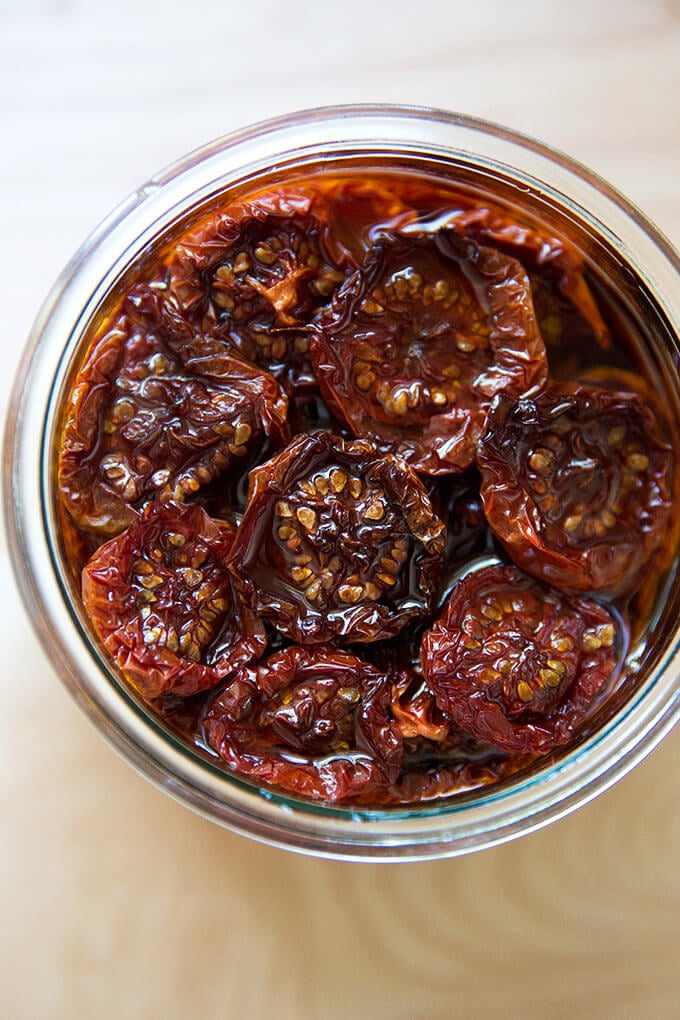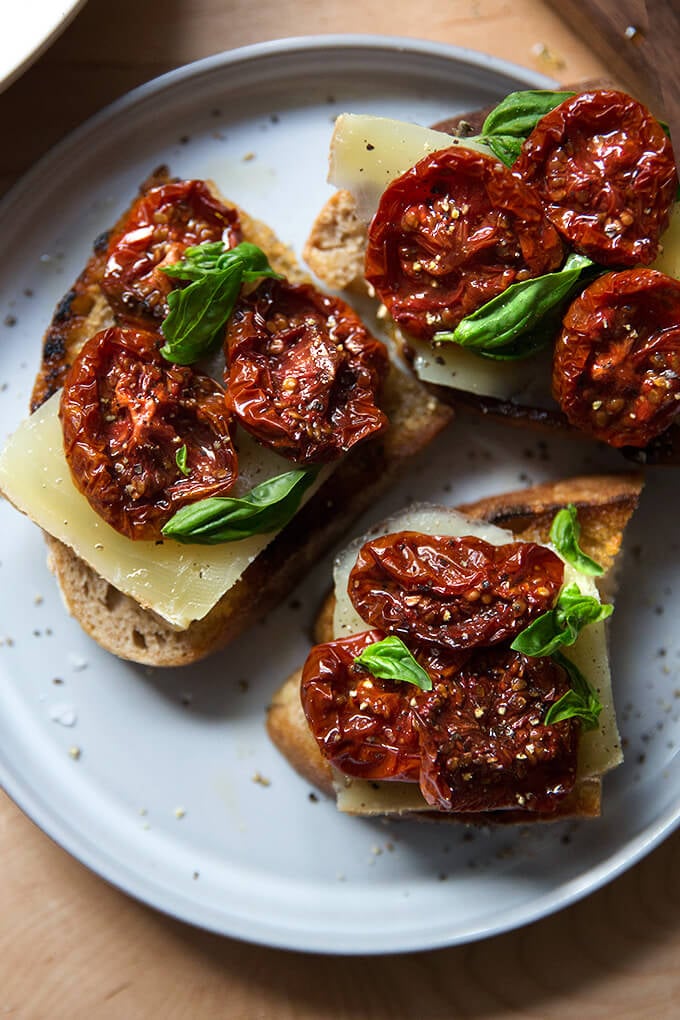 Print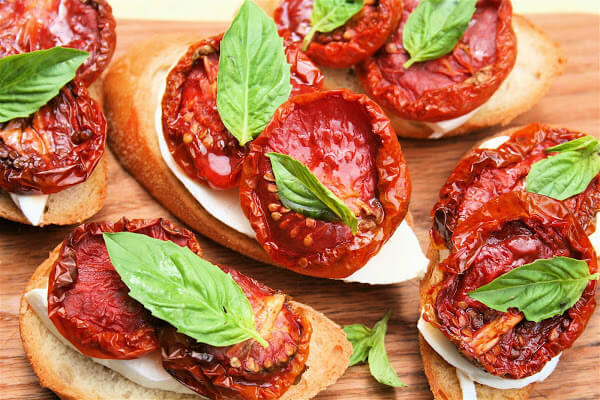 Oven Dried Tomatoes
---
Description
Plan ahead! These tomatoes cook in a 200ºF oven for 10 to 12 hours.
---
12

plum tomatoes
kosher salt

1

baguette or other good bread
olive oil
good cheese cut into slices
fresh basil
sea salt for finishing
---
Instructions
Preheat oven to 200ºF. Halve each tomato lengthwise through the stem. Arrange the tomatoes, cut side up, side by side on a rimmed cookie sheet. (Tomatoes should not be touching one another.) Sprinkle each tomato lightly with salt.
Place in the oven and bake for six to eight to twelve hours—tomatoes should be shriveled, but not dry and brittle. The tomatoes should still feel flexible when removed from the oven. Remove tomatoes from the oven, and let cool completely before storing. Store in a glass jar. Moisten with olive oil if tomatoes are too dry. The tomatoes will keep indefinitely.
For the toasts, preheat the oven to 400ºF. Slice the bread into ¾-inch thick rounds, drizzle with olive oil and bake until golden (or fry in a skillet), about 10 minutes. Remove from the oven and let cool. Top each bread slice with a piece of cheese, a few oven-dried tomatoes and a few small leaves of basil. Taste. Season with a pinch more salt if necessary and a splash of vinegar if you wish. Serve.
Prep Time:

10 minutes

Cook Time:

12 hours

Category:

Condiment

Method:

Oven

Cuisine:

Italian, American
Keywords: tomato, oven, dried, summer, fall, toast
This post may contain affiliate links. Please read my disclosure policy.