End of Summer Recipes
This post may contain affiliate links. Please read my disclosure policy.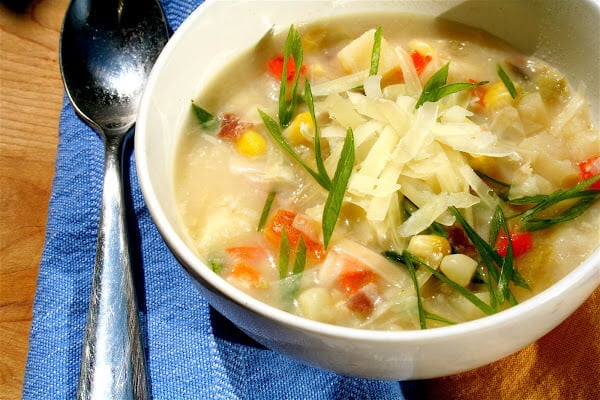 I know it's officially fall, but with the temperature in the 90s and the humidity at 80 percent, it still feels like a Philadelphia summer. And while the tomatoes and the corn have passed their prime, most farmstands still abound with each, along with many other goodies: peppers, zucchini, squash and basil.
So while the days of steamed corn and fresh tomato salad may be numbered, the summer produce can still be enjoyed in many ways: This roasted potato salad, my mother's recipe, is perhaps my favorite — and the easiest — of the bunch. The warm potatoes soak up all the flavors of the dressing — a mustard vinaigrette seasoned with rosemary and chives — making a wonderful side dish. The strata feeds many people, for a potluck perhaps, or one for a week — I've had a piece each night for the past seven days. My mother also introduced me to this corn pudding recipe, featured in Gourmet earlier this summer, a nice change from corn on the cob. And the chowder, filled with bacon, peppers and potatoes, should be saved for some colder weather, but savored before the hearty-chili season really begins. Enjoy!
Corn Chowder
Yield = 2 quarts
3 slices bacon
4 cups chicken stock
5 ears of fresh corn, kernels removed
2 red bell peppers, finely chopped
1 jalapeno pepper, finely chopped
1 medium onion, finely chopped
4 stalks celery, finely chopped
1 lb Yukon Gold or red Bliss potatoes, peeled and cut into ½-inch dice
kosher salt and pepper to taste
5 scallions, thinly sliced
1½ cups whole milk
grated cheddar or pepper jack cheese
Place bacon on a double layer of paper towels on a plate. Cover with another layer of paper towels and microwave on high at two-minute intervals until crisp, about 6 minutes. Meanwhile place chicken stock, corn, peppers, onions, celery and potatoes in a medium saucepan and bring to a boil. Season with kosher salt and pepper to taste. Add the scallions and the milk. Break the crisp bacon into the soup. Stir, taste and add more salt and pepper if necessary. Serve with grated cheese if desired.
Summer Vegetable Strata

Summer Vegetable Strata
Serves 6 to 8
6 slices white sandwich bread
kosher salt and pepper
2 tablespoons olive oil
1 small onion, julienned
2 small yellow squash or zucchini
1 cup of roasted red peppers, julienned
2 cups milk, (1%, 2% or whole)
5 large eggs
½ cup pepper jack cheese
a pinch of crushed red pepper flakes
1 cup of basil leaves
¼ cup of chopped chives
1 ball of fresh mozzarella, cut into ½-inch thick slices to yield about a ½ cup
Preheat the oven to 350ºF. Lightly butter a 9-by-13-inch baking dish. Remove the crusts from the bread and crisp lightly in the toaster. Once cooled, arrange in a single layer in the bottom of the dish. Season with salt and pepper to taste.
Over medium heat, sauté the onion in the oil until soft and slightly caramelized, about 10 minutes. Meanwhile, trim the ends off the squash, cut them lengthwise into quarters, and then crosswise into ¼-inch thick slices. When the onion is slightly brown, add the squash and cook for 2 minutes longer. Add the peppers and cook for a minute longer. Season mixture with salt and pepper to taste and remove from the heat.
In a large bowl, whisk together the milk, eggs, half of the cheese, pepper flakes, basil, chives and a big pinch of salt. Using a slotted spoon, transfer the vegetables to the baking pan, spreading them evenly over the bread. Pour the milk mixture over top. Scatter the remaining cheese and mozzarella over the top. Bake for 40 minutes. Let cool for 10 minutes before serving.
Corn Pudding with Scallions

Corn Pudding with Scallions
Serves 8 to 10 as a side dish
4 cups corn (from 6 ears)
4 scallions
3 tablespoons all-purpose flour
1 tablespoon sugar
¼ teaspoon kosher salt
2 cups 2% milk
4 eggs, lightly beaten
Preheat the oven to 350ºF with rack in the middle. Butter a 2½-qt shallow baking dish or individual crème brulee dishes or ramekins.
Pulse half of the corn in a food processor until coarsely chopped. Transfer to a bowl and stir in the scallions, flour, sugar, salt and remaining corn. Whisk together milk and eggs and add to bowl with the corn. Stir until just combined. Pour into baking dish or ladle into individual dishes.
Bake until the center is just set. About 35-40 minutes for individual dishes and 45 minutes to one hour for one large dish. Let stand 15 minutes before serving.
Roasted Potato Salad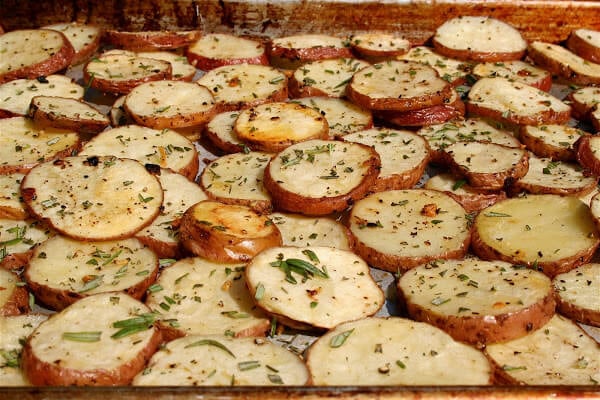 Roasted Potato Salad
Serves 6 to 8
2½ lbs. small red Bliss potatoes
2 garlic clove, chopped
5 tablespoons olive oil
kosher salt and pepper
1½ tablespoons red-wine vinegar
1 tablespoon grainy mustard
1 tablespoon minced chives
2 sprigs fresh rosemary
Preheat the oven to 475ºF. with racks in the upper and middle levels. Wash the potatoes, dry and cut into ¼-inch thick slices. Arrange in a single layer on two rimmed baking sheets. Scatter one clove of garlic and one tablespoon of oil over each sheet. Season to taste with salt and pepper. Toss the potatoes with your hands to evenly spread the oil and garlic, then return slices to a single layer. Place pans in the oven and bake for 20 minutes or until the potatoes are knife tender.
Meanwhile, in a large bowl, whisk together the vinegar, remaining three tablespoons of oil, chives and rosemary. When potatoes are done, remove from the oven and add to the bowl of dressing. Toss and serve immediately or at room temperature.
This post may contain affiliate links. Please read my disclosure policy.