Rosemary-Butternut Squash Bisque & Challah
This post may contain affiliate links. Please read my disclosure policy.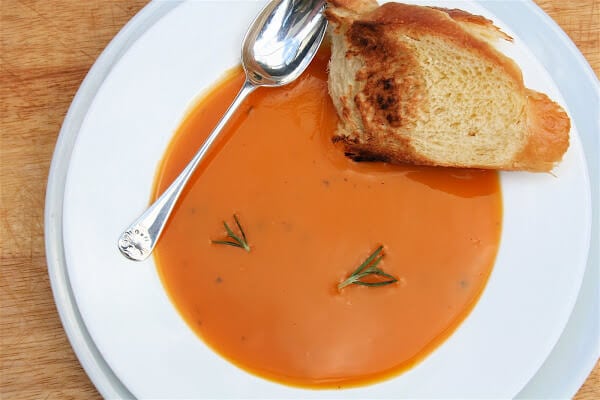 In the beginning of the growing season, I promised to document each CSA I received. To say the least, I have been negligent, especially recently. For this soup, I think I used the contents of three separate CSAs. I definitely roasted two butternut squash and two delicata squash, and I swear I roasted a pumpkin too, but I can't find any documentation of actually receiving a pumpkin — I've written down each week's content, and pumpkin is no where to be found on my lists. Am I going crazy?
Anyway, this soup couldn't be simpler to make, and the recipe really is just a guide. I set the oven to 400ºF or 450ºF, cut the squash in half, scooped out the seeds, placed the squash cut-side down, and roasted them until they were tender (maybe 45 minutes or an hour). Once cooled, I scooped out the flesh, combined it all in a bowl, froze 2 cups of the mix for a later use (maybe ravioli filling) and added the rest (about 2 quarts) to a pot. I filled the pot with chicken stock, added salt, pepper and chopped rosemary, and simmered it for 30 minutes. I used my immersion blender to purée the mix, and in no time I had made a delectable soup.
The recipe called for orange zest, which I didn't have and so didn't use, but I remember it being a nice flavor when my mother used to make this soup for us. The recipe also calls for cream — which I guess justifies the title, though I would hardly call this purée a bisque — which I also didn't use.
I happened to have some frozen challah on hand and it turned out to be a nice dipping bread, though any bread will do. Little Lindis and Mr. T. are heating up a bowl of this soup as I write…they can be the judges.

Rosemary-Butternut Bisque
Adapted from a Molly O'Neill recipe printed in the New York Times Magazine, Nov. 06, 1994
Yield = 2 quarts
2 medium butternut squash
olive oil
6 cups chicken broth, preferably homemade
1 tablespoon chopped fresh rosemary
2 teaspoons grated orange zest
kosher salt and pepper to taste
2 tablespoons heavy cream, optional
Preheat the oven to 375ºF. Cut the squash in half lengthwise, scoop out the seeds and discard. Drizzle a teaspoon of olive oil on the baking sheet. Place the halves cut side down, rub in the oil and place in the oven. Roast until knife tender, about 45 minutes. Remove squash from the oven and let cool.
Scoop the flesh into a saucepan (discarding the skin), and add the broth, rosemary, orange zest, a big pinch of kosher salt and pepper to taste. Bring to a boil, reduce heat, and let simmer for 30 minutes. Using an immersion blender, puree the mixture until smooth. Alternatively, transfer to a food processor or blender, and puree until smooth. Taste, adjust seasoning if necessary and adding the cream if desired. Serve with crusty bread.
Measuring ingredients with a weight scale, just as professional bakers do, will more accurately reproduce this recipe than will volume measurers. While more accurate than digital scales, mechanical scales are expensive, take up space and are perhaps unnecessary for the home baker. Salter brand makes several good, reasonably priced, easy-to-store scales available at Fante's, Kitchen Kapers and Williams Sonoma. For normal baking, a six to nine pound capacity will suffice.
Challah
Adapted from Peter Reinhart's The Bread Baker's Apprentice (Ten Speed Press, 2001)
Yield = 1 large loaf
4 cups (18 oz.) unbleached bread flour
¼ cup (2 oz.) granulated sugar
1 teaspoon (.25 ounce) salt
1 1/3 teaspoons (.15 ounce) instant yeast
2 tablespoons (1 oz.) vegetable oil
2 large eggs, lightly beaten
2 egg yolks, (whites reserved) lightly beaten
¾ cup plus 2 T. water
sesame or poppy seeds for garnish (optional)
Whisk together the flour, sugar, salt and yeast in the bowl of a stand mixer. In a separate bowl, whisk together the oil, eggs, yolks and water. Pour the liquid mixture into the flour mixture. Mix on medium-low speed for six minutes using the dough hook, adding a touch more flour if necessary — dough should gather round the hook (not be stuck to the bottom of the bowl), but be careful not to add to much additional flour. (Alternatively, knead on a lightly floured work surface for 10 minutes. While this method works fine, using a mixer helps prevent adding too much additional flour to the dough.)
When dough is soft and supple (not sticky), transfer the dough to a lightly oiled bowl, rolling the dough to coat. Cover the bowl with plastic wrap and leave to rise for one hour.
Remove the dough from the bowl, knead for two minutes to degas. Shape the dough into a ball, return it to the bowl, cover with plastic wrap and let rise again for another hour, or until the dough has doubled in bulk.
Remove the dough from the bowl and divide into three equal pieces. (If using a scale, weigh each portion.) Roll each portion into a ball, place on a work surface, and let rest 10 minutes.
Roll the pieces into long strands, each the same length, each with tapered ends and a slightly thicker center portion. Braid the dough starting from the middle: On a work surface, place the three strands perpendicular to you and parallel to one another. From the left, number the strands 1, 2, 3. Beginning in the middle of the loaf and working toward you, follow this pattern: right outside strand over the middle strand (3 over 2); left outside strand over the middle (1 over 2). Repeat until you reach the bottom end of the dough. Pinch the end closed to seal and rotate the dough 180º so that the unbraided end is facing you. Continue braiding but now weave the outside strand under the middle strand until you reach the end of the loaf. Pinch together the ends to seal.
Line a sheet pan with parchment paper and transfer the loaf to the pan. Beat the reserved egg whites until foamy and brush the dough with them. (Set aside whites for later.) Mist the loaf lightly with spray oil and cover loosely with plastic wrap. Let the dough rest at room temperature until it is one-and-a-half times its original size, about 60 to 75 minutes.
Preheat the oven to 350ºF with the rack in the middle shelf. Brush again with the egg whites, and if desired, sprinkle with sesame seeds. Bake for 20 minutes. Rotate the pan 180º and continue baking for another 20 minutes, or longer. The bread should be a rich golden brown.
Transfer to a cooling rack and let cool at least one hour before slicing.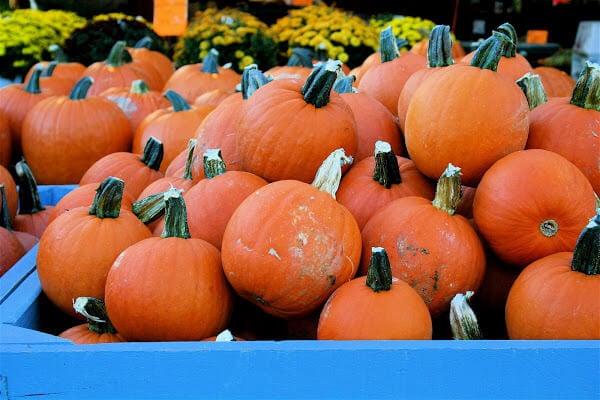 This post may contain affiliate links. Please read my disclosure policy.