Best Dessert Ever
This post may contain affiliate links. Please read my disclosure policy.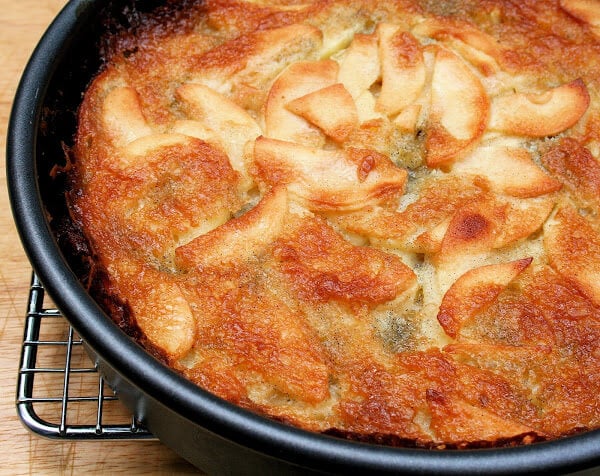 Seriously, this may be my favorite dessert ever. After cookies and cream ice cream, that is. No really, I have taken this don't-take-your-mother's-advice thing way too far. She, I mean my mother — (Liza hates to be referred to as a pronoun) — has been telling me to make this cake for years, well at least since 2004, when the New York Times printed the recipe.
I baked this cake this morning, ate one quarter of it for lunch, and another quarter for dinner. I'm tempted to include a picture of the half-eaten cake in this post, but am too embarrassed. I don't know what else to say. It's moist, delicious, seasonal and can be enjoyed at breakfast, lunch or dinner. I mean it. Make it!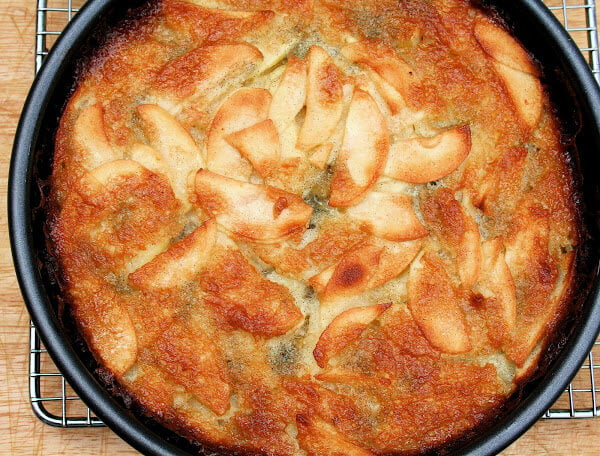 Print
Balzano Apple Cake
---
Total Time:

1 hours 45 minutes

Yield:

8 servings
Description
Adapted from New York Times 2004
---
1

stick butter, plus more for greasing pan 
parchment paper

2

eggs

1 cup

sugar

1

vanilla bean 


4

Fuji apples

½ cup

flour

2 teaspoons

baking powder

¼ teaspoon

sea salt such as fleur de sel

½ cup

milk at room temperature 
powdered sugar
---
Instructions
Heat oven to 350ºF. Grease a nine-inch-circle pan with butter. Cut a circle of parchment paper to fit the bottom of the pan and place inside pan.
Melt butter in small saucepan. Set aside. Beat together eggs and half of sugar in a bowl. Continue to beat while slowly adding remaining sugar until thick — it should form a ribbon when dropped from spoon.
Split vanilla bean in half lengthwise. Scrape seeds into the egg-sugar mixture and add pod to melted butter.
Peel apples and cut straight down around the core into four big chunks. Discard the core then slice the apple pieces thinly.
Remove vanilla pod from butter and discard. Stir butter into sugar-egg mixture. Combine flour, salt and baking powder, then stir into batter alternating with the milk. Stir in apples, coating every piece with batter. Pour batter into pan.
Bake for 25 minutes, then rotate the pan. Bake for 25 to 30 minutes more, until cake pulls away from pan and is brown on top. (A thin-bladed knife inserted into the center will come out clean when it is done.) Cool 30 minutes, then cut into wedges sprinkling each with powdered sugar if desired.
Prep Time:

20 minutes

Cook Time:

55 minutes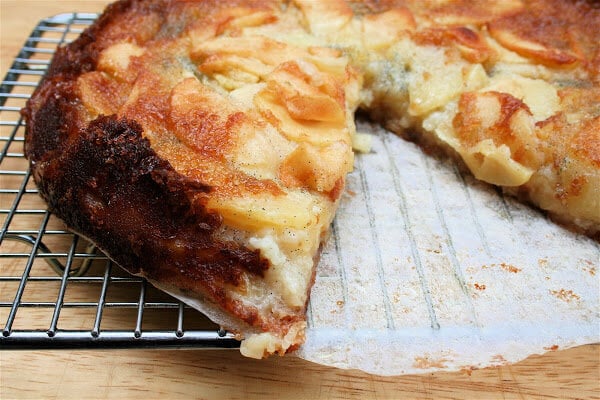 This post may contain affiliate links. Please read my disclosure policy.