Fair Trade Pecan Tart
This post may contain affiliate links. Please read my disclosure policy.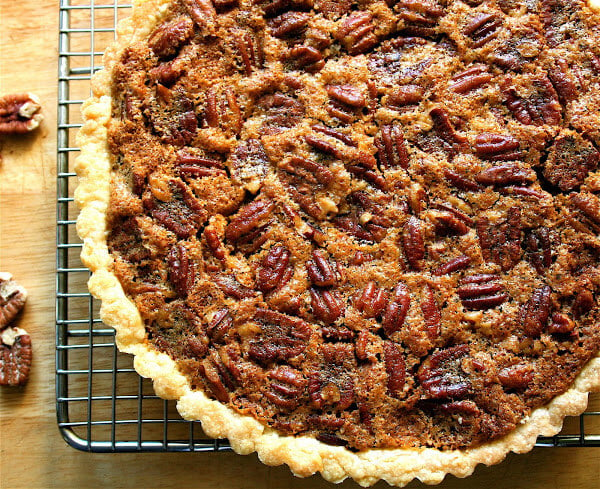 Once a term used only to label coffee, chocolate, tea and a few other imported products, Fair Trade now describes a few domestic items as well. In honor of Fair Trade month (October), four farmers — two banana farmers from Costa Rica, a pecan farmer from Georgia, and an apple farmer from Vermont — visited several East Coast cities on a tour called the Faces Of Fair Trade. Last Tuesday, Joe Coffee Bar hosted one of the tour's stops, and I got to meet Diann Johnson (the pecan farmer), Glen Schreiter (the apple farmer) and Yocser Godoy Carranza and Carlos Vargas (the banana farmers) — the new faces of Fair Trade.
I never realized all the difficulties — isolation, for example, and low prices driven by increased market supply from countries such as China — domestic farms face, until I spoke with these farmers, especially Mr. Schreiter.
To survive in a globalized world, Mr. Schreiter had to change his game plan, and in 2000, he initiated a complete restructuring of his farm, Saxtons River Orchards, in Saxtons River, Vermont. The last straw? Mr. Scheiter couldn't even sell his apples to his neighbors, living only 10 minutes from his farm. Before 2000, Mr. Schreiter's 200-acre farm, equipped with a multi-million dollar packing facility, shipped their apples all over the world. After 1993, however, when NAFTA enabled China (the largest apple-producing country in the world) and New Zealand to sell their apples to consumers in the U.S. and all over the world, Mr. Screiter's farm began suffering.
And so, Mr. Schreiter downsized his farm to 40 acres, sold the packing facility and hooked up with an organization called Red Tomato, a nonprofit organization dedicated to connecting farmers and consumers. Red Tomato purchases 50 percent of Mr. Schreiter's apples as well as fruits and vegetables from family farms located all along the East Coast, supplying shops throughout New England. Because few farmers' markets operate near Saxtons River, and because the farm's isolated location discourages many visitors, Mr. Schreiter believes his orchard could not survive without Red Tomato.
In 11 years, Red Tomato has succeeded in bringing locally grown produce to markets such as Whole Foods and Trader Joe's. In 20 years, Equal Exchange, the oldest and largest Fair Trade for-profit organization in the country, has brought numerous Fair Trade goods — including domestic nuts and dried cranberries — to hundreds of cafés and stores, reaching over a million consumers. These organizations, realizing that domestic farmers face many of the same challenges producers in marginalized regions of the world face, have changed the face of Fair Trade.
Also, find all of your holiday baking needs, certified Fair Trade that is, at Joe Coffee Bar. 'Tis the season for pecan pie, so plan ahead: Find a source for Fair Trade products, and purchase enough now to cover your seasonal baking needs. Equal Exchange is another good source for Fair Trade products and information. This recipe has been adapted from this month's Bon Appétit — it's delectable — not cloyingly sweet. I'm very thankful I got to see my husband this weekend, who happily took the remaining tart off my hands … I'm looking forward to returning to my morning oat bran routine.
Diann Johnson (pecan farmer from Georgia) stands with Joe Cesa (owner of Joe Coffee Bar) at Joe Coffee Bar, where many Fair Trade products are sold:
Fair Trade Pecan Tart
Serves 5
1 stick unsalted butter, room temperature
¼ C. sugar
1 large egg yolk
pinch sea salt
1¼ C. all purpose flour
2-3 T. milk, cream or water
Beat butter and sugar using an electric mixer until smooth. Add the yolk and salt and mix again until smooth. Add the flout, mixing on low until just incorporated. Add the liquid, a tablespoon at a time, to bind. Turn dough out onto a lightly floured work surface and roll into an 11-inch round, approximately. Transfer to a 9-inch round tart pan with a removable bottom. Pierce dough all over with a fork and place in the freezer for 30 minutes.
Filling:
3 large eggs
½ C. packed brown sugar
½ C. maple syrup
½ C. dark corn syrup
¼ C. unsalted butter, melted
1½ C. coarsely chopped Fair Trade pecans, roasted and salted
Preheat the oven to 350ºF. Whisk together the eggs, sugar and syrups until well blended. Pour in the melted butter, whisking constantly. Stir in the pecans. Place the tart shell on a baking sheet and pour the filling inside. Bake tart until filling is puffed and slightly set, about 40 minutes. Transfer to a rack to cool
This post may contain affiliate links. Please read my disclosure policy.