Pumpkin Dinner Rolls
This post may contain affiliate links. Please read my disclosure policy.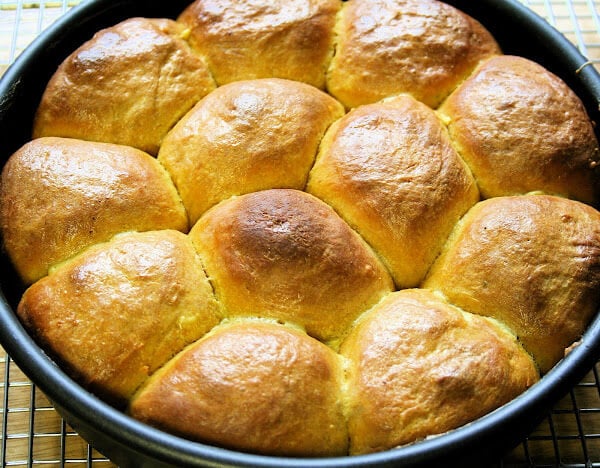 With Christmas less than a month away, only a few weeks remain to experiment more with pumpkin. Pumpkin ice cream is high on my list; pumpkin tiramisu, however, is falling quickly. It may not, unfortunately, happen this season.
And thanks to a free sample offered at Williams-Sonoma yesterday, I think I'll be making a batch of pumpkin dessert bars very soon. I'm usually not a sucker for those jarred products (butternut squash purée, for example, or roasted garlic tomato sauce) but the bar I sampled, made with a jar of their featured pumpkin butter (Muirhead), was particularly good, and the jars, at half price, became very attractive. The sales woman advised I buy two because no more would arrive this season. So, I did.
These dinner rolls, made simply with a can of Libby's pumpkin purée, actually have nothing to do with the WS pumpkin butter. Last week, looking for a festive recipe for Thanksgiving, however, I searched on Epicurious and found a recipe for "pumpkin nutmeg dinner rolls", which looked pretty good. Just like several of the 35 other reviewers, however, I wasn't crazy about the amount of butter suggested (12 tablespoons), so I omitted it altogether. I also left out the egg, added more salt (as many of the reviewers felt necessary), and added more "pumpkin spice" — cinnamon, cloves, nutmeg, ginger — since many of the reviewers felt the rolls lacked pumpkin flavor. Without butter and eggs, these rolls lack the richness of a classic Parker House Roll, but nonetheless remain moist and flavorful (and far more healthy).
Anyway, I never got around to making these for Thanksgiving, but I have about 20 frozen remaining in my freezer from the batch I experimented with before the holiday. Every night, I wrap one in foil and place it in the oven to thaw. They are delicious, but best the day they are made, pulled apart at the table and served with softened butter.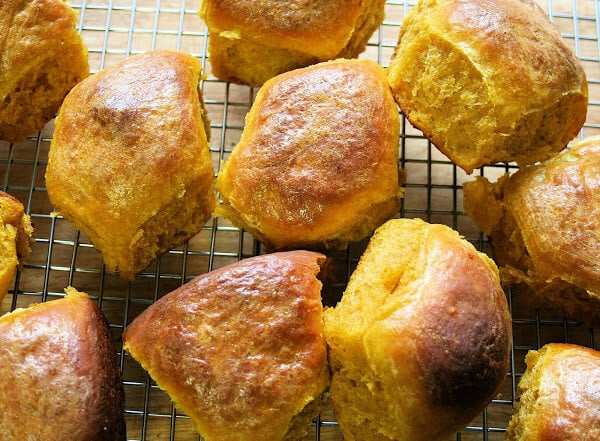 Pumpkin Dinner Rolls
Yield = 22 to 24
¾ cup milk, room temperature
2 teaspoons instant yeast
¼ cup sugar
15 oz. can pumpkin purée
5 cups all-purpose flour, plus more as needed
1 teaspoon cinnamon
½ teaspoon ground ginger
1/8 teaspoon ground cloves
freshly grated nutmeg to taste
1 tablespoon kosher salt
butter for greasing
1 egg
Place milk, yeast and one teaspoon of the sugar in the bowl of a standing mixer fitted with the dough hook. Let sit 15 minutes. Add remaining ingredients, except for the butter and egg, and mix on low speed for 10 minutes, adding more flour until the dough gathers around the hook and pulls away from the sides of the bowl as the hook rotates. The dough should not stick to the bottom and sides of bowl. Transfer the dough to a greased bowl, cover with plastic wrap and let rise until doubled in bulk, about two hours.
Punch down the dough, and turn out onto a lightly floured work surface. Grease two 9-inch square or circular baking pans. Portion the bread into 22 to 24 small balls (each weighing approximately 2- to 2¼-ounces). Place 10 balls in each pan, leaving space around each to rise. Cover with plastic wrap and let sit for another hour until doubled in bulk.
Preheat the oven to 400ºF. Place pans in oven for 20 minutes. Meanwhile, beat egg with 2 teaspoons water. After the 20 minutes, brush the rolls with the eggwash and return to the oven for another 5 minutes. Remove pans from oven and turn rolls out onto a cooling rack or board. Serve immediately, letting guests pull rolls apart at the table. Serve with softened butter.
This post may contain affiliate links. Please read my disclosure policy.