Daley Toffee
This post may contain affiliate links. Please read my disclosure policy.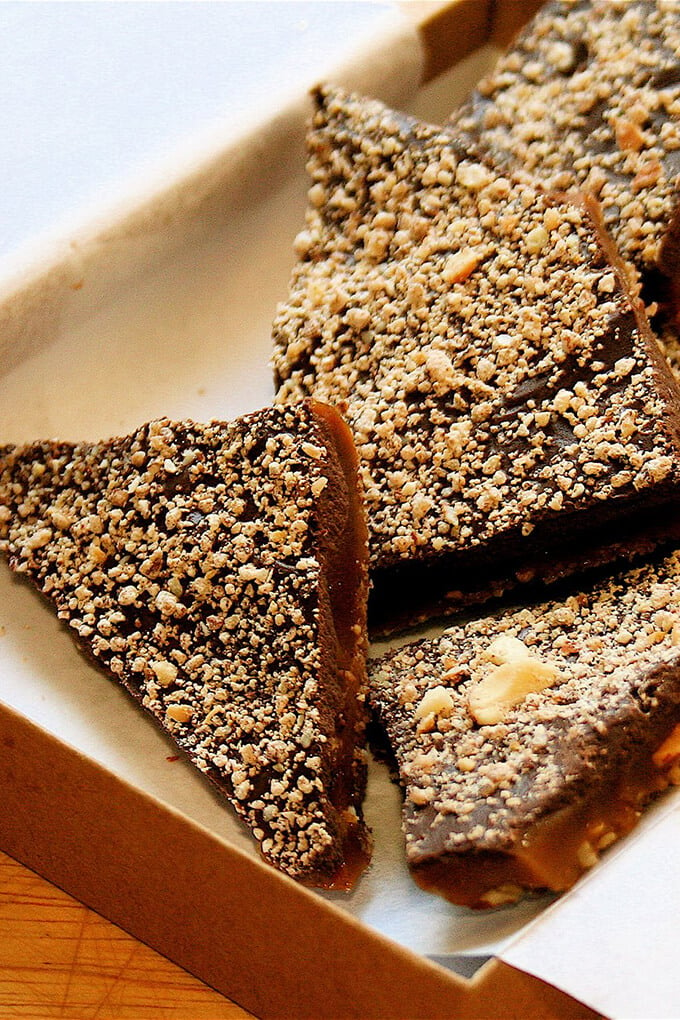 Well, after spending hours in the test kitchen, sifting through recipes submitted for The Bulletin's "Edible Gift Recipe Contest", I found a winner — Daley Toffee, a family recipe submitted by Laura Daley of Mount Airy. Crunchy, sweet, chocolaty, nutty, buttery, this toffee is so yummy! And addictive. Almost immediately after breaking the toffee into shards and photographing it, I brought it into the office — mostly to get it out of my sight — where the staff polished it off … I received several e-mails that day describing the scene. I returned to work the next day to find the empty Tupperware sitting on my chair.
Before trying this recipe, I had never attempted making toffee, and now, I have no fears of candy making or of terms like "hard-ball" stage. Cooking the sugar and butter mixture until it reaches the hard-ball stage is the only tricky part of this recipe, but Laura's instructions make the process painless. Instead of relying on a thermometer, which I find never to be accurately calibrated anyway, Laura's method calls for testing the mixture by dropping a small spoonful of the mixture into a glass of cold water — it's foolproof.
The toffee, as Laura notes in the recipe, makes a great gift for the holidays. Several years ago, I purchased a case of 100 brown stationary boxes from Usbox.com. Although this large case of boxes takes up nearly half our storage space in the basement, every holiday season I am so happy to have these clear-top boxes on hand. I have packaged biscotti and chocolate truffles in them for the past two years, and now I will pack Daley Toffee in them as well. For a nice presentation, use parchment paper as a base inside the box, wrap the box with a delicate ribbon, and tie on a simple tag describing the contents of the box. My favorite tags to use for gift giving are metal rim tags, which you can find at Staples or any office supply store. They sell packs of 50 for about $10.
Print
Daley Toffee: A Family Recipe
---
Description
Laura's notes: This recipe makes a great holiday gift for those with a sweet tooth! It keeps up to 2 weeks if you put it in an airtight container.
---
Ingredients
1 cup

(2 sticks |

8 oz

) salted butter

1 cup

sugar

3 tablespoons

water

1 1/8 tsp

. vanilla

2/3

C. ground pecans (or nut of your choice)

4

–

6

oz. premium milk chocolate (bar form is easiest; can also do a dark chocolate but we think milk chocolate is best)
---
Instructions
Cook butter, sugar, water, and vanilla over medium heat stirring CONSTANTLY until golden brown — test for hard ball stage in cold water. It may smoke, but don't worry.
Put half to 2/3 of the nuts in the bottom of a greased 9×9 inch pan.
Pour the cooked butter/sugar mixture over the nuts.
Wait a few minutes and put the chocolate on top — when chocolate softens, spread evenly and sprinkle remaining nuts on top.
When completely cool, break into pieces. Store in airtight container.
NOTE: You can also use an 8×13 if you'd prefer a thinner version — in which case increase nuts to 1 cup.
---
This post may contain affiliate links. Please read my disclosure policy.