French Onion Soup
This post may contain affiliate links. Please read my disclosure policy.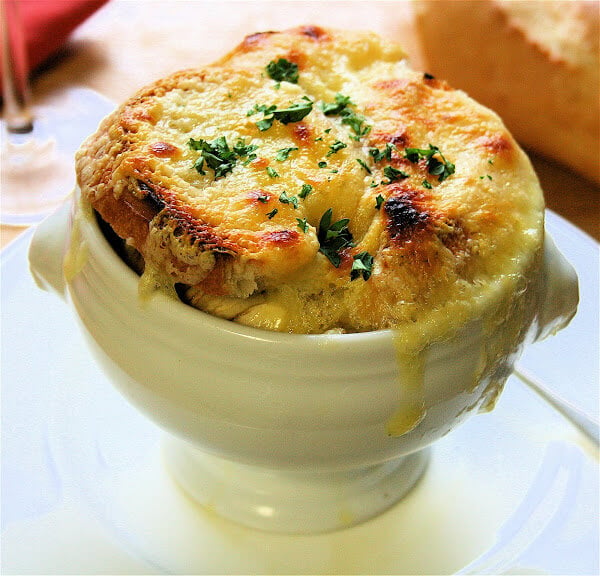 So, I've found something else I'm going to miss about Philadelphia. On Monday, my sister and I met for lunch at Rouge where we enjoyed the crusty rolls served with sea salt-speckled butter and the French onion soup topped with Gruyère and provolone. These cheeses blister over garlic croutons insulating the delectable onion broth below. And the crusty bits clinging to all sides of the goblet-like bowls are irresistible.
While I can't say I'm a French onion soup connoisseur, I have ordered my fair share of this bistro classic, including five bowls this week alone, a spree that began last Saturday up in NYC. A.O.C., the adorable Greenwich Village restaurant where I sat with two friends for a few hours, set the standard, one so high I feared no place in Philly could equal. And for the most part, the soups I sampled confirmed my worries. At both Brasserie Perrier and Caribou Café, the soup had not been thoroughly heated before being topped with the crouton and cheese and thrown under the broiler. Both should have been sent back to the kitchen.
My weeklong onion-soup bender also inspired me to make my own batch, which to my surprise and delight was very simple. I opened Daniel Boulud's Café Boulud Cookbook, a book I have not used once, but has now piqued my interest. The success of French onion soup, says Mr. Boulud in his notes preceding the recipe, depends on cooking plenty of onions "very, very slowly until they are soft, sweet and caramel colored," and deglazing with white wine, which adds the necessary "touch of acidity."
My onions cooked for about an hour and I used a mix of Sherry and Madeira because I didn't have any white wine. I also used homemade chicken stock, which Mr. Boulud describes as "rarely the star player," but whose "supporting role can elevate just about anything." I would agree that a homemade chicken (or beef) stock makes all the difference in this soup.
While any ovenproof bowls will work, it's fun to eat this soup out of the traditional crocks. I found mine at Kitchen Kapers for $7.99 each. Fante's and the Philadelphia Bar & Restaurant supply shop at 5th and Bainbridge also sell these vessels.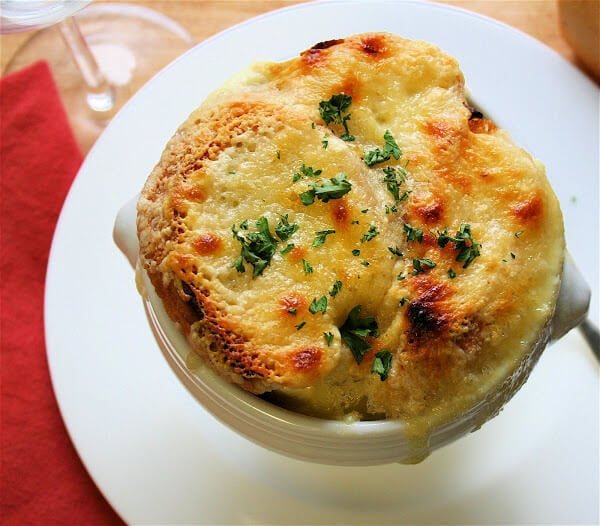 French Onion Soup
Serves 6
3 tablespoons unsalted butter
2 pounds yellow or Spanish onions, peeled, trimmed and sliced thinly
1 clove garlic, minced
kosher salt
freshly ground black pepper
2 teaspoons all-purpose flour
1 cup dry white wine or Madeira or Sherry
Herb sachet: (2 sprigs Italian parsley, 2 sprigs thyme, 8 peppercorns and 1 bay leaf, tied together in a cheesecloth)
2 quarts homemade chicken stock
1 mini French baguette
2 cups Gruyère or Swiss cheese, coarsely grated
4 to 6 sprigs parsley, leaves finely chopped
In a large Dutch oven or soup pot, melt the butter over medium heat. Add the sliced onions and garlic to the pot, season with salt and pepper, and cook stirring regularly, until the onions are a deep caramel color, about 30 minutes to an hour.
Dust the onions with the flour and cook, stirring for about five minutes to toast the flour and rid it of its raw taste. Add the white wine and cook, stirring until the wine almost evaporates completely. This happens almost instantly.
Add the herb sachet, the stock and a pinch of salt. Bring to a boil, then lower the heat and let simmer 40 to 60 minutes.
Meanwhile, preheat the oven to 350ºF. Slice the baguette into one-inch thick rounds. Place rounds on a baking sheet, and toast in the oven until lightly golden, about 10 minutes. Remove pan from the oven and let cool.
Preheat the broiler. Taste the soup. Add more salt and pepper if necessary. Remove the sachet and discard. Ladle the soup into individual ovenproof serving bowls. Cover each with two baguette rounds. Top each generously with the grated cheese. Top each with a pinch of chopped parsley. Place bowls on a baking sheet and place under the broiler. Broil until the cheese melts. Serve immediately.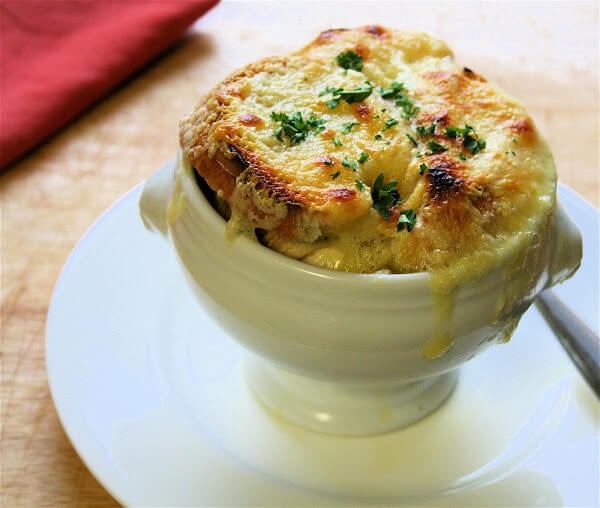 Homemade Chicken Stock
Yield = 1 gallon
4 lbs. of chicken legs
2 carrots, peeled, cut into large chunks
2 ribs celery, trimmed, cut into large chunks
2 medium onions, peeled and quartered
1 leek, trimmed, split lengthwise, and washed
1 bay leaf
1 teaspoon peppercorns
1 bunch Italian parsley
Place the chicken in a large stockpot. Cover with 2½ quarts of cold water and bring to a boil. Skim off scum that rises to the top. Simmer 10 minutes, skimming regularly.
Add the remaining ingredients to the pot and simmer gently for three hours, skimming as necessary. Drain the stock into a colander set over a bowl. Allow the solids to drain before discarding them. Strain stock again through a fine-mesh strainer. Transfer to storage containers and chill in the refrigerator over night.
The next day, scrape off any fat solidified at the top of the stock. Freeze stock indefinitely or keep in the refrigerator for four days.
This post may contain affiliate links. Please read my disclosure policy.