Captain Mauri's: New Favorite Lunch Spot
This post may contain affiliate links. Please read my disclosure policy.
The Avocado N' Jack sandwich at Captain Mauri's: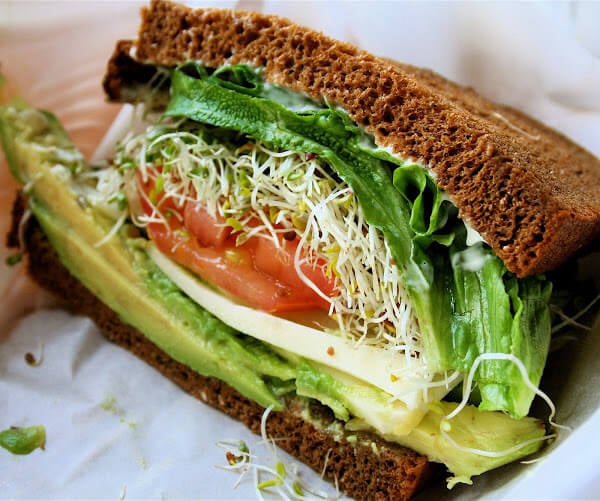 So, I've created a nice little routine for myself: I wake up at a leisurely hour; I make coffee and a pot of oatmeal; I walk to the library where I find free wifi and a quiet place to "work"; I break for lunch around 1:00; then return to the library (to continue my job search) until dinner time.
Now, thanks to a little spot on Avenida del Mar called Captain Mauri's, lunch has become the highlight of my day. On Monday, having had a late breakfast and in the mood for a light lunch, I decided to try an acaí bowl — a bowl of acaí puréed with a little juice, topped with granola, sliced bananas, apple and chopped pecans. I might have preferred just banana and granola, but the mixture was delicious anyway. Yesterday, I savored the above pictured avocado and jack sandwich and today, the veggie wrap, pictured below. All of the sandwiches are served with mayo, lettuce, tomato and sprouts on squaw (? — never heard of it either —) bread, and the wrap was filled with a vegetarian pattie, cucumber, zucchini, carrots, balsamic vinegar and sprouts — yum! Thanks Cousin Jay for another great recommendation.
And I should also mention that on Sunday, before shopping at the farmers' market, Ben and I stopped by Captain Mauri's for a cup of coffee. As we placed our order, we spotted a baking tin sitting by the register filled with bran-like delectable-looking muffins, which we couldn't resist trying. Made with zucchini, blueberries and oatmeal, these muffins are like none other I have ever tasted. I found them moist and delicious too. My husband, however, unable to determine the muffin's identity — sweet or savory — instantly found them offensive, but he persevered nonetheless, finishing his half, leaving not even a crumb for the birds hovering around our bench to taste.
Captain Mauri's
149 Avenida del Mar
San Clemente, CA
949.498.8098
Open daily from 7 a.m. to 6 p.m.
The Veggie Wrap at Captain Mauri's:

This post may contain affiliate links. Please read my disclosure policy.