Farmers' Market Mushrooms & Melograno Nostalgia
This post may contain affiliate links. Please read my disclosure policy.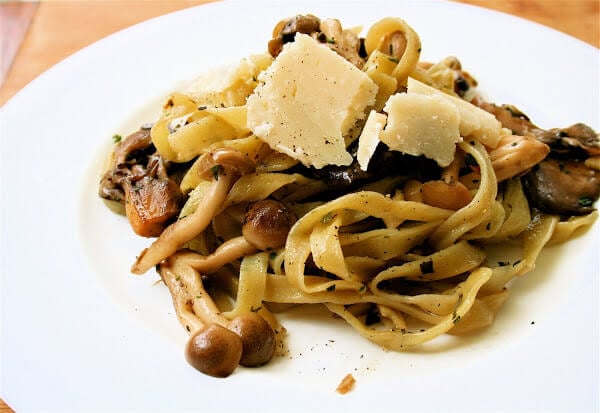 Contrary to what I believed before arriving to the West Coast nearly three weeks ago, it does rain in Southern California. And it also gets cloudy. And while I'm not longing for East Coast weather by any means, yesterday, while shopping at the San Clemente's farmers' market, I found myself craving my all-time favorite pasta dish — pappardelle tartufate — found in only one place: a little, Italian BYOB, located 2,378 miles away (as the crow flies) in Philadelphia.
Melograno was one of my favorite Philadelphia restaurants. Whenever anyone I know visited, I pointed them to the corner of 22nd and Spruce; whenever I learned of anyone living in Philadelphia who hadn't been to Melograno, I gasped, and then pointed them to the corner of 22nd and Spruce. I also told them what to order: the baby arugula and prosciutto salad to start; the papardelle tartufate next; and the tiramisu for dessert. Melograno serves many other delectable appetizers, desserts (and entrées) too, but the papardelle tartufate —a mix of homemade pappardelle pasta, wild mushrooms, chopped walnuts, Parmigiano Reggiano and truffle oil — is an absolute must.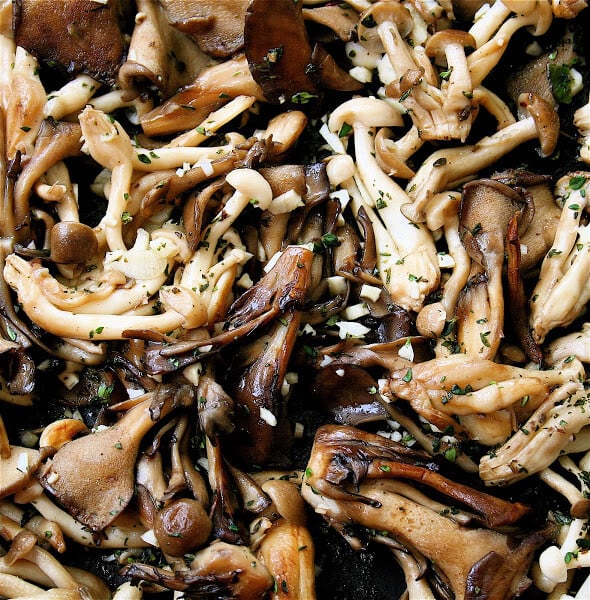 Anyway, while at the market yesterday, I began chatting with Don of Don's Farm in Wildomar, CA. Don sells eggs, preserves, honey, apple butter, avocados, squash and a host of other vegetables. He also a variety of mushrooms — maitake, brown beech, white beech and royal trumpet — though I am unsure if he grows or just sells these mushrooms.
In any case, Don briefly described the growing technique: these bunches each grow in a bottle in a temperature-controlled room under a fine mist. They are not hydroponic; they are not grown in soil; they are totally organic. Don tells me, "they" — I'm not sure who this refers to, thus the confusion as to who is growing the mushrooms — are building a multi-million dollar facility to increase production of these prized fungi. (As a supporter of small, diversified farms practicing environmentally responsible growing techniques, I am instinctively averse to the idea of this facility: Is growing mushrooms this way any different than the way Earthbound Farms grows their organic greens, in large facilities requiring huge amounts of energy to keep the temperature controlled to prevent the greens from wilting? I'll have to investigate further, for now, however, I'll continue to enjoy these delectable fungi.)
Don recommends keeping the mushrooms in their plastic wrappings until cooking time. Do not wash them, he says, and snip off just the outermost end before cooking.
These are the maitake, meaning "dancing mushroom" in Japanese: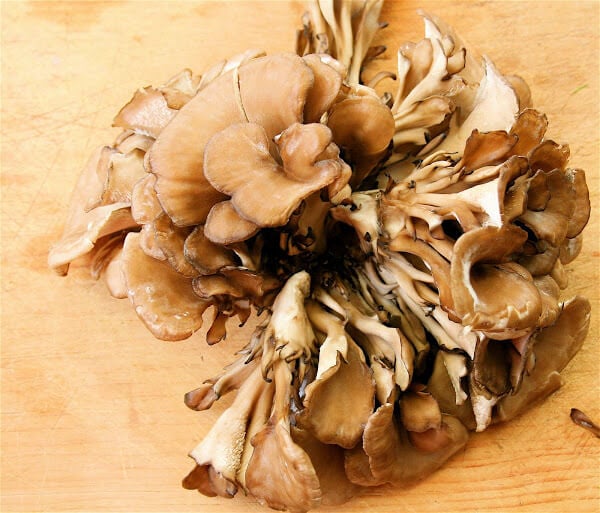 I cannot say this recipe replicates Melograno's pasta exactly, but it has satisfied my fresh pasta-truffle oil-wild mushroom craving. And this pasta, purchased at the Delaney's Culinary Fresh stand at the farmers' market, while completely different than the pappardelle at Melograno, is unbelievable. Last week I bought a pound of the red-pepper linguini and this week a pound each of the lemon basil and red pepper. The pasta will keep, I am told, for up to a week in the refrigerator or months in the freezer. Requiring only two minutes in boiling water to cook, this flavorful pasta remains toothsome and chewy and has already become a Sunday evening tradition.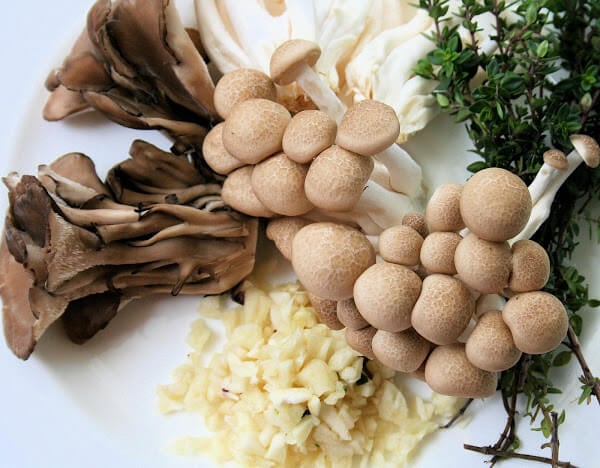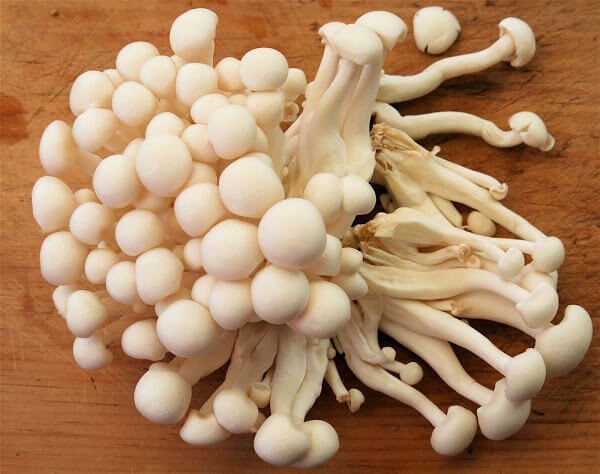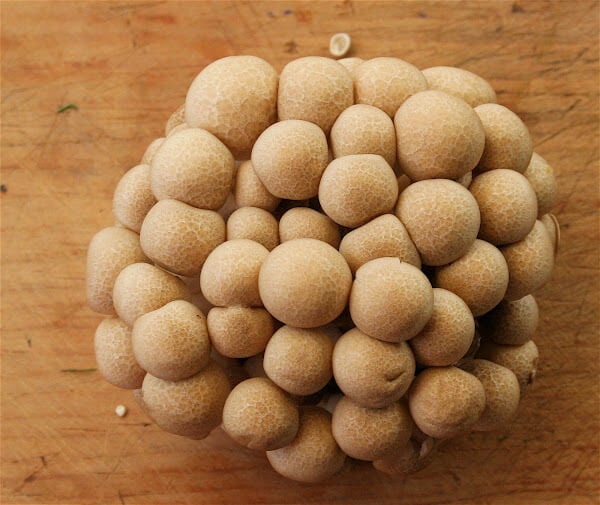 Print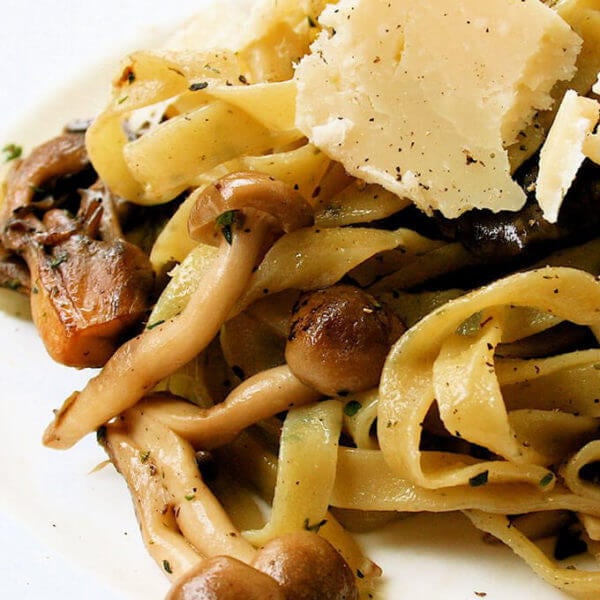 Melograno-Inspired Pappardelle with Mushrooms, Parmigiano Reggiano, and Truffle Oil
---
Description
Inspired by a favorite dish served at Melograno in Philadelphia
Melograno also adds chopped walnuts, which add a nice crunch and good flavor.
---
2

lbs mixed mushrooms

2 tablespoons

olive oil

2 teaspoons

unsalted butter, plus more to taste

2

cloves garlic, minced

4

sprigs thyme, leaves removed and finely chopped

kosher salt

and

freshly ground pepper

to taste

1

lb. fresh linguini or pappardelle or dried orecchiette or bowtie pasta or whatever shape you like

freshly grated Parmigiano Reggiano

truffle oil,

optional

a few big, thick shavings of Parmigiano Reggiano

to top each plate
---
Instructions
Bring a large pot of water to a boil.
Meanwhile, in a large nonstick skillet, heat one tablespoon of oil with one teaspoon of butter. When hot, add half of the mushrooms, shake the pan once, then let them cook undisturbed for one to two minutes — this will help them get a nice brown, seared edge. Shake the pan again, and if necessary, stir and rearrange the mushrooms with a wooden spoon. Let cook until tender and slightly caramelized. Add half of the garlic and thyme, kosher salt and pepper to taste, and let cook for one minute longer. Transfer these mushrooms to a bowl then repeat with remaining oil, butter, mushrooms, etc. When all the mushrooms have finished cooking, return the first batch to the sauté pan to keep warm.
Cook the fresh pasta for 2 minutes. Alternatively, cook dried pasta until al dente. Drain. Place pasta in a large bowl. Add a dab of butter and a handful of grated Parmigiano Reggiano. Add the mushrooms and toss gently to combine.
Place small mounds of the pasta on all plates. Drizzle each serving with a tiny (or not so tiny) amount of truffle oil, if desired. Top each with the thick shavings of Parmigiano.
This post may contain affiliate links. Please read my disclosure policy.