Burnt Bagels, Tilden Farm Avocados and Las Golondrinas Tortilla Chips
This post may contain affiliate links. Please read my disclosure policy.
A very funny thing happened to me yesterday morning at Coffee Bean. I ordered my usual, an everything bagel toasted with butter and a medium coffee. For a change, however, I asked if I could have the bagel toasted twice. The girl looked a little annoyed, but agreed.
Well, she showed me. About eight minutes later, the girl called me from my table and handed me a paper to-go bag. I knew something was up. The whole place smelled of burnt onion and garlic flakes. I politely asked for a plate, explaining I would be having my bagel "here," as I had the past five mornings. "Sure," she said.
I could hardly wait to see what she pulled out of the bag. She handed me the plate topped with two charred — BLACK — disks, both halves, front and back. She must have toasted it 10 times! I almost burst out laughing. I told her I would pay for another bagel toasted only once. At this point, a manager intervened, throwing the charred bagel in the trash, starting a fresh one for me, no extra charge.
Lesson learned: Watch out for Nicole at 6:00 in the morning. Anyway, I remained on guard for the rest of the day, trying to avoid any more mishaps. And I almost succeeded.
After breakfast, I drove up to Laguna Hills to buy some produce from a farmers' market. I had been enlisted to make an hors d'oeuvre for 10 people for a gathering Friday evening. The day before, Ben's Aunt Vicki and her mother, Sy, had described to me a legendary guacamole, one invented by Sy's husband, Jack. This recipe includes diced onions and finely chopped pistachios, an ingredient that adds an unexpected crunch, an ingredient that leaves tasters guessing — intrigued — hooked.
I was hooked just listening and decided I would purchase Las Golondrinas tortilla chips — best chips ever — and try Jack's recipe. At the market, I bought avocados and onions, and at Trader Joe's, I bought pistachios, shell on, as instructed. When I returned home, I set to work, dicing the onion finely, scooping the avocado, and shelling the pistachios. With my prep work completed, I reached for my … Cuisinart, blender, sharp knife, hammer, rolling pin, anything to help me finely chop the pistachios. Alas, all of my tools are still locked up somewhere on Camp Pendleton, in an undisclosed storage facility, a place commonly referred to as Never Neverland.
Jack's recipe would have to wait. I did not have the patience to chop by hand given the knife I've been using cannot slice a banana without bruising it. I ended up making guacamole the only way I know how, with lime juice and kosher salt. And it turns out, that's all these avocados really need.
I'm slowly putting together a list of my favorite local sources, which now includes avocados from Tilden Farm. At the market, Jimmy Moreno, owner of this Riverside farm, hands out samples of his avocados sprinkled with a little sea salt. He also sells oranges, grapefruits, lemons and a few other varieties of citrus.
Mr. Moreno's farm is organic in all ways except name. If he paid for certification, he told shoppers, he would have to sell his avocados for $4 a piece. Mr. Moreno explained that almost all citrus farmers are organic because very few pests bother these types of crops, so they need few, if any, pesticides.
As I mentioned above, these avocados need little doctoring, but I will write an addendum to this post once I try Jack's recipe. And, though I have not made Vicki's variation yet, I have now savored it on more than one occasion. Vicki adds a splash of Sriracha sauce, which adds a nice kick, and a pinch of garlic powder, a subtle contribution that like Jack's pistachios, keeps tasters guessing.
Jimmy Moreno standing behind his avocados at the Friday morning Laguna Hills farmers' market.

Simplest Guacamole
Serves 8 to 10
4 ripe avocados
kosher salt
fresh limes
Cut the avocados in half lengthwise. Remove pits and discard. Scoop out the flesh, and place in a large bowl. Sprinkle with salt and lime juice to taste. Mash with a large spoon or whisk. Taste, adjust with more salt, limes or another avocado if, as I did, you've made it too salty. Serve with thin, crispy tortilla chips such as Las Golondrinas.
A bag of Las Golondrinas tortilla chips. Las Golondrinas are a local company and have a few shops including one here in San Clemente. These tortilla chips can be purchased at Albertsons as well as the San Clemente Sunday farmers' market.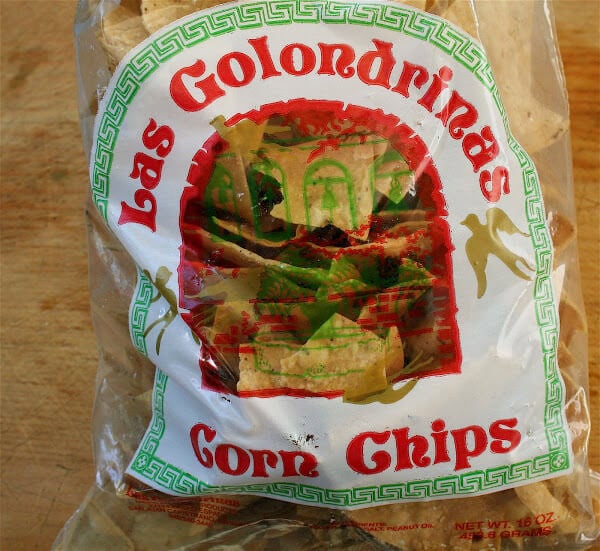 This post may contain affiliate links. Please read my disclosure policy.