Fajita Pasta, Farmers' Market Arugula, Breakfast Crepes & Other Random Thoughts
This post may contain affiliate links. Please read my disclosure policy.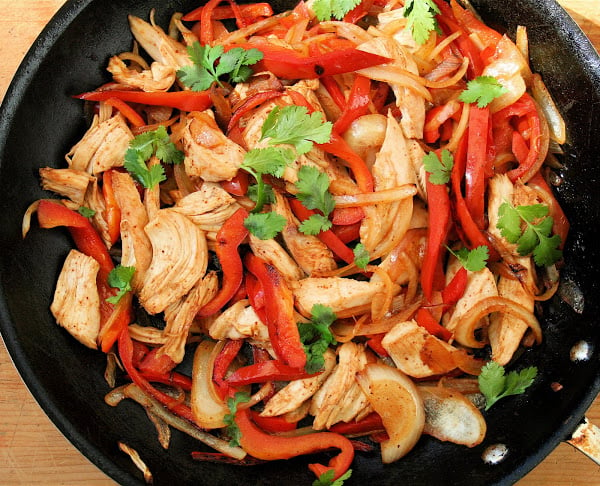 I know this sounds like a weird idea, but it's pretty good. On Sunday, I bought a package of chipotle spaghetti, the latest addition to the Delaney's Culinary Fresh pasta line. I followed owner Jordan Stone's suggestion and sautéed peppers and onions with chicken, adding cilantro at the end. I dumped this mixture over the pasta with about ¼ cup of the reserved cooking liquid and a handful of grated Parmigiano Reggiano – yum!
So I don't have much to report, just some random thoughts:
• I almost lost it today at Barnes & Nobles. I had a coupon for 20% off, something Ben had earned after purchasing a book on-line. After spending a half hour in BN, I went to the checkout carrying my goods, the Santa Monica Farmers' Market Cookbook and Heat. The woman behind the register, endowed with bionic vision, looked at my coupon for one second and told me it had expired. I challenged. Today is the 18th, I said. This certificate expired at 6:56 EST, she said, 15 minutes ago. She cut me no slack and then tore my coupon in half. I was shocked.
The arugula from both the San Clemente and Laguna Hills farmers' markets has been delectable. Look for smaller bunches, like this one pictured below – I was disappointed with a very large, extremely bitter tasting bunch I purchased a few weeks ago. Serve with a lemon vinaigrette and shaved Parmigiano Reggiano for a simple salad.

• Before Ben and I moved across country, I told many people I planned to work on a dairy farm once I got to California. I was going to learn how to milk cows and make cheese. Not a well-researched plan. As far as I can tell, there is one dairy operation in SoCal and it's many miles from where I live.
• After reading Animal, Vegetable, Miracle, however, I now know I can make cheese at home. The book gives a recipe for making mozzarella in 30 minutes and recommends purchasing Cheesemaking Made Easy, a book filled with a host of other simple cheese recipes. It's in the mail, and soon I hope to post about ordering bacterial cultures and making my own chevre, mozzarella, goat cheese, ricotta, etc. Yum.
This past Sunday morning, Ben and I enjoyed brunch at La Galette Creperie with several friends. I ordered the farmers' plate, pictured below, and Ben ordered a bacon-, cheddar- and egg-filled crepe. Though Ben has recently declared he does not like crepes, he politely cleaned his plate.
• Last week, I saw a whale splashing about not too far from the San Clemente Pier – It was amazing!
• Mayonnaise: I like it. Not as a main ingredient in pasta or potato salad, but as a condiment. A couple teaspoons on a sandwich, I am rediscovering, makes such a difference.
• Do you ever feel there is nothing in your grocery-store meat department that is morally acceptable to buy for dinner? The February Bon Appetit, the "green" issue, lists a few eco-friendly meats: bison, grass-fed beef and heritage pork. Great, but I'm chastised if I send away for these meats. I'm going to a Roots of Change meeting tomorrow night to learn more about sustainable farming in Southern California. Will report back.
• And lastly, over the weekend, I read a very entertaining book: Skinny Bitch. I so badly want to quote the opening paragraph of one of the chapters (entitled "Pooping"), but feel I must refrain. This passage will make you laugh out loud. Please email me if you do not own the book and want to laugh. Lindsey and Mr. T., Meredith and Lisa, Bates and anyone else with a penchant for bathroom humor, please contact me.
left-over roasted chicken or 2 bone-in, skin-on chicken breasts or thighs
olive oil
kosher salt
chile powder
1 T. olive oil
1 tsp. unsalted butter, plus more to taste
1 medium onion, peeled and thinly sliced
2 red peppers, cored and thinly sliced (green peppers would be fine too)
cilantro to taste, washed and coarsely chopped
1 lb. fresh pasta, such as the Delaney's Culinary Fresh chipotle spaghetti
¼ cup to ½ cup Parmigiano Reggiano, grated
1. Preheat the oven to 425ºF. Bring a large pot of water to a boil. Line a baking sheet with foil (for easy cleaning). Place the chicken on top. Drizzle with a little oil, and season with salt and chile powder to taste. Roast until done, about 15 to 20 minutes. Remove from oven and transfer to a plate to cool.
2. Meanwhile, heat the oil with the butter in a large nonstick skillet over medium-high heat until the butter begins to sizzle. Add the onions and peppers and sauté until tender and browned, but not caramelized (think fajitas — hot, charred peppers and onions in a smoking hot cast-iron skillet).
3. Meanwhile, remove the skin from the chicken and discard. Pull the meat from the bone and shred or cut into thin strips. Add the meat to the pan, season with salt, chile powder and cilantro to taste. Stir, then turn off heat. Transfer to a plate. Keep skillet on the stove.
4. Season the boiling water with a pinch of kosher salt. Cook the fresh pasta for 2 minutes. Just before draining, reserve one half cup of the cooking liquid. Drain the pasta but do not rinse. Place the cooking liquid in the skillet and place over high heat. Let reduce, scraping up any charred bits from the pan. Place the pasta in a large bowl. Add another teaspoon of butter and ¼ cup of the grated Parmigiano Reggiano. Add ¼ cup of the simmering cooking liquid and the pepper-chicken sauté, and toss gently to combine. Taste, adding more cooking liquid by the tablespoon and grated cheese in necessary.
5. Serve, passing more cheese and fresh-cracked pepper on the side.
This post may contain affiliate links. Please read my disclosure policy.