Whole Grains & Food Synergy
This post may contain affiliate links. Please read my disclosure policy.
I caved. I couldn't hold out any longer. Over the weekend, I went to the store and bought my first bag of flour, can of baking powder, box of baking soda and bottle of vegetable oil since arriving on the West Coast. I still don't have any cooking equipment, so I bought a muffin tin and a 9-inch cake pan, too. I had been wanting to make these cranberry-orange pecan muffins I had spotted in this cookbook I recently acquired, The Complete Whole Grains Cookbook, and I had been enlisted to make dessert for Easter dinner. (FYI, I made Balzano apple cake … so good … a must-try recipe )
Baking is so fun! I've forgotten, and I feel like I might go on a little whole-grain muffin bender. But not till I finish the half-dozen muffins that are left in my freezer. I made this batch on Saturday, ate a few after they came out of the oven, then wrapped each one individually in foil and threw them in the freezer. Every morning now, I heat one in the oven at 350ºF for about 10 minutes. It's such a treat to split one of these open, spread it with a little butter and tuck in.
Now, I must confess, I returned from the store without having purchased all the ingredients I needed to make these muffins. I couldn't find barley flour, I forgot to purchase orange juice and I opted to buy dried cranberries instead of frozen.The muffins still came out well — I used milk instead of OJ and 1½ cups whole-wheat flour instead of the barley flour — but I think freshly squeezed orange juice, as the recipe suggests, will make them even better.
I plan on remaking these cranberry-orange muffins once I find barley flour, but in the meantime I have a growing stack of whole-grain muffin recipes I am anxious to try. I just took a look at my Martha Stewart (the April issue) and found three: blueberry-banana cornmeal, oat bran-applesauce, and carrot-zucchini yogurt. Yum. Well, we'll see. The last one is sounding awfully similar to those zucchini-blueberry muffins I adore (and Ben hates) from Captain Mauri's.
Now, eating things like muffins, I know, is probably not the best way for us to get our fill of whole grains. (Particularly if they resemble anything like the ones from Captain Mauri's. Each one weighs like five pounds.) A better way to get a serving of whole grains is to eat a bowl of soup like the one featured below, also a recipe from this new cookbook.
Which brings me to the real reason why I am talking about whole grains in the first place. In the introduction to this cookbook, the author, Judith Finlayson, talks about all the health benefits of eating whole grains but also touches on an idea scientists are just beginning to explore: food synergy. Finlayson notes that emerging research suggests "the phytonutrients found in plant foods fight disease more effectively when they work together, rather than as supplements on their own."
Michael Pollan, too, in his latest book, In Defense of Food, discusses this same idea, pointing to a study conducted by epidemiologists at the University of Minnesota. These doctors found that a diet rich in whole grains reduced mortality from all causes. But even after they adjusted for levels of dietary fiber, vitamin E, folic acid, phytic acid, iron, zinc, magnesium and manganese — all nutrients found in whole grains — the scientists discovered "an additional health benefit to eating whole grains that none of the nutrients alone could explain." The subjects who received the same amount of nutrients from other sources were not as healthy as those eating whole grains, suggesting "that something else in the whole grain protects against death," and that "the various grains and their parts act synergistically."
Pollan concludes: "A whole food might be more than the sum of its nutrient parts." I think he might be on to something.
Also, just a note, this whole grains cookbook got sent to The Bulletin's office in Philadelphia before I left for CA. I only recently got around to looking at it, and I think it is in an excellent resource. If you are looking to introduce whole grains into your diet more regularly, this book might be a nice addition to your cookbook library. Order a copy from Amazon here: The Complete Whole Grains Cookbook
Note: I've printed this recipe just as it appears in the book, though I did not follow the recipe exactly. I used chicken stock, more than suggested. I used barley. I added salt until it tasted good. Next time, I might omit the puréeing-of-the-beans step and either cook dried beans from scratch or add the beans at the end, so they don't get mushy. I loved the recipe, however, and now have lots on hand in the freezer.
Wheat Berry Minestrone with Leafy Greens
Adapted from the Complete Whole Grains Cookbook (Robert Rose, 2008)
Serves 6
2 cups white kidney beans or 1 14-oz. can beans, drained and rinsed
4 cups homemade vegetable stock or reduced-sodium chicken stock, divided
1 T. olive oil
2 onions, chopped
4 stalks celery, diced
4 cloves garlic, minced
2 tsp. dried Italian seasoning
¼ tsp. cayenne pepper
1 cup wheat, spelt or Kamut berries rinsed and drained (barley works well too)
1 14-oz. can diced tomatoes with juice (salt-free)
2 cups water (or chicken stock)
8 cups coarsely chopped, trimmed kale or Swiss chard (or mustard greens)
salt and freshly ground black pepper to taste
grated Parmigiano Reggiano to taste (optional)
extra virgin olive oil
warm baguette (optional)
1. In a food processor, combine beans with one cup of the stock and purée until smooth. Set aside.
2. In a large saucepan or Dutch oven, heat oil over medium heat for 30 seconds. Add onions and celery and cook, stirring until celery is softened, about five minutes. Add garlic, Italian seasoning and cayenne and cook, stirring for one minute. Add wheat berries, tomatoes with juice, water, reserved bean mixture and remaining three cups of the stock and bring to a boil.
3. Reduce heat to low. Cover and simmer until wheat berries are almost tender, about one hour. Stir in the kale. Cover and cook until kale and wheat berries are tender, about 15 minutes. Season to taste with salt and black pepper.
4. When ready to serve, ladle soup into bowls. Sprinkle liberally with Parmigiano, if using, and drizzle with olive oil. Serve with warm bread.
Rinds of Parmigiano Reggiano added to cooking soup impart a wonderful flavor: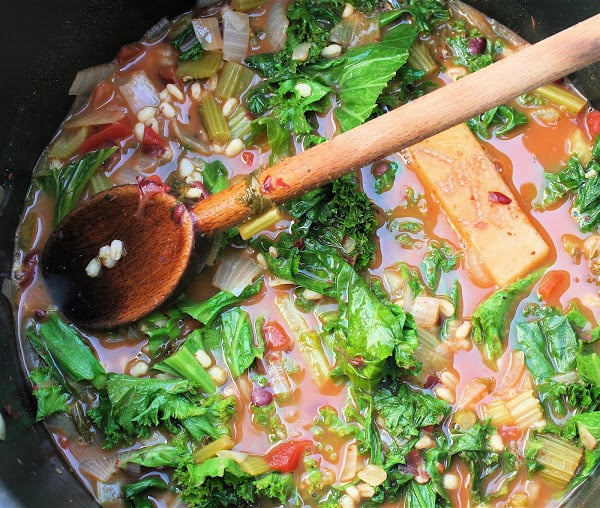 Cranberry-Orange Pecan Muffins
Adapted from the Complete Whole Grains Cookbook (Robert Rose, 2008)
Yield = 12
1 cup whole wheat flour
½ cup whole barley flour (I couldn't find barley flour and so used 1½ cups whole wheat flour)
½ cup unbleached all-purpose flour
¾ cup sugar
¾ cup chopped pecans
2 tsp. baking powder
½ tsp. salt
¼ tsp. baking soda
1 egg
½ cup sour cream
2 tsp. finely grated orange zest
½ cup freshly squeezed orange juice
¼ cup vegetable oil
1½ cups cranberries (fresh or frozen*), coarsely chopped (I used dried and didn't chop them)
1. In a large bowl, combine whole wheat, barley and all-purpose flours, sugar, pecans, baking powder, salt and baking soda. Mix well and make a well in the center.
2. In a separate bowl, beat egg. Add sour cream, zest, juice and oil and beat well. Pour into the well and mix with dry ingredients, just until blended. Fold in cranberries. Divide batter evenly among prepared muffin cups. Bake in preheated oven until the top springs back when lightly touched when lightly touched, about 25 minutes. Let cool on a wire rack for five minutes before removing from pan.
* Notes: You can make the batter ahead of time and refrigerate overnight. If you're making the batter ahead, don't add the cranberries until you're ready to bake. You can chop them, cover and refrigerate overnight. The batter will keep for two nights, so if you're baking half, chop half the cranberries and do the remainder the following night. If using frozen cranberries, partially thaw them and blot in paper towel before adding to the batter.
This post may contain affiliate links. Please read my disclosure policy.