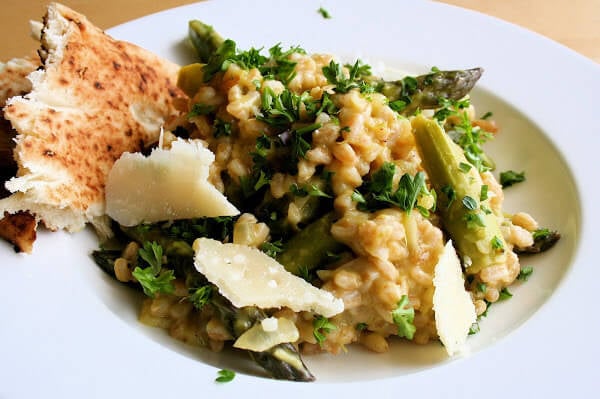 My mother has been telling me about this asparagus risotto for a little over a year now. She adapted the recipe from one printed in Gourmet last spring as well as from one in the New York Times submitted by Mark Bittman via Mario Batali. The recipe calls for puréeing about a pound of cooked asparagus and stirring it into the risotto in the last five minutes of cooking. The remaining pound or so of asparagus tips and stems are also added toward the end — the heat of the risotto slowly cooks them. The purée allows every bite of this risotto to burst with the taste of asparagus and the tips provide a nice crunch as well as additional flavor. Farro or barley are two healthier alternatives to the traditional Arborio rice, but many grains, as long as they are long-cooking grains, will work equally well.
This risotto is best eaten the day it is made mostly because the asparagus pieces deteriorate a little bit after a day or two. That said, Ben raved about this dish even two days later. On Friday, after being in the field for a week, Ben shoveled down two bowls, wiping his dish clean with a nice hunk of bread. Then he turned to me and said, "You should blog about this." Sometimes he knows just what to say.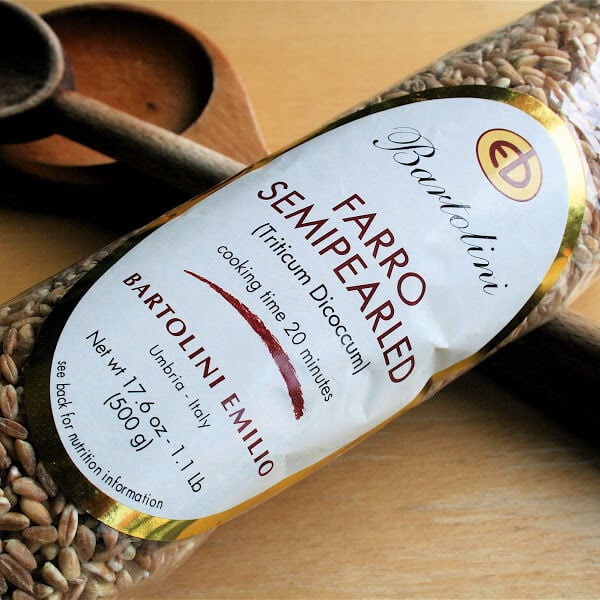 Barley Risotto with Asparagus and Hazelnuts
Yield: 3 to 4 servings
Adapted from Gourmet and Mark Bittman and The New York Times
2 lbs. asparagus, peeled, trimmed and cut into one-inch-long pieces, tips reserved
4 to 6 C. chicken or vegetable stock (homemade or low-sodium)
2 T. extra virgin olive oil
3 T. butter, room temperature
½ medium onion, diced very finely
1¼ C. semi-pearled farro* or arborio rice
½ C. dry white wine
1 heaping tsp. kosher salt
¾ C. grated Parmigiano Reggiano
½ C. toasted, coarsely crushed hazelnuts
¼ C. finely chopped parsley
*Purchase at Italian specialty shops (Hulled barley or Arborio rice can be substituted)
1. Bring a pot of water to a boil. Add half the asparagus stalks (not the tips) and cook until quite soft, at least five minutes. Rinse quickly under cold water or put in ice water. Put cooked asparagus in a blender or food processor and add ¼ cup water. Purée adding more water one tablespoon at a time if necessary. Set aside.
2. Put stock in a medium saucepan over low heat. Put oil and 1 tablespoon butter in a large, deep skillet or pot over medium heat. When it is hot, add onion, stirring occasionally until it softens, 3 to 5 minutes.
3. Add farro and cook, stirring occasionally, until it is glossy, about 2 to 3 minutes. Add white wine, stir, and let liquid bubble away. Add the salt. Add warmed stock, ½ cup or so at a time, stirring occasionally. Each time stock has just about evaporated, add more.
4. After about 15 minutes, add remaining asparagus pieces and tips, continuing to add stock when necessary. After 5 minutes, begin tasting the risotto. You want the grains to be tender but with a bit of crunch; it could take as long as 30 minutes total to reach this stage. When it does, stir in ½ cup asparagus purée. Remove skillet from heat, add cheese, hazelnuts, parsley and remaining butter, and stir briskly. Taste and adjust seasoning if necessary. Serve immediately.