Round 3: Gluten-Free Blueberry Muffins
This post may contain affiliate links. Please read my disclosure policy.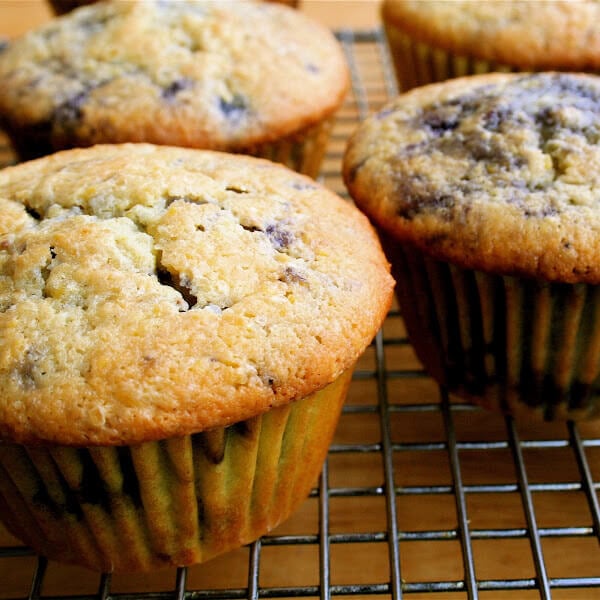 Whenever anyone asks me for a gluten-free recipe, I point them to two places: Gluten-Free Girl and Gluten-Free Goddess, two blogs with wonderful recipes and resources for celiacs. This recipe has been adapted from Gluten-Free Girl's recipe for Blueberry Muffins with Lemon Zest. I only difference is that cornmeal (another gluten-free ingredient) has been substituted for the sorghum flour because I couldn't find sorghum at the store. Though I'm not an experienced gluten-free cook, I imagine many gluten-free flours could be used in this recipe.
Here are a few facts about Celiac Disease:
• The symptoms of Celiac disease mimic many well-known illnesses and vary from mental manifestations such as irritability and depression to physical debilitations such as fatigue, weight loss, bloating, joint pain, delayed growth and itchy skin to more obscure indicators such as infertility and weakened bone density.
• Common misdiagnoses include irritable bowel syndrome, Crohn's disease, anemia, ulcerative colitis, anorexia and chronic fatigue syndrome.
• Researchers believed the disease afflicted only one in every 2,500 people as recently as 13 years ago. Today, that number has increased to one in 133, amounting to 3 million Americans.
• Celiac disease (also known as celiac sprue, nontropical sprue and gluten-sensitive enteropathy) is an inherited, autoimmune digestive disease triggered by the consumption of gluten, a protein found in wheat, barley and rye. When celiacs eat food containing gluten, their immune system reacts by attacking their small intestine, damaging its ability to absorb nutrients from food. And when the body is denied essential vitamins, nutrients and calories, fatal health complications including cancer, osteoporosis, anemia and seizures can develop.
For a little more info, read: For Celiacs, Diet Can Reclaim Life
Click here for wonderful gluten-free brownie and focaccia recipes.
Good Resources:
National Foundation For Celiac Awareness (NFCA)
Celiac Disease Foundation
Celiac Sprue Association
Gluten Intolerance Group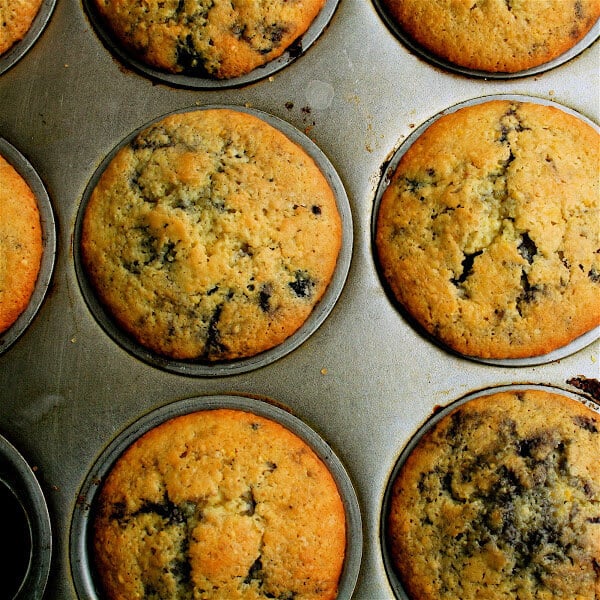 Gluten-Free Muffins
Adapted from the blog Gluten-Free Girl
Yield = 18
10 T. unsalted butter, room temperature
1 C. white sugar
2 large eggs
1 tsp. vanilla extract
2 tsp. lemon zest
1 C. cornmeal
1 C. rice flour, white or brown
1 C. tapioca flour
1½ tsp. baking powder
½ tsp. baking soda
½ tsp. kosher salt
1½ C. plain yogurt
1 C. blueberries, fresh or frozen
1. Preheat the oven to 375ºF.
2. In a stand mixer fitted with the paddle attachment, cream the butter and sugar together until fluffy. Add the eggs one at a time, mixing after each addition. Add the vanilla and the zest and mix until blended.
3. In a separate bowl, combine the cornmeal, flours, baking powder, baking soda and salt.
4. Add half of the dry ingredients to the stand mixer and stir to combine. Add half of the yogurt and stir to combine. Repeat until all of the dry ingredients and yogurt have been added.
5. Fold in the blueberries.
6. Place liners in a muffin tin. Fill each two-thirds full with batter. Bake for about 30 minutes, or until the tops have browned and started to harden.
This post may contain affiliate links. Please read my disclosure policy.