Weekend Baking II: Open-Face Plum Cake
This post may contain affiliate links. Please read my disclosure policy.
I'm really liking my Sunday morning routine. I get up a little before Ben, find something to bake, and whip it up, or at least have it in the oven, before Ben wakes up. This tradition is now in its fourth week running, and this Sunday I'm planning on making a recipe for a marbled coffee cake printed in the culinary SOS column of the LA Times food section two weeks ago. The recipe is based on Buttercake Bakery's moist butter bundt cake. I can hardly wait to try it. Maybe I'll use that cathedral bundt pan I have failed to use for three years now.
Anyway, about this plum cake. This recipe appeared in a Martha Stewart Living issue last summer, and I have had it filed in the back of my mind ever since. Last Saturday morning, when Ben and I found ourselves in San Diego at the City Heights farmers' market, I found the perfect reason to make this cake: baskets of plums — filled with at least 20 or so — selling for $4. We picked up some peaches, avocados and two red snapper fillets as well before heading home. The plums — sweet and juicy — however, turned out to be the prized purchase. I used ten in this cake, but plenty remained for Ben and me to snack on all week. I ate the last one this morning.
Bette Aaronson, the woman to whom this recipe is credited, has been making this recipe for more than 30 years. I can understand why. It takes only minutes to prepare; it's delectable; it's elegant; and it's versatile: Apricots, nectarines and peaches, it has been noted, can be used in place of the plums. I'm guessing then that pluots, plumcots and apriums would also make acceptable substitutes. I can't believe Martha didn't make that clear. Also, I have halved the recipe — I thought a 9-inch cake for each Ben and me seemed a little excessive — but the original recipe, if you care to see, can be found online: Open-Face Plum Cake.
Print
Open-Face Plum Cake
---
Total Time:

50 minutes

Yield:

1 9-inch cake, serves 10
Description
Adapted from a recipe printed in a summer 2007 Martha Stewart LivingFor the recipe doubled, which was how it was printed, visit the Martha Stewart Living Web Site.
---
¾ cup

all-purpose flour

1 teaspoons

baking powder

¼ teaspoon

salt

3/8 cup

sugar plus 1 tablespoon

¼ cup

whole milk

2 tablespoons

vegetable oil

1

small egg or

½

a large egg

6

–

10

plums depending on the size, halved and pitted

1/8 teaspoon

ground cinnamon

1 tablespoon

cold unsalted butter, cut into pieces, plus more for the pans
Confectioners' sugar for sprinkling
---
Instructions
Preheat the oven to 400ºF. Butter a nine-inch round cake pan. Whisk together flour, baking powder and salt. In a separate bowl, combine the 3/8 cup sugar, milk, oil and egg. Fold into the flour mixture.
Pour batter into pan. Arrange plums, cut side up over batter.
Combine cinnamon and remaining sugar and sprinkle over the plums. Dot with butter. Bake until tops are dark golden, plums are soft and a toothpick inserted into the center of the cake comes out clean, 30 to 35 minutes. Let cool.
Sprinkle with powdered sugar if desired.
Prep Time:

15 minutes

Cook Time:

35 minutes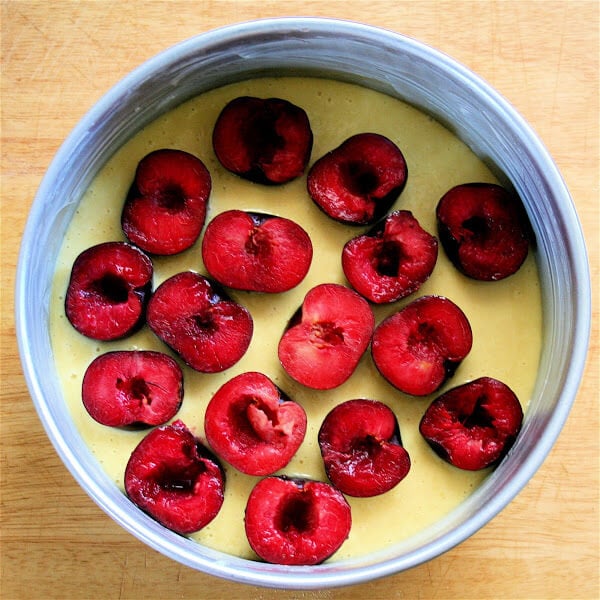 This post may contain affiliate links. Please read my disclosure policy.