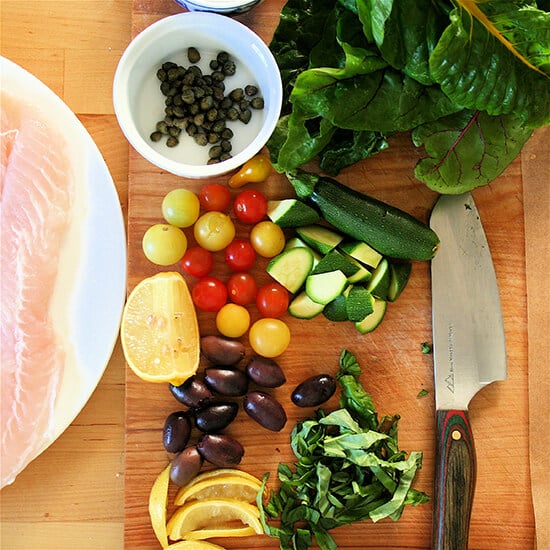 Today I present to you a silent film: Fish en Papillote:
Yesterday, 2,438 miles away from me, two very good friends resolved to make fish en papillote for their Sunday night dinner. I tried to explain the process to them via a series of emailed pictures, and then decided to make this video, which I think will better assist them in the future.
In any case, en papillote is currently my favorite way to prepare fish. These parchment packages are magical:
1. When cooked en papillote, a fish fillet retains its heat to the last bite. I love fish, but it's tricky to cook — so easily overcooked — and it cools down quickly. These packages somehow manage to keep the fish fillets hot without drying them out one bit. And by keeping the fish piping hot, the en papillote method helps you eat more slowly, allowing you to savor your dinner, which I appreciate. I tend to eat very quickly. Like its a race or something.
2. Because I like to eat cake for breakfast these days, fish en papillote makes for a very healthy finish to the day. Seriously, not even a splash of olive oil or a dab of butter is used when assembling the packages. These added fats are truly unnecessary because all of the juices from the fish and the vegetables combine to make a nice little sauce. I like to use 1 tablespoon of olive oil per fish fillet. Served with a simple salad and homemade bread, fish en papillote makes a wonderful summer meal.
3. The packets can be prepared ahead of time — perfect for entertaining. I know summer is prime barbecue season, but it's OK to give the grill a rest every now and then. You can still eat your en papillotes outside. (Warning: Because of the lemon juice and the salt, these packets should not be assembled for more than two or three hours ahead of time — I prepared them and stored them in the fridge for two hours when I made them for my parents last weekend.)
4. This recipe is so versatile. Although I've only experimented with sea bass and halibut, I suspect many fish species would take well to this preparation. Please let me know if you find success with any other varieties. Here, I've used Mexican sea bass because I can find it fresh at my Sunday farmers' market.
Fill the packages with whatever you like: squash, tomatoes, mushrooms, onions, scallions, herbs, etc.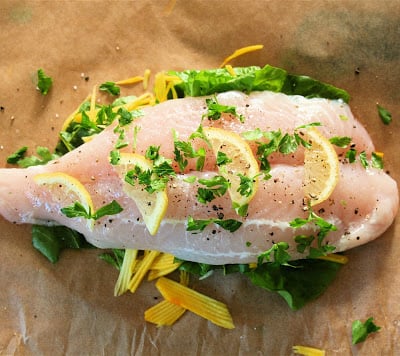 The package keeps all of the juices inside, creating a steaming hot, tender, flaky package of goodness.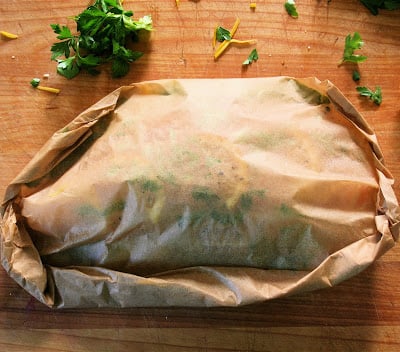 Ta-da! Perfectly cooked fish every time. Seriously, this recipe is foolproof.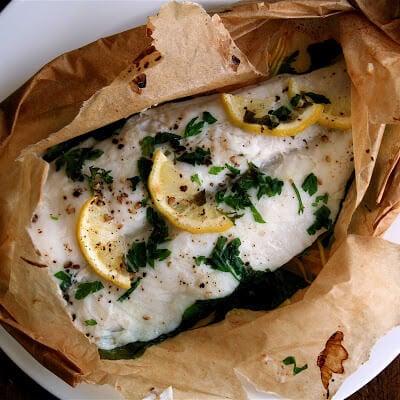 Print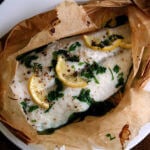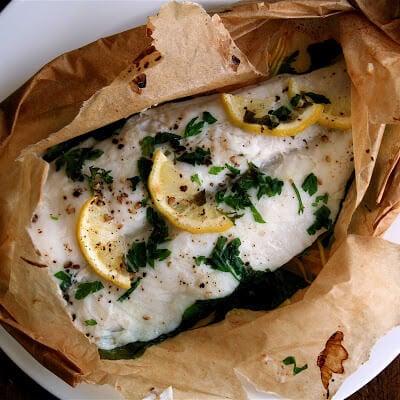 Fish En Papillote
---
Author:

Prep Time:

10 minutes

Cook Time:

10 minutes

Total Time:

20 minutes

Yield:

4
Description
I recently made this for a large gathering at the Vischer Ferry General Store. What's nice about these packages is that you can assemble them ahead of time — I wouldn't assemble much more than a few hours ahead of time, though you certainly could try. 
---
Ingredients
4

18×13-inch (approximately) pieces parchment paper
about

16

leaves Swiss chard or Spinach, washed and dried

4

6-oz fish fillets of white fish such as Bronzini or Striped Bass
kosher salt and freshly ground black pepper to taste

4 tablespoon

s thinly sliced shallots

2 tablespoon

s capers

2

to

3

lemons: you'll need 12 thin slices, plus more for squeezing

½ cup

Nicoise or Kalamata olives, pitted, optional

1 cup

cherry tomatoes, optional

1 cup

sliced zucchini, optional

4 tablespoon

s olive oil

4 tablespoon

s white wine or Prosecco
sliced basil, parsley or tarragon, optional
---
Instructions
Preheat the oven to 500ºF.
Lay one sheet of parchment paper on the counter and fold it in half lengthwise just to make a crease. Open the parchment paper. Place about four leaves of Swiss chard or spinach in the center of the parchment paper just below the centerfold. Top with fish fillet. Season with salt and pepper to taste. Top with about a tablespoon of shallots and 1.5 teaspoons capers. Squeeze some lemon over the fish. Nestle three slices of lemon on the sides of the fish. Sprinkle some olives, tomatoes, and zucchini (if using) around the fish. Top with 1 tablespoon olive oil and 1 tablespoon white wine. 
Fold top half of paper over bottom half and begin folding tightly from the center to one of the sides. Go back to the center and fold tightly in the opposite direction. (See video for more assistance.)
Repeat with each fish. Place packages on a cookie sheet and cook for 10 minutes. (Estimate about 10 minutes per inch — if the fillets are a little bit thicker than one inch, add 1 or 2 minutes.)
---