Artisan Bread Round II, Cooked in A Pot
This post may contain affiliate links. Please read my disclosure policy.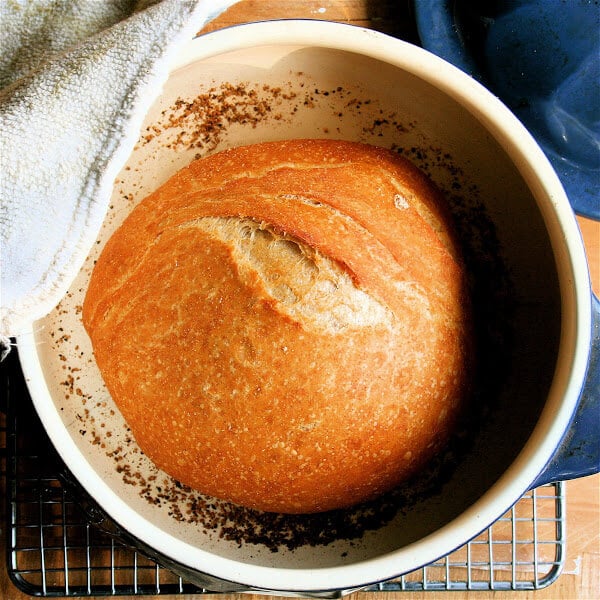 So, I thought I'd give a brief update on my Artisan Bread in Five Minutes a Day escapades. This batch is my third, and I experimented with using nearly 50-percent whole-wheat flour. The dough rose just as beautifully as the 100-percent all-purpose flour batches, and held up just the same in the fridge during the week in which it was stored.
And, on a whim, I decided to use the Jim Lahey-Mark Bittman No-Knead Bread method of cooking — in a pre-heated, covered ceramic pot. Success! After 30 minutes in my Emile Henry dutch oven, the bread emerged with a crispy, golden crust. Since I don't have a pizza stone, cooking in a pot is my best bet if I want to achieve the steam-injected-oven effect, which produces that professional-bakery crust. I have to say, however, that the bread tastes just as delicious when baked in a buttered Pyrex bowl — it doesn't have the same crust, but the flavor is just the same, and the method is truly no-fuss.
Also, last time I neglected to include the Artisan Bread book's official blog/Web site, which offers some great tips and additional recipes. Check out this grilled fruit pizza.
For the recipe for this bread, click here. For the baking method, follow the method described in this Mark Bittman NY Times article: The Secret of Great Bread: Let Time Do The Work
A loaf of 50-percent whole-wheat artisan bread in five minutes a day baked in a pot: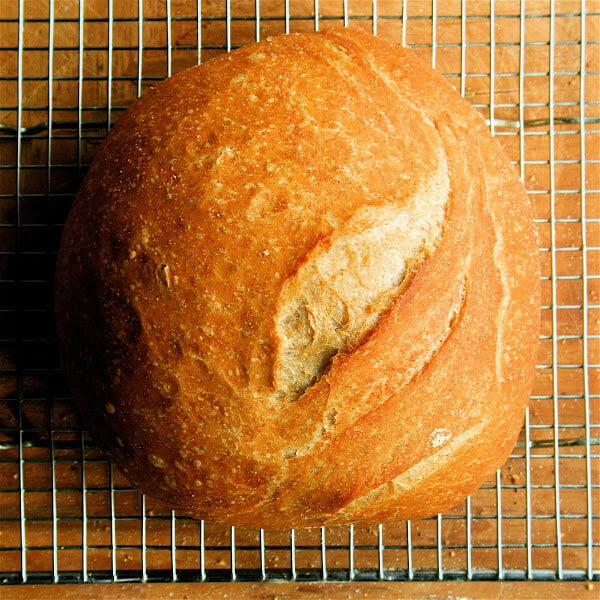 View of the 50-percent whole-wheat dough after rising overnight in the fridge.

5 Secrets to Foolproof Bread Baking
See how easy bread baking can be in my free ecourse!
This post may contain affiliate links. Please read my disclosure policy.