Fish Tacos, Whisk n' Ladle, Mango-Jicama Slaw, MSC-Certified Halibut & Reamers
This post may contain affiliate links. Please read my disclosure policy.
I'm feeling sort of overwhelmed by everything I want to fit into this post. Bullet points, I hope, will help my cause.
• So, after a week of feasting, I considered, for the first time ever, making tofu for dinner. As I passed down the freezer aisle of Ralph's, however, a blue-and-white label caught my eye. Much to my surprise (and delight), that label marked an MSC-certified package of halibut steaks. Unlike many labels today, an MSC (Marine Stewardship Council) label truly means something — it is a guarantee for consumers that the purchase of the product will not contribute to the social and environmental problems of overfishing. It also guarantees that the fishermen receive a fair price for their catch. Holding the world's most rigorous sustainability standard, the MSC has awarded their coveted eco-label to only 31 fisheries worldwide. (You might recall that American Tuna also bears the MSC label.)
• With my discovery, I took the opportunity to make a dish I have been meaning to make since dining with my cyber friend, Melanie Lytle, of Livin La Vida Local at Whisk n' Ladle in La Jolla. This restaurant strives to use all local ingredients and makes nearly everything in house, including the delectable scone — pistachio-orange, if I recall correctly — with which I began this memorable brunch. (Incidentally, Melanie has just completed a year of eating locally: Read her Long-Winded Summary To a Year of Eating Locally here.)
• Last night, I discovered that the mango-jicama slaw served with the tilapia fish tacos at WnL is surprisingly easy to recreate. Please don't be frightened or turned off by the idea of julienning or using a mandoline. Dicing the fruit would be just as tasty and effective. In diced form, in fact, the mixture becomes even more versatile — it could be served with tortilla chips or toasted baguette slices for a nice appetizer. Really, this slaw could not be simpler to prepare — you just mix everything together and season with salt and fresh lime juice according to taste. It could be served with chicken, beef, maybe even tofu.
• Last night I also got over the idea that fish should never be frozen. These frozen halibut steaks fried up beautifully, and once wrapped in the tortilla, spread with a dab of sriracha-sour cream and topped with this tasty slaw, the fish becomes a second-string player. Fresh fish, in a way, is better used for simpler preparations, with lemon and herbs, for example, where the flavors of the fish can really shine.
• Lastly, a word about reamers: There is no better tool, I profess, for extracting juice from citrus fruit than a wooden reamer. This one from Sur La Table is fantastic.
Print
Fish Tacos with Mango-Jicama Slaw
---
Description
Inspired by tacos recently savored at Whisk n' Ladle restaurant in La Jolla. This recipe calls for julienning the jicama and mangoes, but dicing the fruit will work, too. In fact, this mixture, in diced form, would be yummy served with chips.
---
For the Slaw:
1

jicama, peeled

2

mangoes, not too ripe, peeled

1

small red onion, peeled, diced to yield about

¾ cup

1

–

2

chili peppers such as Thai bird or jalapeno or Serrano, finely diced
cilantro to taste, washed and chopped 
kosher salt

1

–

2

limes
fish: Any white fish — halibut, tilapia, cod, sea bass, etc. — works really nicely in fish tacos. I found MSC-certified halibut steaks in my Ralph's freezer section.
small, white flour tortillas
---
Instructions
For the Slaw:
Using a mandoline, julienne the jicama to yield about 2 cups. Place in a large bowl. Julienne the mangoes (to yield about 2 cups as well) and add to the bowl. (Alternatively, just dice the fruit.) Add the onions, peppers and cilantro to the bowl. Season with a big pinch of salt. Juice one lime over top of the mixture. (A reemer is a great tool for this step.) Toss gently, then taste. Adjust with more lime juice or salt. Set aside until ready to serve. Note: Can be made ahead, but not too far ahead — no more than an hour is ideal.
For the Sriracha-Sour Cream:
Whisk n' Ladle spread some sort of creamy, tomato salsa across their tortillas. It definitely was something more substantial than sriracha sauce, but this combination served the purpose quite nicely.
Mix sriracha with sour cream according to taste.
Assemble the tacos:
Heat the oven to about 450ºF. Wrap as many tortillas you want in foil and place in the oven to keep warm. Make sure the tortillas are hot and pliable before serving.

Season the fish lightly with kosher salt. Pan-fry or grill the fish until done.

To assemble, spread a small amount of the sriracha-sour cream on the bottom of the taco. Top with the fish. Top with the slaw. Repeat.
Prep Time:

20 minutes

Cook Time:

10 minutes
When you see this blue-and-white eco-label, you can be confident your purchase has not contributed to overfishing or the harming of marine ecosystems. The Marine Stewardship Council (MSC) is a global, nonprofit organization devoted to promoting the best environmental choice in seafood.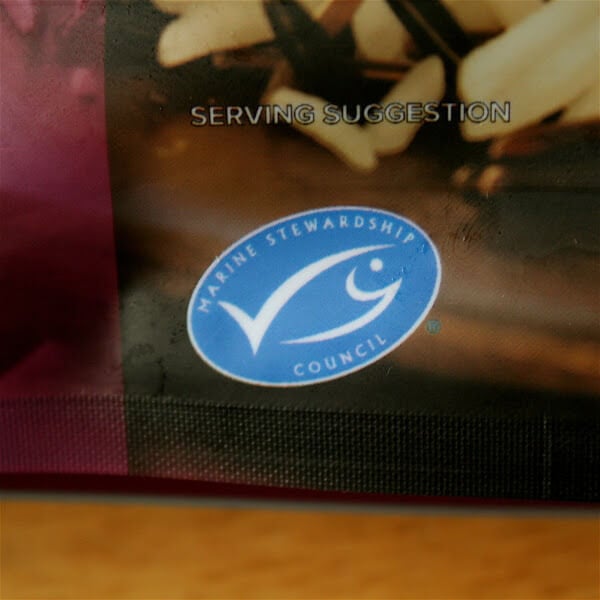 A dab (or a dousing) of sriracha mixed with sour cream adds a nice kick to fish tacos.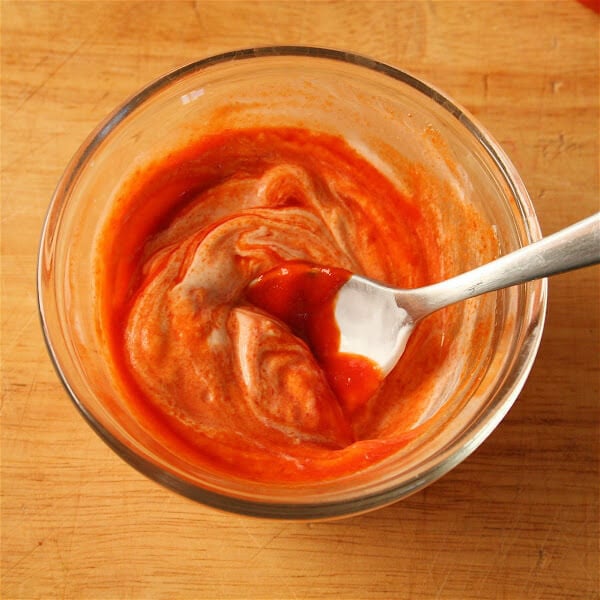 This post may contain affiliate links. Please read my disclosure policy.