Melon & Cucumber Salad with Mint Vinaigrette

This post may contain affiliate links. Please read my disclosure policy.
So, I sort of have this habit. I tend to add cheese to every salad I make. In large quantities. And often nuts, too. And maybe dried fruit if I don't have any fresh on hand. I tend to turn salads into mini meals themselves, even when, as I often am, just serving them on the side.
For whatever reason, I refrained from adding more than what was prescribed in this recipe: melon, cucumber, lettuce and a mint vinaigrette. And I'm so glad I did. This salad does not need anything else. It is light, refreshing, summery — perfect as is. Thank you Sarah Cain at the Fair Food Farmstand 2,378 miles away in Philadelphia for supplying such a wonderful recipe in the weekly "At the Farmstand" email.
Now, for my friends out there looking for simple recipes, this one is for you. If you can chop up a melon and a cucumber, you can make this dish. The dressing is made right in the jar, which means no whisking and minimal cleaning. I love it, and you will too.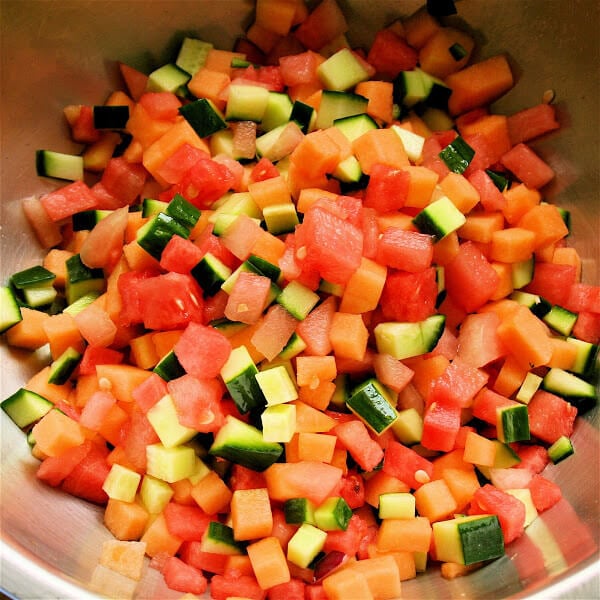 The dressing for this salad is made right in the jar: Equal parts vinegar and oil along with a pinch of sugar and salt, a dab of mustard and tons of mint and parsley combine to make a bright and flavorful dressing.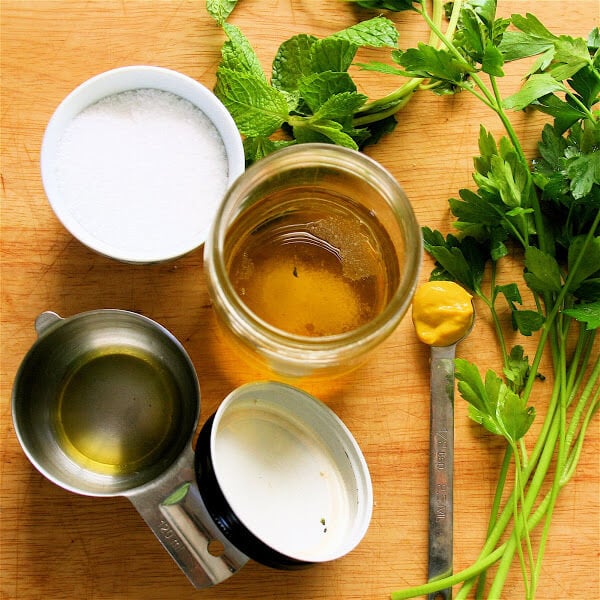 Print
Cucumber And Melon Salad with Mint Vinaigrette

---
Prep Time:

10 minutes

Total Time:

50 minutes

Yield:

4 servings
Description
Recipe Courtesy of Sarah Cain, Supervisor of the Fair Food Farmstand in Philadelphia
Great with a grilled meat, especially lamb.
---
Ingredients
½ cup

of extra virgin olive oil


½ cup

of best white wine vinegar (I used rice vinegar and loved it.)

½ teaspoon

of dijon style mustard


3 tablespoons

of finely minced fresh mint


1 tablespoon

of finely minced parsley

big pinch of sugar

big pinch of salt


2

–

3

cups mixed honeydew, cantaloupe and watermelon, peeled, seeded and diced


2 cups

mixed greens


1

English cucumber, diced
---
Instructions
In a jar with a tight fitting lid, combine the dressing ingredients.
 Shake like crazy. Let stand a room temp for 40 minutes to meld the flavors.

Meanwhile, combine the melon, greens and cucumber in a large bowl. (I also added some more mint and parsley (roughly chopped) to the salad.)
Shake the dressing vigorously before pouring just enough to moisten the chunks of melon, greens and cucumbers.
Serve.
---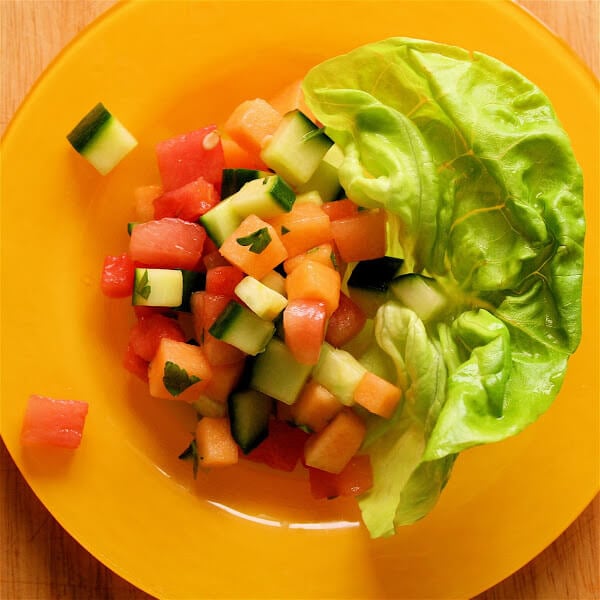 This post may contain affiliate links. Please read my disclosure policy.