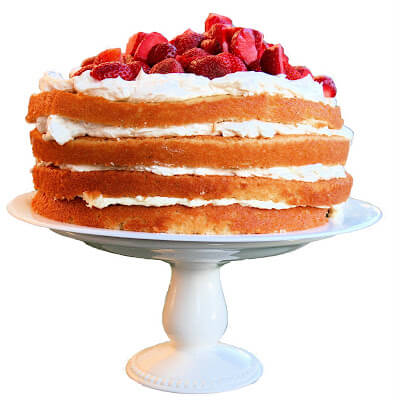 On Sunday, Ben and I celebrated the recent marriage of two friends with cake and champagne. Because the bride had to jump on a plane shortly after the festivities and the groom would be out of town for a month, the cake remained with us, or really I should say, with me, because Ben has something called self control that I cannot seem to find at the moment. Somebody save me!
This lemon-buttermilk cake is so yummy and easy to make, too — it bakes evenly and tastes both moist and light. The lemon curd (if you make it) adds a nice tang and helps keep the cake moist. And the cream cheese frosting, my favorite, is, well, irresistible.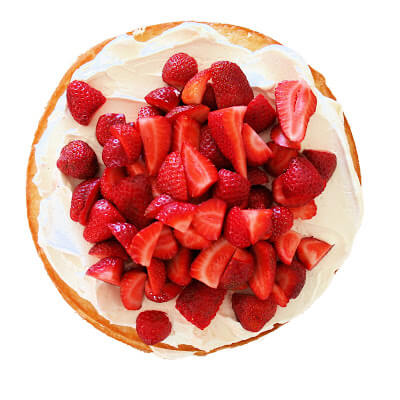 Print
Lemon (or Orange) Buttermilk Cake
---
Prep Time:

15 minutes

Cook Time:

35 minutes

Total Time:

1 hours 5 minutes

Yield:

2 9-inch cakes (the amount used in this four-layer cake)
---
Ingredients
3 cup

s all-purpose flour

¼ tsp

. salt

1 tsp

. baking soda

1

T. baking powder

1 cup

unsalted butter, room temperature

2 cup

s sugar

4

eggs, whisked lightly

1¼ cup

s buttermilk

1

T. freshly squeezed lemon juice (or orange juice)

1½ tsp

. lemon extract (or vanilla extract)

¼ tsp

. lemon zest (or orange zest)
---
Instructions
Preheat the oven to 350ºF. Sift together the flour, salt, baking soda and baking powder.
In an electric mixer, beat the butter and sugar until light and fluffy, about five minutes. Slowly add the whisked eggs to the mixture and beat until combined. Alternate adding the flour mixture and the buttermilk to the mixer. (The recipe says to start and end with flour, but I'm not sure there is any science behind that.) Add the lemon juice, extract and zest, and mix just until combined.
If making this layer cake, coat a 9-inch cake pan with nonstick spray (or butter liberally). Pour half of the batter into the pan and bake for about 35 minutes or until an inserted toothpick comes out clean. Cool in pan for 15 minutes before inverting onto a cooling rack. Note: If you have two pans, bake the cakes simultaneously. If you have only one pan, repeat with remaining batter. Alternatively, bake all the batter at once. The cake will take longer to bake and might not bake as evenly, but it certainly can be done.
---
---
Print
Filling for the wedding cake:
---
Prep Time:

10 minutes

Cook Time:

10 minutes

Total Time:

20 minutes
Description
Lemon (or Orange) Curd
---
Ingredients
¼ cup

sugar

7

egg yolks

½ cup

freshly squeezed lemon juice (or orange juice)

6

T. unsalted butter, room temperature (butter really must be at room temperature)
---
Instructions
In a double boiler (or a stainless steel bowl over a pot of simmering water), whisk sugar and yolks together until pale yellow. Whisk in the juice. Stir constantly until mixture starts to thicken, about 8 – 10 minutes. (This is always a little tricky to gauge, but you'll know it's ready when it starts to thicken.) Remove bowl from heat and slowly whisk in the butter about a tablespoon at a time. This is sort of tedious, but only add more butter once the previous tablespoon has been fully incorporated. Cover with plastic wrap (place the wrap right up against the curd) and chill until ready to use.
---
Print
Cream Cheese and Butter Frosting
---
Prep Time:

5 minutes

Total Time:

5 minutes
Ingredients
2

sticks unsalted butter, room temperature

8 oz

. cream cheese, room temperature

½ tsp

. vanilla extract
confectioners' sugar to taste
---
Instructions
Beat cream cheese and butter together until light and fluffy. Add vanilla. Add confectioners' sugar to taste. Chill if not using right away or frost cake immediately. (It's easier to use if you use it right away.)
---
---