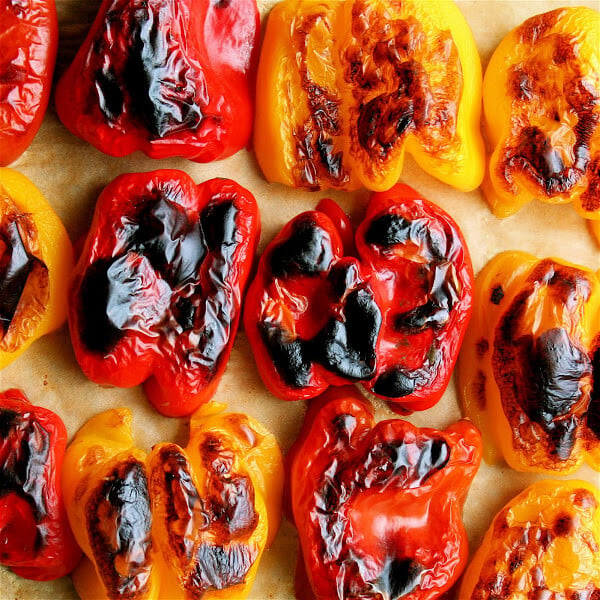 On Wednesday, I found the dollar bin at the Santa Monica farmers' market. Well, a dollar bin of sorts. One of the stands was selling bell peppers, a mix of yellow and red, for $1 a pound. I picked up eight, slightly misshapen, on-the-verge-of-spoiling peppers for $2. That's crazy. I basically had hit the jackpot. I took them home, roasted them, and now I have a stash in my fridge to be used as I wish. For dinner tonight, I made scrambled eggs and ate them with warm bread topped with some slivers of roasted red peppers. Yum.
So it seems, even with crazy-high food prices — the Washington Post recently reported that since March 2007, the price of eggs has jumped 35 percent; a gallon of milk, 23 percent; a loaf of white bread, 16 percent; and a pound of ground chuck, 8 percent — deals can be found. And "green," delicious deals at that.
I know, I know. It's not always so easy. But seriously, a simple way to buffer the sting of these high food prices is to eat more vegetables. These peppers, which taste so sweet when roasted, can be used in so many ways. Meat will not be missed. At least for a few days.
Here are some other tasty locations to place your roasted peppers:
• Sandwiches with cheddar cheese, mustard and red onion.
• Salads.
• Paninis filled with sautéed Swiss chard and Gruyère.
• Pasta or pasta salad.
• On pizza.
• In omelets.
• As a dip when coarsely puréed with feta and parsley.
• Quiche.
• A savory, summer tart.
Roasted Red Peppers
Yield = As many as you like. Estimate about half a pepper per person.
Ingredients
bell peppers, a mix of red, yellow, orange and green is pretty, but red are the sweetest and the bestparchment paper, makes for easy cleaning, but a thin coating of olive oil does the trick, too
parchment paper, makes for easy cleaning, but a thin coating of olive oil does the trick, too
olive oil
kosher salt or fleur de sel
fresh cracked pepper
basil or parsley
Instructions
Preheat the oven to 450ºF*. Line a rimmed sheet pan with parchment paper (for easy clean up — make sure it extends over the edges).
Meanwhile, cut peppers in half lengthwise. Remove seeds and white veins. Place peppers cut-side down on parchment paper. (Alternatively, rub a small amount of olive oil on the sheet tray.) Place pan in the oven for about 30 to 40 minutes, until the skin is blistery and charred. Don't be impatient here: If the skin isn't blistery enough, the peppers will be difficult to peel.
Place the peppers in a large bowl and cover with plastic wrap. Let sit for at least 20 minutes and up to 4 or 5 hours (or longer.) When cool enough to handle, remove the skin and discard.
Store in an airtight container in the refrigerator until ready to use. You can also store the peppers with the skins still on — I do this when I can't get around to peeling them right away.
*Note: You could also broil the peppers. If you prefer broiling, which takes less time, do not line your baking sheet with parchment — it will burn. The peppers take about 20 minutes under the broiler.
Notes
Bring to room temperature before serving — the cold masks their flavor. For a simple appetizer, slice the peppers into slivers. place on a platter. Taste. Sometimes the peppers are so sweet that they don't need anything. If they need a little seasoning, however, drizzle lightly with olive oil, sprinkle lightly with salt and pepper, and top with fresh herbs. Serve with warm bread.
Did you make a recipe?
Tag @alexandracooks on Instagram and hashtag it #alexandracooks.