Buttermilk Panna Cotta: Simplest Dessert Ever
This post may contain affiliate links. Please read my disclosure policy.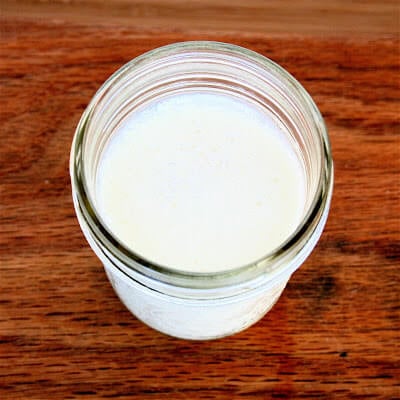 This dessert takes five minutes to make. Ten minutes tops. And it's a great way to use up leftover buttermilk.
For example, I opened the fridge a few days ago and spotted a carton of buttermilk dated August 13. It smelt a little funky and I noticed a few lumps, but doesn't buttermilk always kind of look/smell this way? I gave the carton a good shake, poured the buttermilk into a clear, glass measuring cup to inspect for anything looking particularly threatening and proceeded with the recipe. Success. I have now eaten panna cotta three nights in a row and have yet to feel a tinge of sickness.
Even if you aren't trying to use up a half-empy carton of buttermilk, this is a great recipe to have on hand for several reasons:
1. It can and should be made the night before serving — perfect for entertaining.
2. It is made in individual servings — perfect for entertaining.
3. It is light and summery.
4. It literally takes no time to whip up.
5. It is delicious.
Also, you don't need fancy ramekins or custard cups. I have them, (and love them, obviously), but for the sake of demonstration, I poured this batch into various-sized glass cups including an old-fashioned mason jar. It looked precious. The panna cotta doesn't even really need to be inverted onto a plate, and if you chose to use glasses, in fact, I wouldn't recommend inverting. Just eat it right out of the glass. Yum.
Note: If you do have a set of ramekins, invert the panna cotta onto plates and serve with fresh fruit or a raspberry coulis, as my grandmother does.
What is panna cotta? Panna cotta, meaning "cooked cream," is an Italian dessert made by simmering milk or cream and sugar together. It is thickened with gelatin and must chill for a few hours to set. According to Wikipedia, panna cotta originates from the Piedmont region of Italy.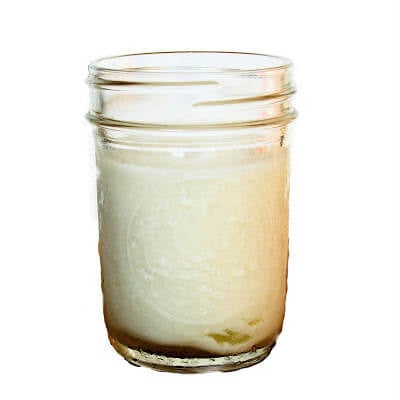 Print
Description
Update 05-01-2012: I no longer make this recipe. I find it to be way too sweet. This is my go-to panna cotta recipe. It's a Claudia Fleming recipe and it's just about perfect.
---
If you have 1½ cups buttermilk on hand:
1½ tsp

. unflavored gelatin

½ cup

milk, not skim, but 1% and up

½ cup

sugar

1½ cups

buttermilk

¼ tsp

. vanilla extract
If you have 1 cup buttermilk on hand:
1 tsp

. gelatin

6

T. milk

6

T. sugar

1 cup

buttermilk

1/8 tsp

. vanilla
---
Instructions
In a small bowl, sprinkle the gelatin over ¼ cup (or 3 tablespoons if using 1 cup of buttermilk) of water. Let stand until softened, about 5 minutes.
In a saucepan, heat milk and sugar over medium heat until sugar dissolves and mixture is hot but not boiling, 3-5 minutes.Remove from heat, stir in gelatin mixture, then buttermilk, and vanilla. Pour into 4 or 6-oz ramekins* and chill until set, 3 hours.
To serve, run a knife around edge of ramekin, place a plate on top, flip over and gently shake to turn out onto plate.Garnish with some fresh berries.
*Note: Pour into any vessel you have. If using tall, narrow glasses, do not worry about inverting. Serve right in the glass. Keeps well in the fridge for at least a week.
Prep Time:

10 minutes

Cook Time:

5 minutes
This post may contain affiliate links. Please read my disclosure policy.