Roasted Tomato Soup Thickened with Bread (Pappa Al Pomodoro)
This post may contain affiliate links. Please read my disclosure policy.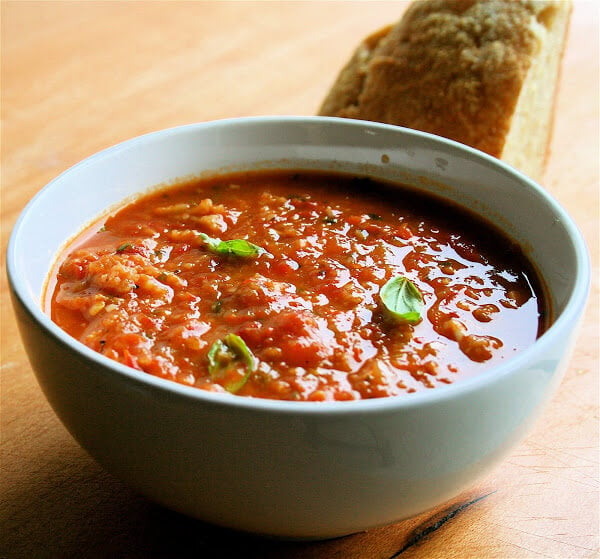 At an adorable café in San Clemente, a bowl of tomato-and-bread soup sent four ladies knocking on the kitchen's door. Through an open window, the women praised the chef for his creation, swooning over the soup's deep, rich flavors, begging him to disclose any secrets. Flattered and unafraid to share, the chef rattled off the ingredients: tomatoes, basil, onions, bread, salt.
The women stared in disbelief. They wanted something more. They wanted to hear that the soup was drizzled with white truffle oil; that it was lightened with a goats'-milk foam; that it was finished with an 80-year Xeres vinegar. Alas, simplicity, it seems, triumphs again.
Several of you out there recommended I roast or dry my small tomato harvest and store the tomatoes indefinitely in my freezer or fridge to be used as I please. I did in fact follow these instructions, but upon hearing this exchange between the chef and patrons at Cafe Mimosa last week, I couldn't resist pureeing my tomatoes into a soup. Roasting, I discovered, sweetens and intensifies the tomato flavor, making the need for any exotic, unexpected flavorings unnecessary. Chef Tim Nolan surely wasn't holding anything back. This rustic soup originates in Tuscany and, like so many traditional recipes — panzanella salad, bread pudding, bruschetta, French toast — was created as a way to prevent day-old bread from going to waste. Simplicity (as well as bread) is the common denominator of all of these recipes.
Whether the soup at Cafe Mimosa is vegetarian or not, I do not know, but my vegetables certainly needed some sort of a stock to bring the mixture to soup consistency. I used chicken stock and coarsely pureed the mixture with a large bunch of basil and a few dried out pieces of a French boule. Many of the recipes I found on the web for pappa al pomoodoro called for a fair amount of olive oil, but I didn't think this soup needed any more than what was used while roasting them. Adjust this recipe, however, according to your liking — this batch of soup has been made completely to taste. If you start with a base of slow roasted tomatoes, onions, garlic and shallots, I assure you your soup will be a success. Served with a few shavings of Parmigiano Reggiano and a piece of crusty bread, pappa al pomodoro makes a wonderful late summer meal.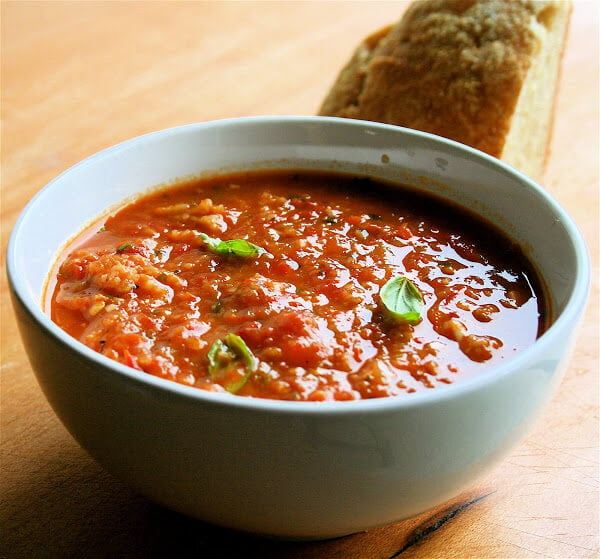 Slow roasted tomatoes, onions, shallots and garlic form the base of this Tuscan tomato soup.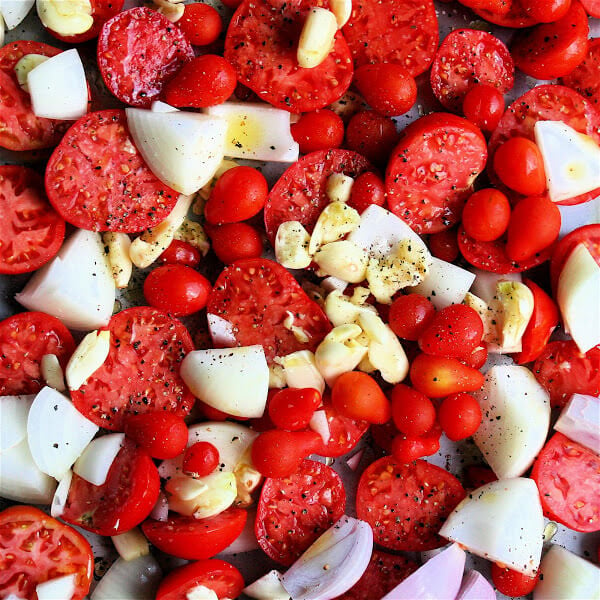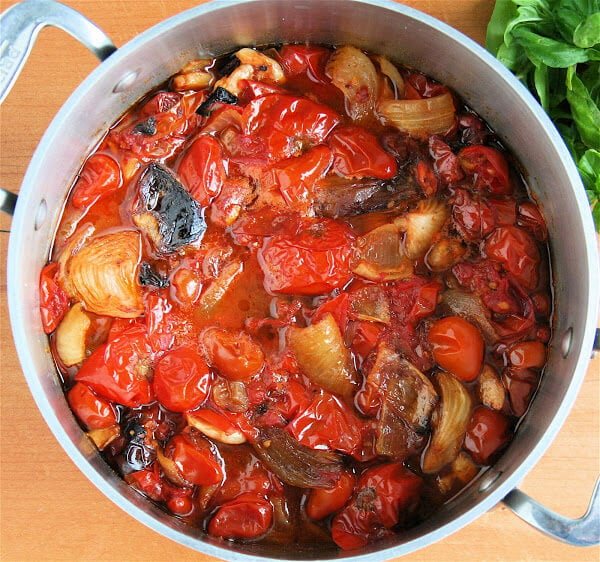 Print
Roasted Tomato Soup Thickened with Bread
---
Total Time:

3 hours 35 minutes

Yield:

1.5 to 2 quarts
Description
Inspired By Café Mimosa's Tomato Bread Soup 
Notes: I now use water, not stock, in this recipe. See updated recipe here.
---
tomatoes, halved if large, left whole if cherry or grape, enough to fill a sheet tray

1

onion, peeled and chopped into big chunks

1

shallot, peeled and chopped into big chunks

1

head garlic, cloves removed and peeled
a few carrots, peeled and cubed
olive oil
kosher salt
fresh cracked pepper
3

–

4

slices bread (French or Italian)
about

2 cups

chicken stock (or water), preferably homemade or a low-sodium variety

1

bunch fresh basil
crushed red pepper flakes
Shaved Parmigiano Reggiano and crusty bread for serving, optional
Note: This recipe is all done to taste. Adjust as necessary.
---
Instructions
Roast the vegetables. Preheat the oven to 300ºF. Line a rimmed sheet tray with all of the vegetables. This tray should be filled in a single layer. Use whatever vegetables you have on hand — I threw in the carrots because I had them, but leeks, celery, thyme etc. would all make nice additions. Drizzle olive oil over top. Season with salt and pepper to taste, and roast for about three hours until vegetables are soft and slightly caramelized.
Meanwhile, toast the bread. Slice the bread into ½-inch thick pieces. Place on the counter to dry or toast briefly in the toaster. You just want to dry out the bread; you're not trying to brown it.
Puree the soup. When the vegetables are done, place them in a pot with chicken stock. To give you a rough idea, I had about 5 cups of roasted vegetables and used about 2½ cups of chicken stock. Bring to a simmer. Season with a pinch of salt and crushed red pepper flakes if using. Add the bunch of basil. Break two slices of bread into medium-sized cubes and add to the pot. Using an emersion blender or food processor or traditional blender, puree the soup roughly. It should be slightly chunky. Taste and add more salt or bread if necessary. Add more stock until soup reaches desired consistency.
Notes
If you leave this soup relatively chunky, it would make a wonderful sauce for pasta.
Prep Time:

15 minutes

Cook Time:

3 hours 20 minutes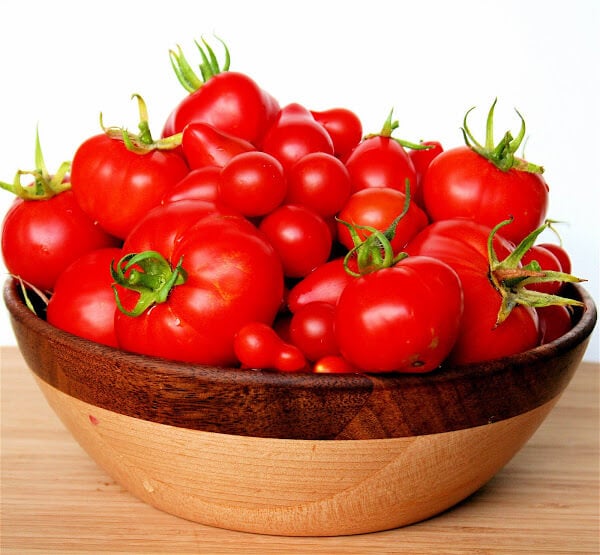 This post may contain affiliate links. Please read my disclosure policy.